Each Monday I play a little game as I prep for the upcoming week's NewMusicTuesday. The first thing I do is skim the list of new releases for the titles I care about and when that's done, I usually have to skim the list a second time to figure out what might excite the rest of the masses. This is just one of the sacrifices I make for you, dear readers.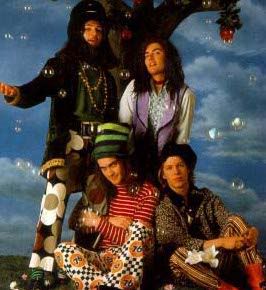 My release of choice is a trip to total geekdom. There is something wrong with me that I'm this excited about the Jellyfish Live at Bogart's 1991 album but I nearly woke TheWifeToWhomI'mMarried from a very sound sleep when I spied this title while perusing the list in bed on my iPad. This is my proof of life.
Jellyfish are a band ahead of and behind its time. They are one of the great power-pop bands (most of) you never heard of and they should have had huge, chart-topping hits. Their songs were (mostly) brilliant and they had some of the best melodies, hooks, and harmonies I've ever heard. They're the ultimate in ear candy but they only lasted long enough to make two records: Bellybutton and Spilt Milk. There is an ultra rare box set that I must one day own (and if you're selling yours for a reasonable price, I'm all ears) and now we have this, a live show from 1991. This one is already on its way to my house as we speak and I'm going to be such a little kid about it when I get home!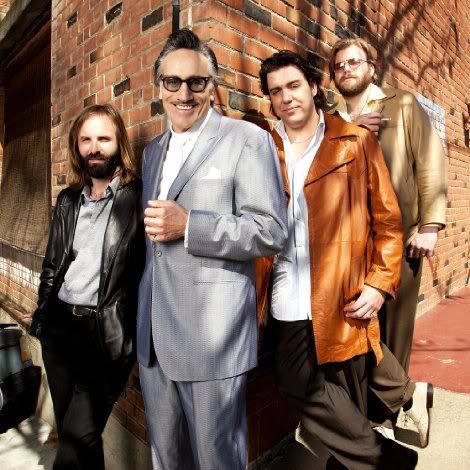 Another big release this week comes from Rick Estrin And The Nightcats, One Wrong Turn. Rick Estrin is a blues harp virtuoso and if you've never heard him play, you're really missing something special. John Popper is Yngwie Malmsteen, Rick Estrin is the real deal. I'm working up my review on this and it will go live this week.
Chris Brown has a new record out. I don't have any use for him. I didn't before he started beating women. I don't now that he's getting in fights with other artists in clubs. I don't get his appeal. That said, he's a lightning rod, some people think he's talented, and his new release is sure to attract some attention. Yours, if you want it.
Here are the rest of the week's new releases...
A Balladeer - Sorry, Kid
Abandon All Ships - Infamous
Adrian H And The Wounds - (Debut)
Anders, Peter - Ein Heller Stern In
Antagonist A.D. - Nothing From No One
Asia - XXX
Astarte - Sirens
Atlantic Avenue - When The Lights Go D
Begrime - Visions Of The Scour
Benson, Doug - Smug Life
Bonded By Blood - Aftermath, The
Brigit - Puccini: Turandot
Brown, Chris - Fortune
B-Side Players - Revolutionize
Burning Retna - The Frozen Lies
Campbell, Glen - 10 Great Songs
C-Bo - Orca
Cheats, The - Pussyfootin!
Christian Death - Death Box
Chrome Waves - Chrome Waves
Colosseum - Chapter 1: Delirium
Colosseum - Chapter 2: Numquam
Colosseum - Chapter 3: Parasomni
Cradle Of Filth - Cruelty And The Beas
Cradle Of Filth - Dusk And Her Embrace
Cradle Of Filth - From The Cradle To E
Cradle Of Filth - Lovecraft & Witc He*
Cradle Of Filth - Midian
Deadmau5 Tribute - Dance Tribute To Deadmau5
Deathspell Omeg - Drought
Delain - We Are The Others
Dinu Lipatti - Pianist Of Divine Sp
Dirty Sanchez - Antonio Says...
Dogg Pound - Doggy Bag
Donots - Wake The Dogs
Duran Duran - A Diamond In The Mind
Ferrier - Bach: St. Matthew Pa
Fisher, Jeremy - Mint Juleps
Flo Rida - Wild Ones
Forefather - Last Of The Line
Frick, Gottlob - King And Comic Actor
Fritz - Welterfolge Und Rari
Fritz Wunderlic - Mozart: Requiem / Br
Gayle, Crystal - 10 Great Songs
Gideon - Milestone
Glass Cloud - The Royal Thousand
Gold Motel - Gold Motel
Greeley, Jason - Jason Greeley
Haggard, Merle - 10 Great Songs
Horner, James - The Amazing Spider-Man (Original Motion
Hyslop, Joshua - Where The Mountain Meets The V
Icarus Witch - Rise
Imani Ngoma Troupe - Bape
Jackman, Henry - Abraham Lincoln: Vampire Hunter
Jackson, Stevie - (I Can't Get No) Stevie Jackson
James Luther - I'm Just Dead, I'm N
Jellyfish - Live At Bogart's 1991
Jimmie Van Zant - Feels Like Freedom
Joe Cuba - Anthology
Jones, George - 10 Great Songs
Keller William - Pick
Lonesome River Band - Chronology, Volume Two
Marillion - Best.Live.
Metternich - Power, Drama, Interp
Million $ Reload - Sinner's Saint, A
Miseration - Tragedy Has Spoken
Money, Eddie - Take Me Home Tonight - The Best Of
Mongrels Cross - The Sins Of Aquarius
Moonloop - Deeply From The Earth
Muzikjunki - Junkyard Stories
Neptune Towers - Caravans To Empire Algol
Offspring Tribute - Piano Tribute To The Offspring
Periphery - Periphery II
Piazzolla, Astor - The Last Concert
Primate - Draw Back A Stump
Prodigy Of Mobb - H.N.I.C. 3
Richard, Cliff - Move It
Rick Estrin & The Nightcat - *One Wrong urn*
Rise And Fall - Faith
Rodriguez, Tito - Anthology
Rosapaeda - Mater Heart Folk
Sleepin' Giantz - Sleepin' Giantz
Small Faces - Ogdens' Nut Gone Flake
Smoke DZA - Substance Abuse
Solarstone - Pure
Teenage B - Freak Out!
The Jeffersons - Vol. 1
The Word Alive - Life Cycles
Ulver - Childhood's End
Unto Ashes - Burials Foretold
Various - The Big Polka Party Album
Various - All Gods Creatures F
Various Artists - Rub A Duck Presents Duck Down Dubstep
Vienna - Mozart: Bastien & Ba*
W.O.F. - Search The Truth
Wally - Wally
Wigelius - Reinventions
Witchsorrow - God Curse Us
With The Punche - Seams & Stithes*
Wolves At The Gate - Captors
Wretched End, The - Inroads
Wyland Blues - Blues Planet Ii
Zac Brown Band Tribute - Piano Tribute To Zac Brown Band
Zeitlin, Denny - Wherever You Are