...and you thought I forgot about you, dear music listeners.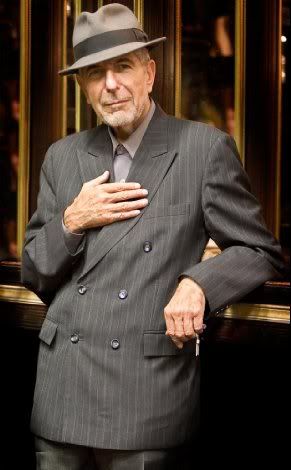 I took a break from New Music Tuesday because as you get to the week of Christmas and the first few weeks beyond, the new release well dries up. Welcome to 2012! The new releases are starting to flow again, so let's talk about them.
There's only one place to start and that's with the legendary Leonard Cohen, releasing a 10-song collection of brand new songs. Cohen took many years away but has returned to performing and recording and this week we get a new album called Old Ideas. I like the juxtaposition there. Besides, this is Cohen. His old ideas beat the hell out of most new ideas you're ever going to hear. The man is brilliance.
The other title that excites me this week comes from blues great Joe Louis Walker. Hellfire is Joe's first record for Alligator Records and he gets help from Grammy-winning producer Tom Hambridge.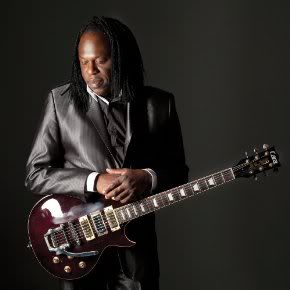 This is the first really big blues release of the year and I rather imagine it will do well. Walker has put out some great records of late, finishing his run at Stony Plain Records with some great albums produced by the mighty Duke Robillard.
So has anyone seen any coverage of Lana Del Rey in the news? I am still in shock enough people still watch Saturday Night Live to know she gakked it in front of a live audience but she apparently did and the fallout has been a bit scathing, really. Born To Die drops this week and I'll be curious to see the reaction the album gets and if she can head out for any other TV appearances and rehab the damange done on SNL.
We've also got an EP from Metallica, Beyond Magnetic. It's already available digitally but this is the physical release date for the CD if you want to hear these Death Magnetic outtakes.
Last and NEVER least, new music from the completely wonderful Ringo Starr. Ring's latest is Ringo 2012 and mixes a couple covers with new Ringo originals, co-written with Glen Ballard, Joe Walsh, and others.
Those are the records we're talking about. Take a look at the full rundown and tell us what looks good to you!
Aabsynthum - Inanimus
Adimiron - K2
Alcest - Les Voyages De L'ame
Allman, Gregg - Playlist: The Very Best Of Gregg Allman
Ancient Bards - Soulless Child
Anderson & Wakeman - The Living Tree Live
Answers To - Score
Arcuragi - Like A Fire That Con
Arnold, Eddy - The Smooth Operator
Asteroids Galax - Out Of Frequency
Astral Doors - Jerusalem
Atkins And May - The Serpents Kiss
Augustana - Playlist: The Very Best Of Augustana
Authority Zero - Less Rhythm More Boo
Autry, Gene - The Singing Cowboy
Azaghal - Nemesis
Beausoleil - Cajun Conja
Bennett, Tracie - Tracie Bennett Sings Judy
Blue Cheer - Outsideinside
Blue Cheer - Vincebus Eruptum
Blue Hawaii - Blooming Summer
Booker, James - King Of The New Orleans Keyboard
Boorer, Boz - Happy Martyr - One Square Mile
Bowie, David - Hours/The Collector S Edition
BT - Laptop Symphony
Buxton - Nothing Here Seems S
Calvert, Robert - Test Tube Conceived
Campbell, Glen - It's Just A Matter Of Time
Canyons - Keep Your Dreams
Carter, Bo & The Mississippi Sheiks - Bo Carter & The Mississippi Sheiks
Cervini, Amy - Digging Me, Digging You
Chocolate Watch Band - Inner Mystique
Chocolate Watch Band - No Way Out
Cirith Ungol - Servants Of Chaos
Claws Gra - Pestilent Formation
Cohen, Leonard - Old Ideas
D'ambrosio, Meredith - By Myself
Dark Suns - Orange
Del Mccoury Ban - Old Memories: The So
Dico, Tina - Live With The Danish National Chamber Orchestra W/ Live DVD
Doughty, Mike - The Question Jar
Downs, Lila - Pecados Y Milagros
Dragonland - Under The Grey Banner
Dulfer, Candy - Crazy
Dunham, Jeff - Jeff Dunham: Controlled Chaos
Eagleheart - Dreamtherapy
Ecnephias - Inferno
El Caco - Hatred, Love And Dia
Emerson, Bill & Sweet Dixie - The Touch Of Time
Enneade - Teardrops In The Morning Dew
Enslaved - Yggdrasill
Errors - Have Some Faith In M
Essential Music - Cage: The Number Pieces 6: Five; Seven; Thirteen
Evanescence - The Document
Executive Slacks - Fire And Ice - Deluxe Edition
Ferguson, Maynard - The New Sounds Of Maynard Ferguson/Come Blow Your Horn - The Complete Cameo Recordings
Fionn Regan - 100 Acres Of Sycamore
Firebird - Deluxe
Firebird - Firebird
Foster, Ruthie - Let It Burn
Franklin, Aretha - Knew You Were Waiting: The Best Of Aretha Franklin 1980-1998
Gamelan Of Central Java - Xv Returning Minimalism: In Nem
Giant Panda - Country
Glawischnig, Hans - Jahira
God Seed - Live At Wacken
Gotye - Making Mirrors
Graham, Alyssa - Lock, Stock & Soul
Grimes - Geidi Primes
Grimes - Halfaxa
Hammond, Fred - God, Love & Romance
Hardcore - Bad Sneakers And A P
Hardcore - No Regrets
Hardcore - Thank You (For Letti
Hawkwind - Weird Tapes Vol 3 & 4
Hiatt, John - Crossing Muddy Water
Hiatt, John - The Tiki Bar Is Open
Hipower Entertainment Presents - Hipower 2012 Armageddon
Hit The Lights - Invicta
Hooters, The - Playlist: The Very Best Of The Hooters
Hopper And Kramer - Huge
Hospitality - Hospitality
I Exist - Ii: The Broken Passa
Imperial Teen - Feel The Sound
Indian - The Unquiet Sky
Internet, The - Purple Naked Ladies
Jack Starr's Burning Starr - Land Of The Dead
Jackson, Michael Tribute - Smooth Jazz Tribute To Michael Jackson's Thriller
Jamie Woon - Mirrorwriting
Jean, Wyclef - Playlist: The Very Best Of Wyclef Jean
Jeff Lorber Fusion - Galaxy
Jefferson Starship - Best Of Micks Picks
Joel Harrison, Lorenzo Feticiati, Cuong Vu, Roy Powell, Dan Weiss - Holy Abyss
Jordan, Sheila - Yesterdays
Katatonia - For Funerals To Come
King Giant - Dismal Hollow
Kutik, Yevgeny - Sounds Of Defiance - Music Of Shostakovich, Schnittke, Pärt And Achron
La Bottine Souriante - Appellation D'origine Controlee
Laing, Corky; Hunter, Ian - Secret Sessions
Lana Del Rey - Born To Die
Liberteer - Better To Die On You
Lilacs & Champagne - Lilacs & Champagne
Lmfao - Sorry For Party Rocking / [Deluxe] [Edited]
Loga Torkian - Mehraab
Lord Of War - Celestial Pestilence
Los Gauchos De Roldan - Button Accordion And Banoneon
Lost Horizon - A Flame To The Groun
Lost Horizon - Awakening The World
Maino - Day After Tomorrow
Manchester, Melissa - Playlist: The Very Best Of Melissa Manchester
Manufactured Superstars - Freak On You Ep
Marienthal, Eric - Tbd
Masekela, Hugh - Jabulani
Metallica - Beyond Magnetic
Michael Gibbs And The Ndr Bigband - Back In The Day
Mijares - 25 Zona Preferente
Monroe, Bill - The Father Of Bluegrass
Montgomery Gentry - Playlist: The Very Best Of Montgomery Gentry
Mulaney, John - New In Town
My Name Is Janet - Red Room Blue
My Ticket Home - To Create A Cure
Mystic Prophechy - Ravenlord
Najee - The Smooth Side Of Soul
Nekromantheon - Rise, Vulcan Spectre
New Broadway Cast - Godspell
Novalima - Karimba
Nucleus Torn - Golden Age
O'callaghan, Patricia - Matador - The Songs Of Leonard Cohen
One For The - Soundtrack
One Model - Totalwerks Vol 1 [19
Ophthalamia - Dominion
Oz - Burning Leather
Pact - The Dragon Lineage Of Satan
Pantera - The Lowdown
Pariah - Soundtrack
Parkins, Zeena - Double Dupe Down
Pelt, Jeremy - Soul
Phillips, Anthony - Private Parts And Pieces Vol.3 & 4
Pines, The - Dark So Gold
Poison Idea - Darby Crash Rides Ag
Putumayo Presents - Brazilian Beat
Ram - Death
Riley, Terry - Aleph
Ringo Starr - Ringo 2012
Riotgod - Invisible Empire
Ritual N - Oath Of The Abyss
Rogove, - Piana
Rough Guide: Bluegrass (Second - Rough Guide: Bluegrass (Second
Rough Guide: Fado (Second Edit - Rough Guide: Fado (Second Edit
Sambasunda Quintet - Java
Santana, Omar & - Dub Step Dubterranea
Sara - Fire In The Hole
Schroer, Oliver & Kennedy, Nuala - Enthralled
Scott, Darrell - Long Ride Home
Scream Out Loud - Live It Up
Sex Gang Children - Live In Vienna
Shining - Live - Blackjazz
Sleeping Bag Re - Greatest Freestyle H
Soja - Strength To Survive
Spiritual - Ad Astra
Spiritual - Another Way To Shine
Spiritual - Mantra Iii
Spiritual - On Fire
Subnoize Soulja - Underground Collabos
Temple - Lightslaying Rituals
Temple Of Baal - The Vision Of Fading
Tenhi - Saivo
Tenhi - Saivo (Special Ed. Digipak)
The Fresh Beat Band - Music From The Hit Tv Show
The Jealous Sound - A Gentle Reminder
The Soul Rebels - Unlock Your Mind
Thinking Plague - Decline And Fall
Thomas, Mickey - Over The Edge
Thornium - Dominions Of The Ecl
Tijoux, Ana - La Bala
Tony Rice - The Bill Monroe Collection
Tribbett, Tye - Playlist: The Very Best Of Tye Tribbett
Ts & The Past Haunts - Gone & Goner
Tubbs, Ernest - The Texas Troubadour
Turre, Steve - Woody S Delight
Tymes, The - So Much In Love
Underworld - A Collection
Underworld - Anthology 1992-2012
Underworld A - Soundtrack
Various - In 'N' Out - Coffee Break, Jazzy Car Ride, Dinning
Various - Moods - Relaxation, Lullabies, Dream
Various - Seeds - Violin, Piano, Cello
Various - Spices - French, Italian, Spanish
Various - One World One Voice
Various - Giant Single: Profile Records Rap Anthology
Various - Playlist: King Of Kings - Reggae Hits
Various - Golden Gate Groove: The Sound Of Philadelphia In San Francisco - 1973
Various - Playlist: A Musical Journey Through Black Music
Various Artists - Snow Dance 002
Various Artists - Italia 4 - Roots Music Atlas
Various Artists - Chronicle
Various Artists - Hit Box V.2 1959-1979 / [3 Cd]
Vendetta - Feed The Extermination
Virgin - Easy Way Out
Walker, Joe Louis - Hellfire
Willis, Bob - The King Of Swing
Wilson, Charlie - Playlist: The Very Best Of Charlie Wilson
Wilson, Gretchen - Playlist: The Very Best Of Gretchen Wilson
Witchery - Symphony For The Dev
Wolfgang Heisig (Phonola) - CONTEMPORARY PHONOLA MUSIC (Works By Johnson, Heisig, Mueller, Nancarrow)
Wyland - Blues Planet
Zorn, John - Mount Analogue