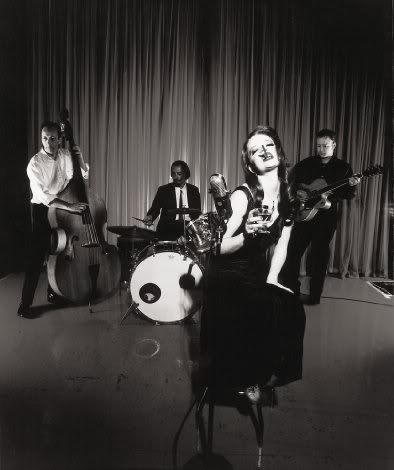 This week's New Music Tuesday is an optical illusion. You're going to skim what looks like a really long list of new CDs heading for music stores this week but that's not true: there's only one new album coming out this week and I've been yammering on about it no end for months now.
Garbage is back with their first new album in seven years. It's called Not Your Kind Of People but it is definitely your kind of album if you have any sense at all. Shirley Manson & Co. are back to reclaim the title and I'll be damned if they haven't done just that with room to spare. I often pepper these previews with pithy lines about the misfortune that will befall you if you don't buy a particular CD. We're not doing that this time. I'm simply not giving you any choice in the matter. You are politely commanded to acquire Not Your Kind Of People. It's fucking well mandatory, is what.

Now if we were to look at the list of alleged other new releases this week, you'd notice the debut album from American Idol Season 10 third-place finisher Haley Reinhart and BlindedBySound has an exclusive interview with her about Listen Up! Reinhart follows winner Scotty McCreery (Clear As Day), second-place finisher Lauren Alaina (Wildflower), as well as James Durbin (Memories Of A Beautiful Disaster). McCreery's debut has sold by far the most copies so we'll see if last season's third place finisher can play catch up. Another AI winner has a record out this week: Kris Allen's Thank You Camellia.
You'd also see Paul McCartney and Albert King classic albums being remastered and re-issued with bonus material and I will own them both because I've already bought and fallen in love with the new Garbage record. McCartney's Ram is being released in a bevy of configurations as he's done with Band On The Run, McCartney, and McCartney II. I'm scoring the 2CD Special edition.
B.B. King is the King Of The Blues we all know and love and he's earned every bit of the reverance and adoration that surrounds him. There were two other Kings of the blues: Freddie and Albert. They are both beyond amazing, both influential on part with the more famous B.B. These three men influenced everybody. Albert recorded most of his best, most memorable work while at Memphis' famed Stax label and one of his Stax classics I'll Play The Blues For You has been remastered and expanded with a few bonus tracks. My copy is on the way. I've got the original CD pressing but I want to hear the new sound and the bonus material.
Tedeschi Trucks Band has released one critically acclaimed, award-winning studio album (Revelator) and they're following it with a double-live album called Everybody's Talkin'. Our own Donald Gibson talked to Derek and Susan about their collaboration on Revelator. The overly prolific Joe Bonamassa has another blues-rock collection out this week called Driving Towards The Daylight.
I'm also going to throw a shoutout to Great White's new album Elation because at one time they were my favorite band on earth. Years have passed and I've moved on but I've met the guys and they were a big chapter of my younger years. I hope this new album is a good one and that it finds its way into many hands.
One final order of business…due to circumstances beyond my control (read: laziness) I didn't get last week's New Music Tuesday column written. I need you all to do two things: go read my review of Barrett Martin Group's Artifacts and go buy a copy of it.
It's Garbage week, kids. Let's do this thing!

Affector - Harmagedon
Aki Takahashi; Sabat/Clarke - Feldman, Monk Barbara: The Northern Shore
Allen, Kris - Thank You Camellia
Apache Dropout - Apache Dropout
Arceneaux, Fernest - Zydeco Stomp
Asia - Live On Air
Barber, Chris - Memories Of My Trip
Batillus - Furnace
Billy Martin / - Shimmy
Bishara, Joseph - Insidous
Blind Guardian - Memories Of A Time To Come
Bloomfield, Michael With Gravenites, Nick And Kooper, Al - Blues At The Fillmore 1968-1969
Blue Foundation - In My Mind I Am Free
Branan, Cory - Mutt
Broocke, Zach - Enjoy The Ride: Solo
Buress, Hannibal - Animal Furnace
Burzum - Umskiptar
Carpenters - Live On Air
Celan - Halo
Checker, Chubby - It's Pony Time/Let's Twist Again
Cold Specks - I Predict A Graceful Expulsion
Colon W - The Hustler
Colon, Johnny - Boogaloo Blues
Cortijo - La Quiniela Del Dia
Craft Spells - Gallery
Crazy Cavan & The Rhythm Rockers - Teddy Boy Boogie
Cult, The - Choice Of Weapon
Danks, The - Are You Afraid Of The Danks?
Delta Moon - Black Cat Oil
Desmarais, Lorraine - Couleurs De Lune
Diablo Swing Orchestra - Pandora's Pinata
Dismember - Like An Everflowing Stream
Durocs - Durocs
Electric Wizard - Witchcult Today
El-P - Cancer For Cure
Emptiness - Error
End Of Septembe - End Of September
Exitmusic - Passage
Expire - Pendulum Swings
Firewind - Few Against Many (Special Digipak Ed.)
Flotsam And Jetsam - The Cold (Deluxe Version)
Fogelberg, Dan - Windows And Walls/Wild Places
Francis, Robert - Strangers In The First Place
Freak Kitchen - Land Of The Freaks
Fripp, Robert - The Wine Of Silence
From Inside - Score
Gary Honor - Heads & Tales
Genre Peak - Redux
George, Morse - Cover 2 Cover
Gossip - A Joyful Noise
Gowan - Great Dirty World - Special Edition
Great White - Elation
Gun Barrel - Brace For Impact
Hardline - Danger Zone
Harrell, Tom - Number Five
Havok - Point Of No Return
Headspace - I Am Anonymous
HI-FI (Featuring Singers Of Pavlov's Dog And Fairport Convention) - The Complete Collection (Cd/Dvd)
Holy Moses - 30th Anniversary - In The Power Of Now
Hoodoo Gurus - Gold Watch:20 Golden Greats
Houston, Whitney Tribute - Piano Tribute To Whitney Houston's Greatest Hits
Huff, David Lyndon - Serenity Prayer Soundtrack,The
Indigenous - Featuring Mato Nanji
Janel & Anthony - Where Is Home
Jbm - Stray Ashes
Johnson, Angela - Revised, Edited & Flipped
Kalama Brothers - Keau
Kill Devil Hill - Kill Devil Hill
Kill It Kid - Feet Fall Heavy
Kimbra - Vows
King, Albert - I'll Play The Blues For You (Remaster)
Klein, Guillermo & Los Guachos - Carrera
Klugh, Earl - Finger Paintings/Heart String/Wishful Thinking
Knack, The - Havin' A Rave-Up!:Live La 1978
Knight, Terry & The Pack - Terry Knight And The Pack/Reflections
Landreth, Sonny - Elemental Journey
Lava Children - Lava Children
Leftover Salmon - Aquatic Hitchhiker
Letter Black, The - Hanging On By A Remix
Levine, Sam/Jack Jezzro - Soul 2 Soul: Instrumental R&B
Lijadu Sisters, - Sunshine
Lil Cuete - Love Jamz 2
Loafers' Glory - Loafers' Glory
Local H - Alive '05
Magic Sam - Raw Blues Live: Magic Sam Live 1969
Magnum - Live On Air
Martin, Justin - Ghettos & Gardens
Martyrd…D - Paranoia
Mayer, John - Born And Raised
Mcclowry, Lisa - Lisa Mcclowry Sings Acoustic Alchemy
Mclaughlin, Jon - Promising Promises
Mekong Delta - Intersections
Messy Marv - Cake And Ice Cream V.3
Miranda, - A Man And His Music
Mutilation - Empyrean
Nine Below Zero - Third Degree
Nunslaughter - Hell's Unholy Fire
Oh, Linda - Initial Here
Orbo And - Prairie Sun
Order Of Nine - Seventh Year Of The
Orlons, The - Wah-Watusi/South Street
Osborne, Bobby & The Rocky Top - New Bluegrass And Old Heartaches
Oscar G - Beats
Place Of Skulls - The Black Is Never Far
Principles Of G - Burn The Land And Bo
Prydz, Eric - Eric Prydz Presents Pryda
Prydz, Eric - Eric Prydz Presents Pryda
Putumayo Presents - Bluegrass
R. Kelly Tribute - Smooth Jazz Tribute To R. Kelly
Ramone, Joey - ...Ya Know?
Royal Thunder - Cvi
Sabaton - Carolus Rex
Saint Vitus - Lillie: F-65
Saint Vitus - Lillie: F-65
Sarazino - Everyday Salama
Sartain, Dan - Too Tough To Live
Saxon - Heavy Metal Thunder - Live
Saxon - Heavy Metal Thunder - Live
Sedaka, Neil - The Tra-La Days Are Over/Overnight Success
Serani - It's Serani
Shadowside - Inner Monster Out
Shankar, Ravi - Ravi Shankar Collection, The
Six Feet Under - Undead
Slash Feat. Myles Kennedy - Apocalyptic Love
Slash Feat. Myles Kennedy - Apocalyptic Love Deluxe
Smile Empty Soul - 3's
Smith, Wadada Leo - Ten Freedom Summers
Soft Machine - Soft Machine
Soft Machine - Vol. 2
Sonata Arctica - Stones Grow Her Name
Sonata Arctica - Stones Grow Her Name (Dlx Ed)
Soulsavers - Light The Dead See, The
Soundtrack/Movie - What To Expect When You're Exp
Spirit - Two Sides Of A Rainbow
Stephens, Shannon - Pull It Together
Stoneburner - Sickness Will Pass
Stylistics - The Streetwise Recor
Suis La Lune - Riala
Superchrist - Holy Shit
Tedeschi Trucks Band - Everybody's Talkin'
The Bunny The - The Stomach For It
The Child - The Child
Thompson, Chris - Night
To Speak Of Wolves - Find Your Worth, Come Home
Touchstone - Discordant Dreams
Touchstone - Mad Hatters-Enhanced (Ep)
Touchstone - Wintercoast
Traffic - Heaven Is In Your Mind
Trip, The - The Trip
Ufo - Chrysalis Yrs Vol.2(1980-1986)
Urge Overkill - Stull
Usher Tribute - Dance Tribute To Usher
Various - Juke Joints 3
Various - Eccentric Soul: A Red Black Green Production
Various - Sweet & Sexy Soul-The Ultimate Romantic Soul Experience
Various - Hipower Entertainment Presents
Various - Turkish Tradition-Masterpieces Of Turkish Musical Culture
Various - Hymns From The Old Country
Various - Worship Box Hymns
Various - El Barrio Gangsters
Various Artists - Hip Hop, Freestyle & R&B Platinum Classics
Various Artists - An Acoustic Tribute To Adele
Various Artists - Stop Me If You Think That You've Heard This One Before - A Tribute To The Smiths
Various Artists - Remember Me Baby - The Cameo Parkway Voc
Visceral Throne - Omnipotent Asperity
Vorkreist - Sigil Whore Christ
Wayne, Bob - Till The Wheels Fall Off
Whirr - Distressor
Wig Wam - Wall Street
Willis, Larry - This Time The Dream's On Me
Winterfylleth - Ghost Of Heritage, The
Wisdom In Chain - Class War And Die Yo
Witchtrap - Vengeance Is My Name
Yomo Toro - Greatest Hits