This week's New Music Tuesday roster isn't loaded with superstar names but there are some very interesting new albums worth spotlighting.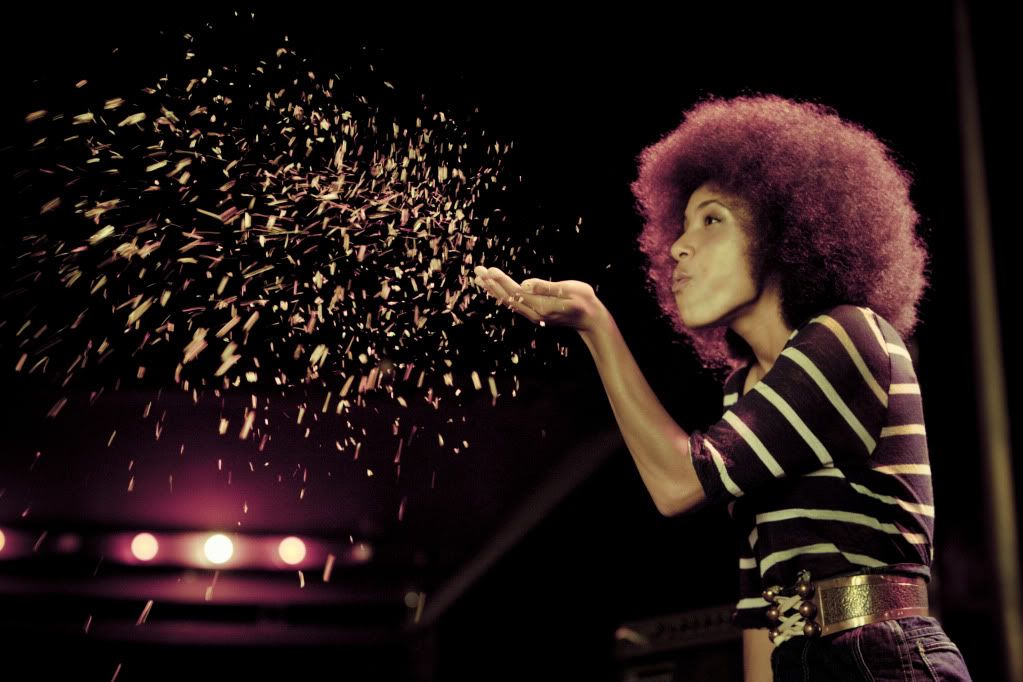 Grammy-winner Esperanza Spalding's Radio Music Society comes out this week and grownups everywhere once again thank her for besting Justin Bieber for that Best New Artist award.
Our friends at Delta Groove have a pair of big blues releases this week as well. Reviews are forthcoming but in the meantime, let's go ahead and talk about both. Harp pro Bob Corritore has paired up with the inimitable Tail Dragger for Longtime Friends In The Blues. Corritore and Tail Dragger are joined by blues piano veteran Henry Gray on a handful of cuts and are backed by guitarists Kirk Fletcher and Chris James, bassist Patrick Rynn, and drummer Brian Fahey. Delta Groove's other release this week is What You Make Of It, from 2007 International Blues Challenge winner Nathan James & The Rhythm Scratchers.
Mud Morganfield is releasing Son Of The Seventh Son for Severn Records today. Mud is carrying on a family tradition, following in the impossibly large footsteps of his father McKinley Morganfield. You might know him better as Muddy Waters. Larry "Mud" Morganfield really is the son of the legendary seventh son. The new set was produced by the aforementioned Mr. Corritore. Corritore lends some harp to the affair and they're joined by Chicago vets Billy Flynn, Barrelhouse Chick, E.G. McDaniel, and Kenny Smith.
Heather reviewed the live set from The B-52s last year and that set is now out on Blu-ray for those of you who love your hippy, campy, Southern fun in high definition.
There's also the self-titled release from American Idol alum Casey James which our Brian Thomas really liked a lot. If you're having trouble placing James and his season, he was a contestant the year Kara Dioguardi and Ellen DeGeneres were judges and it was Dioguardi who made James famous early in the season, asking James to take his shirt off during his audition. James obliged. If you don't remember Dioguardi or James' striptease, you probably won't be looking for this record.
That's a look at some of the new releases for this week. Here's the rest of the list:
Al Jardine -A Postcard From California
Anoushka Shankar -Traveller
Anti-Flag -The General Strike
Aswani, Pr -Visions
Audrey Auld -Resurrection Moon
Audrey Auld -Come Find Me
Ayo -Billie-Eve
Being Flynn -Score
Birdy -Birdy
Blaze Foley -In Tribute And Loving Memory
Blaze Foley -Blaze A Blaze
Blaze Foley -Blaze Foley Inside
Blaze Foley -Songs For Blaze, Friend Of Ours
Bonafide Praisers -Liberated
Brad Mehldau Trio -Ode
Diggy -Unexpected Arrival
Disney -Disney Princesas: Canciones De Las Princesas
Don And The Roping Dummies -Don And The Roping Dummies
Edith Piaf -Edith Piaf / [3 Cd]
El Pathos -Hate & ove*
Electric Touch -Never Look Back
Esperanza Spalding -Radio Music Society
Frank Black & The Catholis -*Live At Melweg*
Goblin Market -Beneath Far Gondol's Foreign Sky
Gone -Score
Half String -Maps For Sleep
Hawk, Garrison With Sly & Robbe -*Surive*
Headhunters, The -Survival Of The Fittest/Straight From The Gate (2xcd)
Irene Nelson -Sun Generation
James, Casey -Casey James
Jesse Ruins -Dream Analysis
Joseph, Jerry & The Jackmormos -*Happy ook*
King, B.B -B.B. King: Live At The Royal Albert Hall
Lightnin' Hopkins -The Very Best Of / [2 Cd Expanded Edition]
Lil Twist -Don't Get It Twisted / [Explicit]
Lost In The Trees -A Church That Fits Our Needs
Love, Toby -Mis Favoritas
Magic Castles -Magic Castles
Margot And The Nuclear So And So's -Rot Gut, Domestic
Masabumi Kikuchi Trio -Sunrise
Melanie Fiona -The Mf Life
Melanie Fiona -The Mf Life / [Deluxe Edition]
Nedry -In A Dim Light
Odd Future -The Of Tape Vol. 2
Osbourne, Ozzy -Diary Of A Madman
Pat Dinizio -This Is Pat Dinizio / [2 Cd Expanded Edition]
Pretend You're Happy -The Great Joyful Rebellion
Ramshackle Glory -Live The Dream
Ranaldo, Lee -Between The Times And The Tide
Roberts, Luke -The Iron Gates At Throop And Newport
Rossen, Daniel -Silent Hour / Golden Mile
Sagapool -Sagapool
Salmon Fishing -Score
Scissormen -Big Shoes: Walking And Talkingthe Blues (CD+DVD)
Sharks -No Gods
Sheriff -Sheriff
Shins, The -Port Of Morrow
Shrouded Strangers -Lost Forever
Sizzla -In Gambia
Sludge, Roy -Too Drunk To Truck
Solander -Passing Mt. Satu
Soundtrack -Shake It Up: Live 2 Dance
Soundtrack -Bel Ami (De Saram/Portman)
Soundtrack -Brake (Brian Tyler)
Soundtrack -Coriolanus (Ilan Eshkeri) / [2 Cd]
Soundtrack -Spartacus Vengeance (Joseph Loduca) / [2 CD]
Soundtrack -The Hunger Games: Songs From District 12 And Beyond
Soundtrack -The Hunger Games: Songs From District 12 And Beyond / [Deluxe Edition]
Spittin' Cobras, The -Year Of The Cobra
Split Cranium -Split Cranium
T. Tex Edwards -Intexicated
Tanlines -Mixed Emotions
The Parson Red Heads -Murmurations
Thieves Like Us -Bleed Bleed Bleed
Tierra -Cruzin Music Box Set / [3 Cd Box Set]
Vacationer -Gone
Van Dyk, Paul -Evolution
Various Artists -The Ballad Of Genesis And Ladyjaye - Soundtrack
Various Artists -Trevor Jackson Presents Metaldance
Various Artists -Super Hot Dance Party Box Set / [3 Cd Box Set]
Various Artists -Dj Explosion Box Set / [3 Cd Box Set]
Various Artists -Canta Y Cuenta: La Serenita (Little Mermaid)
Various Artists -Canta Y Cuenta: Toy Story
Various Artists -Old School Cruzin' To The Oldies Box Set / [3 Cd Box Set]
Various Artists -Sting & The Police- As Performe By*
Whispertown -Parallel
White Hills -Frying On This Rock
Winston, George -Gulf Coast Blues & Impressions 2 - ALou*
Yukon Blonde -Tiger Talk