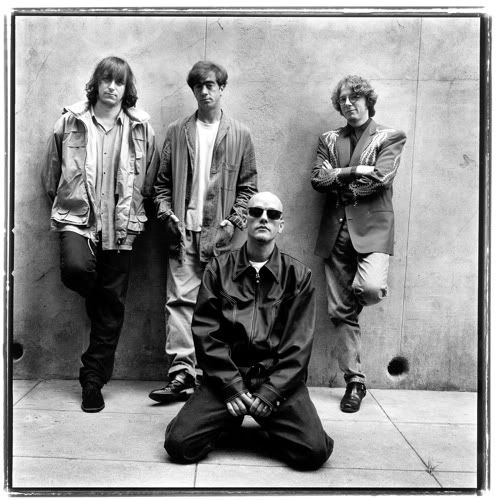 The final chapter in the R.E.M. saga is written this week as the band issues their first career-spanning retrospective, a collection which includes the final three R.E.M. songs of their remarkable career. They've issued compilations before but never one including songs from the I.R.S., indie years and music from their Warner Bros. years. Part Lies Part Heart Part Truth Part Garbage 1982-2011 does just that. I've heard all three new songs (and you can see the video for "We All Go Back To Where We Belong" here on Blinded By Sound) and own everything else on the record but I'm going to let 11 field this compilation as he is my ace sidekick and the resident R.E.M. expert. Look for that soon.
We also get the remastered, deluxe edition of the Rolling Stones' classic Some Girls. Yes, kids, the Stones made good music after Exile On Main Street. There's a disc of unreleased songs from these sessions (in other words not Emotional Rescue), some of which have been retouched or finished recently, just as with Exile.
Another re-issue I'm excited about is the self-titled Mayfield record from Tears For Fears' Curt Smith. Smith and co-founder Roland Orzabal had a parting of ways in the '90s with Roland continuing to make (very good) records under the TFF name. Smith continued to work as well, and Mayfield is one of the albums he recorded. I tried in vain to track this album down back in the uncivilied, pre-internet days and never did find a copy. Oh, sure, the stupid record store chains in the malls said they could special order it for me but their eyes glazed over when they said it, letting me know just how interested they were in tracking this down for me. The album later went out of print but Smith is bringing it back on his own imprint and my joy shall be complete. I'm having one of these. You can order digital editions through Amazon and iTunes and phsyical copies (including a deluxe edition) via Amazon and through Smith's web site.
The blues world lost a special, up-and-coming talent when Sean Costello passed away in 2008, the day before what would have been his 29th birthday. Landslide Records is issuing a compilation called At His Best - Live featuring 16-previously unreleased live performances recorded between 2000-and 2007 at dates he played in the US and Europe. A portion of the royalties from the record will benefit the Sean Costello Memorial Fund for Bipolar Research. Sean continues to be celebrated and missed by many in the blues community and this release is one more opportunity to remember him as the special talent he was.
The Glee hype seems to have waned but they're getting in on the act with a Christmas collection. My Christmas music collection is limited, on purpose. I've never gotten into the show so this isn't likely to invade my iPod, but I imagine it will be popular with the show's faithful.
From there, our new release list gets decidedly worse, and by worse I mean Nickelback worse. It's time to get an Occupy Interscope protest going and put a stop to these atrocities once and for all. U2 printed the United Nations 'Declaration of Human Rights' in the deluxe edition of How To Dismantle An Atomic Bomb. Isn't Nickelback explicity covered somewhere in that document? If not, that's a loophole I want immediately closed.
That's what we've got this week. What are you looking forward to?
Alvin And The Chipmunks - Chipwrecked Music From The Motion Picture
Archgoat - Heavenly Vulva (Christ's Last)
Betty Wright & The Roots - Betty Wright: The Movie
Cabaret Voltaire - Johnny Yesno
Campbell, Glen - Home For The Holidays
Campbell, Glen - Jesus And Me - The Collection
Can - Tago Mago 40th Anniversary Ed
Caveman - Coco Beware
Childish - Camp
Coliseum - Parasites Ep
Cross Canadian Ragweed - Box Of Weed / [5 Cd/Dvd Box Set]
Crystal Stilts - Radient Door
Cynic - Carbon Based Anatomy
D Cruz, Donna - Rasa Swank
David Nail - The Sound Of A Million Dreams
De Clive-Lowe, Mark - Renegades
Drake - Take Care / [Deluxe] [Explicit]
E.S.G. - Owner's Manual / [Explicit]
Esoteric - Paragon Of Dissonance
Glee Cast - Glee: The Music, The Christmas Album Volume 2
Goldmund - All Will Prosper
Gym Class Heroes - The Papercut Chronicles Ii
H2o - Don't Forget Your Roots
Halvorson & Jessica Pavone, Ma - Departure Of Reason
Hypocrisy - Hell Over Sofia - 20 Years
Irish Rovers - The Irish Rovers Home In Ireland
Javier - Javier
Javier - Left Of Center
Korallreven - An Album By Korallreven
Libera - Christmas Album, The
Locksmith - Embedded
Los Campesinos! - Hello Sadness
Martin, Ricky - Más Música + Alma + Sexo
Messy Marv - Goon Vitamins Vol. 3 / [Explicit]
Moby - Destroyed (3-Disc Deluxe)
Naughty By Nature - Anthem Inc.
Odonis Odonis - Hollandaze
Olivia Tremor Control, The - Black Foliage: Animation Music
Paul Anka - Songs Of December
Paul Simon - So Beautiful Or So What / [Cd/Dvd Collector's Edition]
Pianos Become The Teeth - Lack Long After, The
Prezcotts, The - Gossip
Pterodactyl - Spills Out
R.E.M. - Part Lies Part Heart Part Truth Part Garbage 1982-2011 (2cd)
Ray Charles - Singular Genius: The Complete Abc Singles / [5 Cd Box Set]
Run Kid Run - Patterns
Salsburg, Nathan - Affirmed
Sinatra, Frank - Sinatra: Best Of The Best
Slash - Made In Stoke 24/7/11 / [2 Cd]
Sons Of The Pioneers Featuring Roy Rogers - The Centennial Collection
Soundtrack - A Very Harold & Kumar 3d Christmas (William Ross)
Soundtrack - The Ides Of March (Alexandre Desplat)
Taake - Noregs Vaapen
Tanton, Carter - Freeclouds
The Celts - Christmas With The Celts
The Dø - Both Ways Open Jaws
The Puppini Sisters - Hollywood
The Supremes - More Hits By The Supremes / [2 Cd Expanded Edition]
The Who - Quadrophenia / [2 Cd Deluxe Director's Cut]
Usda - The After Party / [Explicit]
Various - Gospel's Best Praise
Various - Cameo Parkway Holiday Hits
Various Artists - The Chief & Age Blues Story / [2 Cd]
Various Artists - Certified #1 Country Hits / [3 Cd]
Various Artists - This Warm December Vol. 2
Various Artists - The Jewel Paula Soul Story / [2 Cd]
Varukers, The - Damnation Of Our Species, The
Vile - Metamorphosis
Wall Of Voodoo - Lost Weekend: The Best Of Wall Of Voodoo The I.R.S. Years
Webbie - Savage Life 3 / [Explicit]
Wertz, Matt - Snow Globe
White Wizzard - Flying Tigers
Wim - Wim
Winans, Daniel - First Love
Yeshiva Boys Choir - Yeshiva Boys Choir Chanukah