I unintentionally skipped New Music Tuesday last week and it's just as well. There were a few releases of note but not nearly as many as this week. We have new sets from the famous (Green Day, Duran Duran) and the infamous (Chris Brown, Adam Lambert). We have something old (Soundgarden) and something blue (Joe Bonamassa) as well.
In addition we also have the following two releases that are on their way to my apartment as we speak…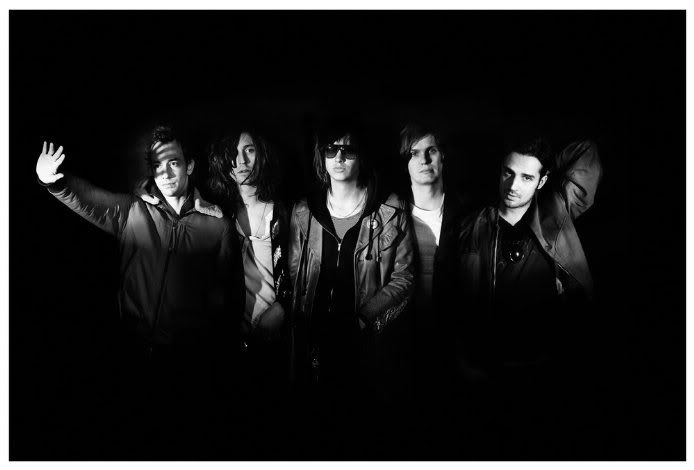 The Strokes
Angles

The Strokes released one of the legendary debut albums in rock history with Is This It? It's a perfect record and perfection is a bitch to follow up. Room On Fire and First Impressions Of Earth had moments that echoed that first glory but neither approached the power of their debut and fans began to wonder if they ever would. They took time off and made solo albums. The reunited and struggled mightily to record a fourth album but here we are with Angles. They offered "Under Cover Of Darkness" as a free download and that's the only song I've heard from the set so far. It took a couple listens to grow on me but it did. Here's to hoping they've recaptured the magic once more.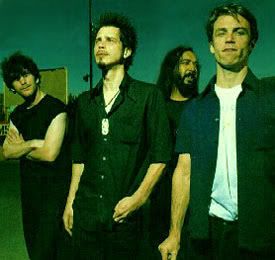 Soundgarden
Live On I-5
Soundgarden was never my favorite of the Seattle bands of the '90s but I always loved them, respected them, and spent hours listening to them. I never got to see them live at their peak, either. It's because of the former and my regret of the latter that I'm rolling the dice on Live On I-5. This live album takes cuts from the band's final tour before breaking up after the recording of Down On The Upside (only to reform some years later for a reunion tour and possible reunion album). I don't know why they're releasing it now but this as close to going back in time with Soundgarden as I'll ever get.
13: Featuring Lester Butler - 13: Featuring Lester Butler
Acid House Kings - Music Sounds Better With You
Adventure - Lesser Known
Agnostic Front - My Life My Way
Art Of Dying - Vices And Virtues
Asha Bhosle And Shujaat Khan - Naina Lagai Ke
Ashcroft, Richard - United Nations Of Sound
Astrosoniq - Quadrant
Baby Bash - Bashtown
Bal Sagoth - Black Moon Broods Over, A
Big 4 Tribute - String Tribute To The Big 4 - Metallica, Slayer, Megadeth, Anthrax
Big Sandy And His Fly-Rite Boys - Best Of Big Sandy And His Fly-Rite Boys
Billy Currington - Icon
Bing Ji Ling - Shadow To Shine
Bizzy Bone & Layzie Bone Presents - Bone Brothers Iv Bone Thugs
Bjorklund, Maggie - Coming Home
Bloodshot - Murder The World
Bobby V - Fly On The Wall
Born Of Osiris - The Discovery
Brown, Chris - F.A.M.E.
Byard, Jaki - A Matter Of Black And White
Caedmon's Call - Raising Up The Dead
Cam'ron & Vado - Gunz N' Butta
Carter, Derrick - Fabric 56: Derrick Carter
Chilvers, Peter - Piano
Cipher - No Ordinary Man
Cky - B-Sides & Rarities
Cox, Katelynne - One Girl
Crommett, Dennis - In The Buffalo Surround
Crystal Viper - Legends
Cunninlynguists - Oneirology
Darkthrone - Total Death
David, Anthony - As Above So Below
Deep Dark Robot - 8 Songs About A Girl
Defrancesco, Papa John - A Philadelphia Story
DMX - Greatest Hits With A Twist
DNA (Derringer & Appice) - Party Tested
Dodheimsgard (Dhg) - 666 International
Dodsferd - Splitting With Hatred The Insignificance Of Life
Dotma - Sleep Paralyses
Dropkick Murphys Tribute - Celtic Tribute To Dropkick Murphys
Duran Duran - All You Need Is Now
Duran Duran - All You Need Is Now / [Cd/Dvd Combo] [Deluxe Edition]
Edwyn Collins - Losing Sleep
Eno, Roger - Fragile (Music)
Esg - Family Bizness
Eulogies - Tear The Fences Down
Evil Survives - Metal Vengeance
Federico Aubele - Berlin 13
Fitzsimmons, William - Gold In The Shadow
Fitzsimmons, William - Gold In The Shadow (Deluxe Edi
Franklin, Aretha - Take A Look: Complete On Columbia
Franklin, Kirk - Hello Fear
Gazpacho - Missa Atropos
Gb Leighton - Hope 1 Mile
Gehenna - Seen Through The Veils
Georgian Skull - Mother Armageddon, Healing Apocalypse
Gould, David Solid Vs Laswell, Bill - Dub Of The Passover
Grasstowne - Kickin' Up Dust
Grave Digger - Rheingold
Gucci Mane - The Return Of Mr. Zone 6
Harvey Mandel - The Best Of Harvey Mandel
Hudson, Jennifer - I Remember Me
If By Yes - Salt On Sea Glass
James Blake - James Blake
Jayaraman, Lalgudi G - Sublime Strings
Joe Bonamassa - Dust Bowl
John Zorn - Zorn: Nova Express
Josh Kelley - Georgia Clay
Josh Turner - Icon
Ke$Ha - I Am The Dance Commander + I Command You To Dance: The Remix Album
Keren Ann - 101
Kinks - Kinda Kinks / [2 Cd Deluxe Edition]
Kinks - Kinks / [2 Cd Deluxe Edition]
Kinks - The Kinks Kontroversy / [2 Cd Deluxe Edition]
Kurtag: Signs, Games, Messages - Maurizio Barbetti
Lambert, Adam - Glam Nation Live
Laura Jansen - Bells
Lee, Okkyung - Noisy Love Songs
Les Chauds Lapins - Amourettes
Lonely Forest, The - Arrows
Mamud Band - Opposite People - The Music Of Fela Kuti
Marie, Teena Tribute - Smooth Jazz Tribute To Teena Marie
Mcneely, Big Jay - King Of The Honking Sax
No Man - Carolina Skeletons
No Man - Flowermouth
No Man - Wild Opera
Nostalgia 77 - Sleepwalking Society, The
Odd Dimension - Symmetrical
Panic At The Disco - Vices & Virtues
Pastor Troy - H.N.I.C.
Pavlov's Dog - Live And Unleashed
Pet Shop Boys - Most Incredible Thing, The
Pharoahe Monch - W.A.R. (We Are Renegades)
Phillips, Anthony - Private Parts And Pieces Vol 9 & 10
Protest The Hero - Scurrilous
Queen Tribute - Piano Tribute To Queen
Rainbow - Down To Earth / [2 Cd Deluxe Edition]
Rainbow - Rising / [2 Cd Deluxe Edition]
Reverberation - Blue Stereo Music
Reverberation Vs Muslim Gauze - New Soul
Rick Nelson - Rockin' At The Universal
Rise Against - String Tribute To Rise Against
Rocky Business - Rebel's Roar
Rod Stewart - Atlantic Crossing
Rod Stewart - A Night On The Town
Roys, The - Lonesome Whistle
Saliva - Under Your Skin
Sam The Sham & The Pharaohs - The Mgm Singles
Sir Douglas Quintet, The - The Mono Singles '68-72
Solomon Burke & De Dijk - Hold On Tight
Soundgarden - Live On I-5
Squires, Dorthy - The Voice Of The Broken-Hearted Coming Home 1936-1949
Straight Line Stitch - The Fight Of Our Lives
Strokes, The - Angles
Sullivan, Quinn - Cyclone
Sway Machinery Featuring Khaira Arby - The House Of Friendly Ghosts Vol. I
Thorns Vs Emperor - Thorns Vs Emperor
Tomlinson, Jim - Lyric, The Feat.Stacey Kent
Tommy Shaw - The Great Divide
Various - Stripperland - Motion Picture Sound Track
Various - Curtain Call-New Songs
Various - 30 Years Tejano Music Vol.2
Various - The Essential Guide To Colombian Music
Various Artists - Covers For Reggae Lovers Vol. 2
Various Artists - Ragga Ragga Ragga 2011 / [Cd/Dvd Combo]
Various Artists - Sucker Punch: Original Motion Picture Soundtrack
Wadsworth Mansion - Sweet Mary
Wills, Bob - 1940-1947 Texas, Hollywood And Chicago
Woods Of Ypres - Woods Iv: The Green Album
Yellowcard - When You Re Through Thinking,
Zander, Robin - Countryside Blvd.
Zion I & The Grouch - Heroes In The Healing Of The Nation