In the better late than never department, we have our look at new releases for April 10, 2010 and there are some good ones! The list isn't what I'd call deep this week but there are some CDs you've just got to pick up.
I have to start this out with one of the coolest things that ever happened to me in the history of my life and it's relevant because of one of this week's new releases. I was at the Blues Music Awards in Memphis last year and Kate Moss asked if I wanted to go Wild Bill's, the last juke joint still running in Memphis, with her and a group of others to hear some folks jamming with a damn good house band. That was exciting; this is where it gets preposterously cool.
Kate hails a cab and I wind up sharing a cab with her, Dick Shurman (co-fount of all blues knowledge with my esteemed friend Bill Dahl), and perhaps the greatest living soul singer on planet earth: Curtis Salgado. Let's play Sesasme Street game: one of these things is not like the other, one of these things doesn't belong. Kate Moss is a multi-instrumentalist, co-runs an indie label, and designs artwork for countless CDs and labels. Dick Shurman has produced Grammy-winning albums for Hall of Fame artists, knows everyone, works with everyone, and writes great liner notes. Curtis Salgado is Curtis Salgado. For those of you unfamiliar, it's not urban legend: he actually did serve as a musical mentor and partial inspiration to John Belushi for The Blues Brothers. That's cool on a pop culture level but the guy really is one of the greatest singers alive. All these people are in a cab and then there's me.
I complain. A lot. I'm not afraid to say I think I do so with good reason most of the time but don't let that fool you: I've been blessed beyond measure. Not only did I get to share the cab with these amazing people but Curtis got up and, in between trying to have some hot wings and tea, sang a couple songs and blew some brilliant harp without so much as a warm up and Kate sat in on bass. His wings were gone when he finished singing and I swear on my CD collection I didn't touch them. I did pick up the cab fare on the way back to the hotel. He offered to go in with me but I told him I had it. It was the least I could do. I got to listen to him sing, play, and trade stories with Dick Shurman. I swear to you I'm never going to forget that night. Curtis' first album for Alligator Records Soul Shot is out this week. I'm looking forward to sharing my thoughts about it with you.
Now let me tell you about another of the coolest things that ever happened to me in the history of my life, again relevant because of a new release this week. I was an editor at Blogcritics and hosting a podcast. I rolled the dice and contacted Counting Crows' publicist, hoping a member of the band might be willing to talk about their great new record Saturday Nights & Sunday Mornings. I never dreamed a member of the band would be lead singer Adam Duritz. I was on the phone talking to Adam live before an internet audience within a week. Understand something, friends: he and his band sold millions of records worldwide and remains one of the finest songwriters of "my" generation/era and I was a nobody blogger but that's not the way he treated me or the interview. He was generous, kind, warm, and thoughtful. He spent over an hour with me on the phone, talking about his new record and the struggle to get it released on his own terms and the future of music in the internet age.
Speaking of releasing records on their own terms, Counting Crows are now independent artists and they're first new album is a collection of covers called Underwater Sunshine (or what we did on our summer vacation). I've pre-ordered my copy and it should be home by the time I get there. I hope I one day get to cross paths with Duritz one more time, not because I want anything more from him than what he's given me through his music and that magical afternoon a few years back. I just want to tell him "thank you" one more time.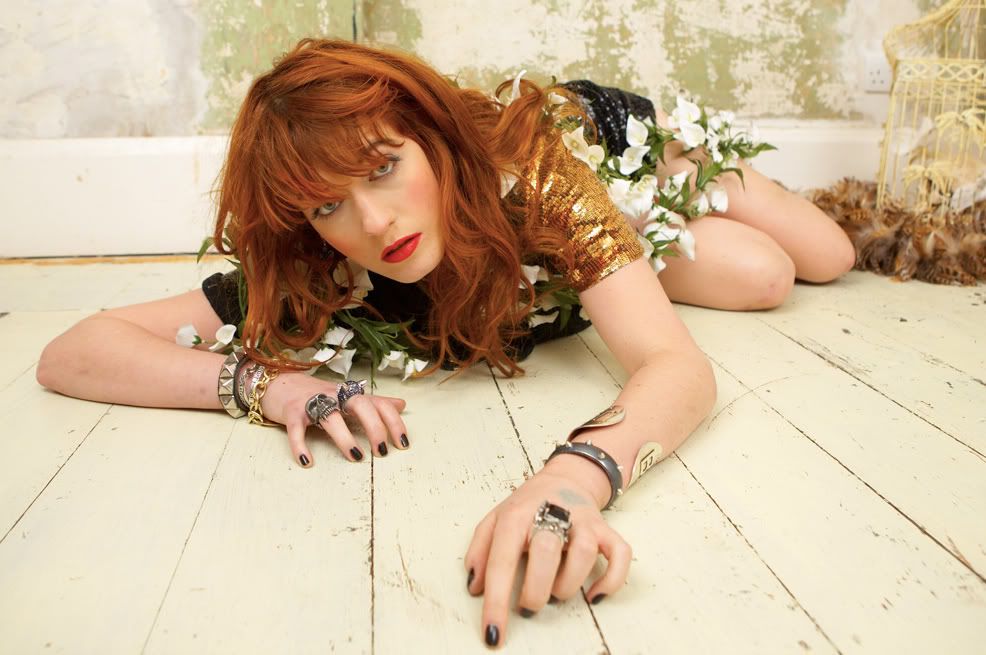 Also on the new release front this week and the business at hand: Florence + The Machine's MTV Unplugged CD/DVD package. This, too, is on its way to my house right now as she continues to tour and promote her latest studio album Ceremonials. Bonnie Raitt's Slipstream is getting a lot of advance buzz as is the new set from Alabama Shakes, a band that hails from Athens, AL (about 30 minutes from where I live and sit right now). I haven't checked them out yet but they're a major priority for me and will soon be fully vetted. We also have the latest album from American Idol alum Elliott Yamin.
Thanks for indulging a couple of stories. I'm sure it sounds like I'm namedropping and boasting but what I'm really trying to do is tell you A) there are some great records coming out this week B) there are some really cool people making those records and C) I'm just a fan who got lucky enough to be in the right place at the right time a couple times. Everybody has their story to tell. Those are a couple of mine. Here are the new releases for April 10, 2010. Take a look and tell me what's making your list this week.
A Whisper In The Noise - To Forget
Accept - Stalingrad
Alex Winston - King Con
Ali Fuat Aydin And Cenk Guray - Bir
All-American Rejects Tribute - Piano Tribute To The All-American Rejects
Amadou & Mariam - Folila
Apoptose - Nordland 2011
Arctic Plateau - The Enemy Inside
Ash Ra Tempel - Ash Ra Tempel
Ash Ra Tempel - Schwingungen
Ash Ra Tempel - Starring Rossi
Ash Ra Tempel With Timothy Lea - Seven Up
Attaloss - Attaloss
Baldwin, Bob - Betcha By Golly Wow: The Songs Of Thom Bell
Bassnectar - Vava Voom
Black Dice - Mr. Impossible
Blackburner - Feel The Burn
Buble, Michael - X-Posed The Interview
Calvert, Robert - Ejection Cardiff 1988
Collins, Andy - Closure
Cooper, Alice - No More Mr. Nice Guy Live
Counting Crows - Underwater Sunshine (or what we did on our summer vacation)
Damned, The - DAMNED 35th ANNIVERSARY, THE
Darkthrone - Plaguewielder
Dead Sara - Dead Sara
Demon Hunter - True Defiance
Demon Hunter - True Defiance (De)
Destroy All Monsters - Hungry For Death Book/Cd Limited Edition
Dodheimsgard (Dhg) - Supervillain Outcast
Drummerboy - Youngest In Charge
Eddy, Duane - Rocks
Eight And A Half - Eight And A Half
Electric Family - Ice Cream Phoenix: Resurrection
Enid - Munsalvaesche
Escoffery, Wayne - The Only Son Of One
Evenoire - Vitriol
Fastway - Eat Dog Eat
Felice, Simone - Simone Felice
Fishbaugh, Fishbaugh & Zorn - Ff&Z: The Whole Story
Florence & The Machine - Mtv Unplugged
Gehenna - Murder
Glover, Donald - Donald Glover: Weirdo
Guo Gan - Scented Maiden
Halestorm - The Strange Case Of
Hanft, Jim - Weddings Or Funerals
Harrison, George - The Lowdown The Interview
Harrold, Melanie Aka Joanna Ca - The 70s Albums
Hermann Brood & His Wild Roman - Live At Rockpalast 1978 And 1990
Hipower Entertainment Presents - Streets Are Mine
Ignitor - Year Of The Metal Tiger
Imaginary Cities - Temporary Resident
J. Teal Band - Cooks
J.J. Burner - Roll On
Jackson, Joe - Live At Rockpalast
Jansch, Bert - Sweet Sweet Music
Joyride - Are You Fer It
Keb' Mo' - X2
Kenny G - X2
Killerfix - Bridge Of Disorder
Latimore - Back 'Atcha!
Latimore - All About The Rhythm And The Blues
Latimore - Live In Vienna
Lehrmann, Felix - Rimjob
Liquid Crystal Project - Liquid Crystal Project 3
Lissy Trullie - Lissy Trullie
Little Feat - The Last Record Album
Loomis, Jeff - Plains Of Oblivion
Lukas Nelson And Promise Of The Real - Wasted
Lullacry - Where Angels Fear
Lynch, Jimmy - Nigger Please
Mccrae, Gwen - Sings TK
Menken, Alan - Mirror Mirror (Original Motion Picture S
Meyer, Hermann Lammers - Buried Treasures
Midler, Bette - Live At Last (Original Recording Master/
Miguel, Luis - Romance: 20th Anniversary (Deluxe Editio
Millman, Jack - California Jazz
Moka Only & Ayatollah - Bridges
Monica - New Life
Moraz, Patrick - Pianissimoraz
Mpire Of Evil - Hell To The Holy
Mr. Criminal - Young, Brown And Dangerous
Municipal Waste - Fatal Feast, The
Municipal Waste - Fatal Feast, The (Deluxe Ed)
Mustangs - Shaman And The Monkey
Nadiwrath / Hexenmeister - Raze The Cosmic Inexistence
Nardini, Norman - Bone A Fide
Nashville Pussy - From Hell To Texas - Live And Loud In Europe (Tour Edition)
Nelson, Willie - It's Magic
Oates, John - The Bluesville Sessions
O'donnell, Daniel - Ultimate Collection
Ohmphrey - Posthaste
Oliver Dawson Saxon - Motorbiker
Original Motion Picture Soundtrack - Think Like A Man - Music From & Inspired
Original Soundtrack Featuring The Craze - One Man, Two Guvnors
Ortiz, Aruan - Santiarican Blues Suite
Ory, Kid - Song Of The Wanderer/ Dance With Kid Ory Or Just Listen
Outcast - Awaken The Reason
Papaslide - What Are We Livin' For?
Prince Royce - Phase II
Prophecy - Into The Light
Ray, Wade - Idaho Red
Raybon, Marty - Southern Roots And Branches (Yesterday And Today)
Roach, Steve - Back To Life (2-CD)
Roachford - Live At Rockpalast
Safety Fire, The - Grind The Ocean
Salgado, Curtis - Soul Shot
Say Hello To The Angels - Break Your Sword
Scars On 45 - Scars On 45
Schmidt, Claudia - Bend In The River:Collected Songs
Schulze, Klaus - Richard Wahnfried's Miditation
Schwarzer Engel - Traume Eine Nacht
Secrets Of The Moon - Seven Bells (Digipak Special Ed.)
Secrets Of The Moon - Seven Bells (Regular Ed.)
Simpson, Red - Hello, I'm Red Simpson
Soriano, Joan - La Familia Soriano
Soundtrack - Spartacus Vengeance (Joseph Loduca) / [2 CD]
Soundtrack - The Cabin In The Woods
Steep Canyon Rangers - Nobody Knows You
Switchblade Symphony - The Three Calamities
Taft, Dudley - Left For Dead
Tharpe, Sister Rosetta - The One And Only Queen Of Hot Gospel
The Mceuen Sessions - For All The Good
Todd Rundgren's Utopia - Live At Hammersmith Odeon '75
Train - X2
Treperquattropiuuno - Vintage
Upon A Burning Body - Red White Green
Vanilla Ice - Vanilla Ice Is Back! Hip Hop Classics
Various - Smooth And Sexy Smooth Jazz For Lovers
Various - 10 Years Of Wild Savage Rock 'N' Toll
Various - History Of New Orleans Rhythm & Blues Volume 1
Various - History Of New Orleans Rhythm & Blues Volume 2
Various - Jazz At The Philharmonic: Seattle 1956
Various - 1961 British Hit Parade Part 2: April-September
Various - 1961 British Hit Parade Part 3 September: December
Various - 1961 British Hit Parade Part 1: Jan-April
Various - Hl Heaven
Various - Hooked On Number Ones: 100 Non Stop Hits
Various - Story Of Blue Beat 1961 Vol. 1
Various Artists - Damsels In Distress
Various Artists - 80s Monster Ballads
Various Artists - Vivid Covers - A 20th Anniversary Tribute To L'arc~En~Ciel
Various Artists - Rod Stewart & The Faces - As Performed By
Volonte, Derniere - Ne Te Retourne Pas
Ward, M - A Wasteland Companion
Wilson, Steven - Insurgentes / Rmxs ( 3 Disc Set )
World Party - Arkeology / [5 CD]
Yamin, Elliott - Let's Get To What's Real