March is indeed going out like a lion with a week of great new releases from artists in a range of genres.
We begin with new releases that aren't new releases. Radiohead unleased The King Of Limbs in a moderately confusing manner in February. Today marks the conventional release of the album and those who bought the super deluxe editions will get theirs in May.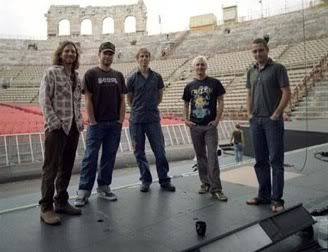 We also get the re-issue of a pair of Pearl Jam records, Vs and Vitalogy. Both albums are being released as single discs, remastered, with a few bonus tracks appended. For the more serious fans, you can get both discs packaged together and that set comes with a complete 1994 show from Boston. Joan Hunt has dedicated Two-fer Tuesday to Pearl Jam, partially in honor of the re-issues.
Both of these are on their way to my house, today.
We've also got a pair of top blues women releasing new records today. Pianist Marcia Ball's Roadside Attractions is out today as is Rory Block's Shake 'Em On Down: Tribute To Mississippi Fred McDowell. I haven't heard Ball's album yet but have already heard and reviewed Block's album, which I love.
There are new sets from Wiz Khalifa and Snoop Dogg as well as a new Britney Spears album and even something new from Whitesnake. Los Lonely Boys and Mary Mary are also on the list this week. It's a big week of big new releases. Take a look and tell me what you covet!
Aiden - Disguises
All Tiny Creatures - Harbors
Amon Amarth - Surtur Rising
Anr - Stay Kids
Arrington De Dionyso S Malaika - Suara Naga
Awolnation - Megalithic Symphony
Ball, Marcia - Roadside Attractions
Band Of Heathens, The - Top Hat Crown & The Clapmaster's Son
Becoming The Archetype - Celestial Completion
Benighted - Asylum Cave
Between The Buried And Me - Best Of
Bibio - Mind Bokeh
Biffy Clyro - Only Revolutions
Blackguard - Firefight
Block, Rory - Shake Em On Down: A Tribute T
Books, The - Lost And Safe
Boxer Rebellion, The - The Cold Still (2xcd)
Buzzoven - Revelation: Sick Again
Cavalera Conspiracy - Blunt Force Trauma
David, Thierry - The Veil Of Whispers
De Lory, Donna - Remixes
Duke, Matt - One Day To Die
E - 40 - Revenue Retrievin': Graveyard
E - 40 - Revenue Retrievin': Overtime
Eggar Quartet, Dave - The Yoga Sessions: Dave Eggar
Emery - We Do What We Want
Erland & The Carnival - Nightingale
Finck, Jerad - Jerad Finck
Funeral Party - Golden Age Of Knowwhere
George Jones - Mr. Country And Western
Golightly, Holly - The Good Things
Gray, Henry - Lucky Man
Great White - Absolute Hits
Gridlink - Orphan
Haunted, The - Unseen
Havok - Time Is Up
Hunx And His Punx - Too Young To Be In Love
Infinitirock - Library Catalog Music Series:
Kay The Aquanaut - Waterloo
Ladytron - Best Of 00 - 10
Leb Laze - Library Catalog Music Series:
Lecherous Gaze - Lecherous Gaze
Los Lonely Boys - Rockpango
Lynch, Kermit - Kitty Fur
Maneesh De Moor - Signatures On Water
Mary Mary - Something Big
Melting Season - Harmoni - Pet Deluxe
Moon Duo - Mazes
Mountain Goats, The - All Eternals Deck
Naked On The Vague - Twelve Dark Noons
Nelson/Marsalis/Jones - Here We Go Again
Noah23 - Fry Cook On Venus
Obits - Moody, Standard And Poor
Obscura - Omnivium
Of Legends - Stranded
Original Cast - Sister Act
Panic! At The Disco - Vices & Virtues
Pearl Jam - Vitalogy Expanded Edition (3 Bonus Tracks)
Pearl Jam - Vs. & Vitalogy 3 Cd Deluxe Edition (Featuring Live At The Orpheum, Boston Ma)
Pearl Jam - Vs. Expanded Edition (3 Bonus Tracks)
Pearson, Josh T - Last Of The Country Gentlemen
Peter, Bjorn & John - Gimme Some
Rachell, Yank - Blues Mandolin Man
Radiohead - The King Of Limbs
Royal Bangs - Flux Outside
Secret Cities - Strange Hearts
Silly Kidz - 101 Crazy Jokes For Kids
Snoop Dogg - Doggumentary
Sounds, The - Something To Die For
Southeast Engine - Canary
Spears, Britney - Femme Fatale
Spencer, Heidi & The Rare Birds - Under Streetlight Glow
Squier, Billy - Essential Billy Squier
Ten After Two - Truth Is...
The Pains Of Being Pure At Heart - Belong
Thee Headcoatees - Sisters Of Suave
True Widow - As High As The Highest Heavens
Unwritten Law - Swan
Various Artists - Cult Cargo: Salsa Boricua De C
Various Artists - Jazz: The Smithsonian Antholog
Wagon Christ - Toomorrow
We Are Defiance - Trust In Few
Whitesnake - Forevermore
Within Temptation - Unforgiving, The
Wiz Khalifa - Rolling Papers
Wright, Brian - House On Fire
Yorn, Pete - Musicforthemorningafter