I feel like I'm 15 again, talking about a new solo record from guitar virtuoso Steve Vai. Story Of Light is the former Zappa protege's latest album, his first studio set in three years. Among the things that set him apart from random shredders and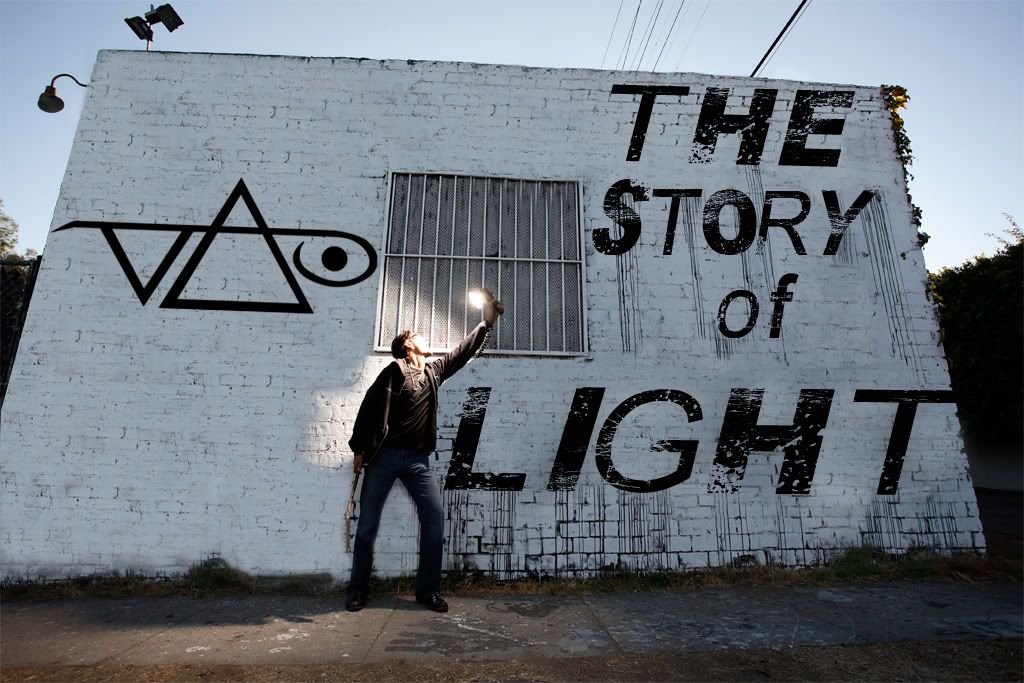 noodlers is his innovative streak both as a technician and a composer. He has studied the rules and learned how to do things right and set about finding ways to bend and break them.
Among the other interesting new releases this week is a Fleetwood Mac tribute album called Just Tell Me That You Want Me. The set includes contributions from Lee Ranaldo featuring J Mascis, Antony, Trixie Whitley, Billy Gibbons & Co., Best Coast, New Pornographers, Marianne Faithfull, Lykke Li, Karen Elson, Matt Sweeney and Bonnie Prince Billy, Washed Out, Tame Impala, Craig Wedren with St. Vincent, The Kills, Gardens & Villa, The Crystal Ark, and MGMT. It's an interesting lineup of artists covering songs from a Hall of Fame band with several interesting periods in their history.
That's about it for this week, kids. The pickings are slim. You're welcome to peruse this week's new releases to see if there's something I glossed over (or intentionally ignored because I sleep better thinking no one out there will actually buy it). Good luck. We'll do this again next week...

2 Chainz - Based On A T.R.U. Story
A Forest Of Stars - A Shadowplay For Yesterdays
Aborted - Goremageddon, The Saw And The Carnage Done
Aborted - The Archa•C Abattoir
Acherontas/Nigh - The Ruins Of Edom
American Me - III
Ann-Marita - Intuition
Another Lost - Better Days
Anvil - Anthology Of Anvil
Anvil - Back To Basics
Anvil - Past And Present
Anvil - Still Going Strong
Arthur Crudup - The Blues
Asrock - Take Me Away / Begin
Bergonzi, Jerry - Shifting Gears
Bill Monroe - Icon
Black Light Bu - The Moment You Reali
Blackberry Smok - The Whippoorwill
Brandy Tribute - Smooth Jazz Tribute To Brandy
Classic Crime, The - Phoenix
D'eon - Lp
Darkness By Oat - Near Death Experienc
Dead Can Dance - Anastasis
Deadly Remains - Severing Remains
Deiphago - Satan Alpha Omega
Delicate Cut - Ring
Denial Of God - Death And The Beyond
Dignan Porch - Nothing Bad Will Ever Happen
Dirty Guv Nahs, The - Somewhere Beneath These Southe
Doro - Under My Skin - A Fine Selection Of Doro Classics (2Cd)
Downspirit - Bulletproof
Dragony - Legends
Dublin Death Pa - Ddp 4 Life
Dublin Death Pa - Death Sentence
Dust Busters (With John Cohen) - Old Man Below
Earle, Steve - The Revolution Starts Now
Ephel Duath - On Death And Cosmos
Fastkill - Bestial Thrashing Bu
Feliciano, Cheo - Anthology
Foreshadowing - Oionos
Foreshadowing - Second World
Fozzy - Sin And Bones
Freidman, Marty - Bad D.N.A.
Freidman, Marty - Future Addict
Freidman, Marty - Loudspeaker
From Atlantis - Pedestals
Glasser, Adam - Mzansi
Graveyard - The Altar Of Sculpte
Hot Club Of Det - Junction
In This Moment - Blood
Incubus - Incubus HQ Live(1Cd/1Dvd)
Insane Clown Posse - The Mighty Death Pop
Kartel, Vybz - Kinston Story: Delux Edition
Khan, Chaka - Greatest Hits Live
Kim, Sunny - A Painter's Eye
Korpiklaani - Manala
Kottonmouth Kin - Mile High
L.A. Guns - Waking The Dead
Letter To The E - Make Amends
Lijadu Sisters, - Horizon Unlimited
Lil Cuete - Gunplay
Locrian - The Clearing & Te F
Loudness - Eve To Dawn
Loverboy - Rock 'N' Roll Revival
Lund, Corb - Cabin Fever
Lund, Corb - Cabin Fever (Limited
Lynch Mob - Revolution Deluxe Collection
Lynche, Michael - Michael Lynche
Marillion - Somewhere Else
Marillion - Marillion.Com
Mars, Charlie - Blackberry Light
Martino, Pat - Alone Together
Marty Stuart - Icon
Master - The New Elite
Mazz - Regalo De Navidad
Meri Wilson - Telephone Man
Merle Haggard - Icon
Metternich - Power, Drama, Interp
Mexican Institu - Politico
Mike Oldfield - Platinum
Mike Oldfield - Qe2
Mike Oldfield - Two Sides: The Very Best Of Mike Olfield
Mongo Sa - Sofrito
Necrovation - Necrovation
Nguzunguzu - Warm Pulse
North Atlantic Oscillation - Fog Electric
Nostalgia 77 - Garden, The
Nuclear Death - Chaos Reigns
Nude Beach - Ii
Oiltanker - The Shadow Of Greed/
Oneman - Fabriclive 64: Oneman
Papercranes - Three
Physical - Safety Net
Poison Idea - The Fatal Erection Y
Polarization - Chasing The Light
Polica - Give You The Ghost
Poncen S - Anthology
Powter, Daniel - Turn On The Lights
Prog Collective, The - The Prog Collective
Quantic Soul Orchestra, The - Pushin On
Ray Manzarek & Michael McClue - The Piano Poems: Live In San Francsco
Renault, Jacques - Sam Records Extended Play Mixe
Rodriguez, Lalo - 10 Grandes Exitos
Ross, Rick Tribute - Dance Tribute To Rick Ross
Seth - Les Blessures De L Å
Slightly Stoopi - Top Of The World
Smile Smile - Marry A Stranger
Sophicide - Perdition Of The Sublime
Soulicit - Parking Lot Rockstar
Soundtrack/Movie Score - Paranorman/Brion, Jon
Stanley, Ralph - Old Songs & Ballads- Vl 1
Stanley, Ralph - Old Songs & Ballads- Vl 2
Strong Arm Steady & Statk -*Stereoype*
Such Gold - Misadventures
Taylor, Ben - Listening
Texas Hippie Coalition - Peacemaker
The Chant - A Healing Place
The City Of Prague Philharmonic Orchestra - The Music Of John Williams - The Definitive Collection
The City Of Prague Philharmonic Orchestra - Lawrence Of Arabia
The Faceless - Autotheism
The Forsaken - Beyond Redemption
Vai, Steve - The Story Of Light
Various - Joey's Song For Kids Volume 2
Various - Joey's Song Volume 2
Various - El Barrio Bad Boogal
Various Artists - Songs Of The Century - An All-Star Tribute To Supertramp
Various Artists - This Is Trance 3.0
Various Artists - Just Tell Me That You Want Me: A Tribute To Fleetwood Mac
Various Artists - Rock & Roll Beginnngs
Various Artists - Certified #1 Country Hits V.2
Vaughn, Julian - Breakthrough
Veggietales - 150 All-Time Favorite Songs! (6Cd)
Video - Inga Collection, The
Waylander - Kindred Spirits
White Violet - Hiding, Mingling
Williams, Robin & Lina -These Old Dark Hlls
Xibalba - Hasta La Muerte
Yellowcard - Southern Air
Zombiefication - Reaper's Consecratio
Zonaria - The Arrival Of The Red Sun