This might be the most expensive New Music Tuesday in the history of my life (thank you, Rocky Balboa). We've got deluxe editoins from Pink Floyd and Nirvana as well as new releases from Sebastian Bach, Chickenfoot, Swtichfoot (that's a lot of 'foot, kids), the mighty Wilco, Maria Muldaur, Mastodon, and so many more. Take a deep breath, pour a drink, and get ready to dive in as we look at just a handful of the biggest releases for Sept. 27, 2011.
Pink Floyd Re-Issues
If you think you've heard this before, you have- sort of. Floyd's catalog has seen its share of churn and repackaging but this time is different. Fourteen Floyd albums have been remastered by James Guthrie, one of the sonic architechts of The Wall. I know, I know, you all wanted Alan Parsons or the Abbey Road whiz kids who made The Beatles' catalog sound so good. We got Guthrie and he knows Floyd so we'll hope for good things on the sonic front.
The Floyd remasters are being sold separately and in a massive box set containing all 14 albums (16 discs total as both Ummagumma and The Wall are 2 CDs) in a box set called Discovery but wait- that's not all!
Three Floyd classics -- Dark Side Of The Moon, Wish You Were Here and The Wall are being released in Experience and Immersion editions. Only DSOTM is being released today with Wish being released in November and The Wall in Feb. of next year.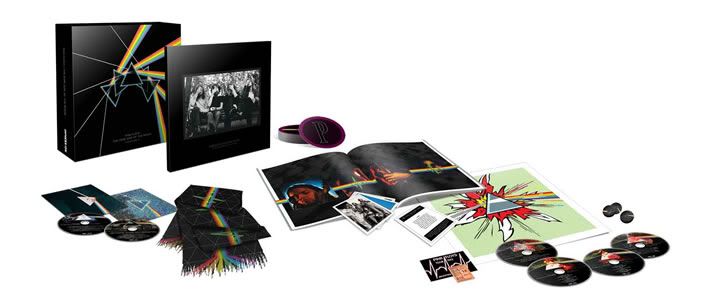 The Experience Edition is 2 CDs: Disc 1 is the remastered album, Disc 2 is a complete performance of the album from 1974 at Wembley Stadium. The Immersion Experience is hellaciously expensive and YES it's what I ordered. It includes what's in the Experience Edition as well as a DVD of audio content containing several mixes of the album in high fideltity, another DVD containing a documentary, some live performance footage, and three concert screen films from tours between '74-75. There's also a Blu-ray Audio and Audio visual disc that captures much of what is on the DVD but adds some additional goodies. Then there's a third CD with outtakes and previously unreleased live and studio footage. Along with that, it's packaged in a big-ass box with all kinds of memorabilia and a 40-page book.
The pisser here is I wouldn't mind getting Discovery but these Immersion sets are hellaciously expensive and I can't see myself buying those and Discovery and duplicating that much material. It's a champagne problem for a guy spending way too much money on his CD collection, one I'll no doubt find my way through.
Nirvana - Nevermind 20th Anniversary Edition
I...am...old. To borrow from Chevy Chase: Nirvana's Nevermind is 20 years old and I'm not. This landmark album is being offered in Deluxe and Super Deluxe editions. The Deluxe comes out today and includes the album, remastered, and 27 bonus tracks consisting of B-sides, rarities, and previously unreleased material. The Super Deluxe comes out next month and includes all of the above and then some. I'm getting typing fatigue here, people. I preordered the Super Deluxe and will share my thoughts on its glory next month when it arrives.
Wilco - The Whole Love
Our good buddies Wilco have a brand new label and a brand new record. It's being offered in a standard and deluxe edition (YES I went deluxe) as well but not quite as sprawling as what we've got from Floyd. The Deluxe edition includes a second CD with four additional songs. I didn't love Wilco's last album, the self-titled release but I love most of what they've done and have a good feeling about this one because I want to.
Switchfoot - Vice Verses
Our Grammy-winning friends Switchfoot follow up their brilliant Hello Hurricane with a new album being offered in :: wait for it :: three editions: Super Deluxe, Deluxe, and Standard (I went Deluxe, not Super). The Deluxe edition includes a complete performance of Hello Hurricane, reflecting what they did on the first leg of that tour. They opened the show playing the record beginning to end before diving into material from their back catalog.
I've heard the first single "Dark Horses" and I like it. I saw them perform it on Jimmy Kimmel and just as with Hello Hurricane, ESPN and ABC have been using snippets of VV songs in their college football broadcasts. Viva La Foot!
Those are just the CDs I've bought. We've still got so many more to discuss!
Sebastian Bach - Kicking & Screaming
We've been talking about this album forever, from the announcement to the release of the first single and its corresponding video. We have onstaff the foremost authority on Sebastian Bach and her review of the album.
Chickenfoot - III
I love Joe Satriani and like Sammy Hagar. I bought the first Chickenfoot record wanting this to work. It didn't. Neither Sam nor I have lost any enthusiasm for women and their genetalia and that's all fine and good but Hagar, now in his 60s, ran out of interesting ways to sing about it a long time ago. That doesn't stop him from trying. Joe is a less interesting lead guitar player when he plays in a band with conventional songs. I'm taking a pass on this one and waiting for Joe's next solo set but if you're curious, Brian Thomas has a track-by-track breakdown of the record.
We've only scratched the surface of what's coming out today. There are many titles that warrant further discussion. You're encouraged to peruse this list and share with the rest of the group what's on your radar. Stay tuned to BBS for reviews of many of these fine titles...

10 Great Sopran - Various
15 Years Of Rea - 15 Years Of Real Mus
1938 (7) (945-9 - Various
1939 (990-1012) - Various
9 Chambers - 9 Chambers
9 Left Dead - The Wrong Things
Abhor - Ab Luna Lucenti, Ab Noctura Protecti
Acoustic Alchemy - Roseland
Ahluwalia, Kira - Aam Zameen: Common G
Alberta Cross - The Rolling Thunder
Alessi's Ark - Time Travel
Allele - Next To Parallel
Allison, Bernard - Live At The Jazzhaus
Allstar Weekend - All The Way
American Herita - Sedentary
Anathema - Falling Deeper
Anderson, Kasey & The Honkies - Heart Of A Dog
Andres Segovia - Various
Andrews Sisters, The - The Best Of Anthology
Anthrax Tribute - String Tribute To Anthrax
Anvil - Monument Of Metal: T
Apparat - Devil's Walk, The
Arthur Russell - Let's Go Swimming
Assassin - Chronicles Of Resistance
Atto Iv - Shattered Lines
Autokratz - Self Help For Beginn
Bach, Sebastian - Kicking & Screaming
Barenaked Ladies - Hits From Yesterday & The Day Before
Barr Brothers, The - Barr Brothers, The
Barzee, Anastasia - The Dimming Of The Day
Belli, Glorior - The Great Southern D
Benjah - The Break Up
Beth Hart/Joe Bonamassa - Don't Explain
Bill Frisell - All We Are Saying
Black, Frank - Frank Black
Black, Frank - Teenager Of The Year
Black, Lewis - The Prophet
Blink-182 - Neighborhoods / [Explicit]
Blu - Open (2-Cd)
Blue October - Any Man In America
Boom Bip - Zig Zaj
Brown, Pieta - Mercury
Brutal Truth - End Time
Buell, Bebe - Hard Love
Caged Animals - Eat Their Own
Caged Animals - Eat Their Own
Callas, Ma - Donizetti: Lucia Di
Callas, Ma - Mascagni: Cavalleria
Campbell, Glen - Wichita Lineman/Galveston Where's The Playground Susie?
Campbell, Kate - Two Nights In Texas
Candy Snathc - Down At Delilah's
Carolina Liar - Wild Blessed Freedom
Carolyn Wonderl - Peace Meal
Cervini, Ernesto Quartet - There
Chambers, Gordon - Sincere
Chapman, Steven Curtis - Music Of Christmas, The/All
Charlatans, The - Some Friendly And Greatest
Chickenfoot - Chickenfoot Iii
Chipmunks, The - Christmas With The Chipmunks
Christian Mcbri - The Good Feeling
Cinderella - In Concert
Clark, Gene - Roadmaster
Clark, Gene - The Fantastic Expedition Of Dillard & Clark
Clark, Gene - White Light
Cobra Skulls - Agitations
Cochrane / Cooper / Houston-Jones - Them
Coconuts - I Wake Up Screaming
Cole, J - Cole World: The Sideline Story
Colter, Jessi - I'm Jessi Colter/Jessi/Diamond In The Rough
Connick Jr., Harry - Music From The Happy Elf
Coolio - Greatest Hits And Remixes
Corea/Bollani - Orvieto
Corroded - Exit To Transfer
Cranberries, The - Live In Paris 2010
Cymbals Eat Guitars - Lenses Alien
Daedalus - Motherland
Darasuum - Bite Back
Darkthrone - Ravishing Grimness
Daryl Hall - Laughing Down Crying
Dead Cat Bounce - Chance Episodes
Deivos - Demiurage Of The Voi
Deleted Waveform Gatherings - Pretty Escape
Della Casa - Mozart: Cosi Fan Tut
Denny, Sandy - 19 Rupert Street
Depeche Mode - Ultra
Depeche Mode - Construction Time Again
Deputy, Zach - Another Day
Deserters - Fail Yourself
Diggin' Deeper - Various
Dillard & Clark - The Fantastic Expedition Of Dillard & Clark/Through The Morning, Through The Night
Dillon, William Michael - Black Robes And Lawyers
Django - Djangology
Don't Be Afraid - Score
Duarte, Chris - Blues In The Afterburner
Dum Dum Girls - Only In Dreams
Each Of The Day - Sweet Carrion
El Khatib, Hanni - Will The Guns Come Out
Enid, The - Touch Me
Enid, The - Tripping The Light Fantastic
Everclear - Return To Santa Monica
Evidence - Cats & Dogs
Extra Classic - Your Light Like Whit
Extreme Noise Terror - Holocaust In My Head
Falloch - Where Distant Spirits Remain
Family Of The Y - St. Croix
Farlow, Billy C. - You Better Run
Fdeluxe - Gaslight
Felony - Break Bread
Frankmusik - Do It In The Am / [Explicit]
Funeral, Rose - Gates Of Punishment
Gameday Regulars - But It's Hell In The Hallway
Garner, Larry - Double Dues-20th Anniversary Reissue
Gem Club - Breakers
Generation Kill - Red, White And Blood
Gentle Giant - Octopus
Gentle Giant - Three Friends
Gift, The - Explode
Gran Torino - Grantorino Prog
Grant, Amy - Christmas Album, A/A Christmas
Great White - The Essential Great White
Gunn, Trey & Mastelotto, Pat - Tu
Guru Guru - Live In Germany '71
Hackett, Steve - Beyond The Shrouded Horizon
Hadwen, Julie - Sanctuary
Haggard, Merle - The Land Of Many Churches
Hard-Ons - Shit-Pants-Shit-Pants
Hatesphere - The Great Bludgeoning
Hawaii Five-0 - Hawaii Five-0
Hawkwind - Leave No Star Unturned: Cambridge January 1972
Haynes, Roy - Roy-Alty
Heldon - Allez Teia
Hipower Entertainment Presents - Hoodtimes Music
Hipower Entertainment Presents - The Hipower Soldiers Triple Up
Hoffman - - Karl Millocker: Gasp
Hoge, Will - Number Seven
Homicidal - State Of Mind
Hotter, - Mussorgsky: Boris Go
House Of Lords - Big Money
Hubner, Ab & - Anniversary Jazz Par
Hubner, Abbi - I Found My Thrill
Hughes, Langston - Harlem In Vogue, The Poetry And Jazz Of Langston Hughes
Humans, The - Sugar Rush
Hunt, Van - What Were You Hoping
I Don't Know - Soundtrack
Iconaclass - For The Ones
Inspiration/Various - Baroque Christmas
Into It. Over It. - Proper
Iron Lamb - The Original Sin
J Dawg & Lil C - I Ain't Takin No Loss 3
Jackie Deshannon - When You Walk In The Room
James, Bob & Matsui, Keiko - Altair & Vega
Jason Derulo - Future History
John Scofield - A Moment's Peace
Johnson, Syleena - Chapter V: Underrated
Jones, Davy - David Jones/The Deluxe Edition
Jones, George - George Jones (We Can Make It) / I Wanta Sing (2-For-1)
Jones, Jamie - Fabric 59: Jamie Jones
Jordan, Stanley - Friends
Juicehead - The Devil Made Me Do
Junius / Rosett - Split
Jurinac - Wilhe - Massenet: Manon
Karajan - Maestro
Karthago - Rock 'N' Roll Testament
Khold - Phantom
Kmentt, Streich - Offenbach: Hoffmanns
Kollo, Heuser - Paul Lincke: Frau Lu
Kvelertak - Kvelertak
Kyng - Trampled Sun
L.A. Guns - Acoustic Gypsy Live
La Boheme, Mada - Various
Lady Antebellum Tribute - Piano Tribute To Lady Antebellum
Landmine Marath - Gallows
Lars & Dixi - Blues Op Platt Vol.
Lars & Dixi - Blues Op Platt Vol.
Lars & Dixi And - Blues Op Platt Vol.
Leigh, Sonia - 1978 December
Life As A Ghost - Drifter
Lindermeier, Ho - Puccini: Madame Butt
Live Ones - Yer Quite Welcome
Live Ones - Yer Quite Welcome
Loose, Lind - Fred Raymond: Maske
Los Bohemios De Sinaloa - Haciendo Historia
Lucca, Tony - Under The Influence
Machine Head - Unto The Locust
Magic Band, The - Oxford Uk June 6th, 2005
Malajube - La Caverne
Man Made Machin - Become
Man Overboard - Man Overboard
Mangan, Dan - Oh Fortune
Mastodon - The Hunter
Mats/Morgan Band - Live
Maylene And The Sons Of Disast - Iv
Mccleery, Jono - There Is
Mekons, The - Ancient & Modern
Meyer, Peter "B - Jazz Celebration
Mike Stevens & Matt Andersen - Push Record - The Banff Sessions
Milman, Sophie - In The Moonlight
Minchin, Tim - Ready For This?
Misfits - Land Of The Dead
Mocean Worker - Candygram For Mowo!
Monet - Lifesize Mirror
Morbus Chron - Sleepers In The Rift
Mott The Hoople - Live At Hammersmith Apollo
Ms. Lady Pinks - Straight From The Heart
Muldaur, Geoff Futuristic Ensemble - Private Astronomy: A Vision Of The Music Of Bix Beiderbecke
Muldaur, Maria - Steady Love
Nabucco, Macbet - Various
Naked Heroes - 99 Diamond
Natacha Atlas - Mounqaliba Remixes
Naylor, Jacqui - Lucky Girl
Necrovorous - Funeral For The Sane
Neville, Aaron - Minit & Sansu Sessions, The
New Order - Power, Corruption And Lies
Newton, Juice - Juice/Quiet Lies/Dirty Looks
Nightrage - Insidious
Nikki Lane - Walk Of Shame
Nile, Willie - The Innocent Ones
Nirvana - Nevermind / [Remastered]
Noothgrush - Live For Nothing
Nothing Til Blo - When Lambs Become Li
Now Christmas 4 - Now Christmas 4 (The Carol Ed)
Oh, Manhattan - Spiritual Warfare
Oh, Sleeper - Children Of Fire
Ohbijou - Metal Meets
Osaka Popstar - Shaolin Monkeys
Osaka Popstar - Rock 'Em O-Sock 'Em
Owens, Buck - Bound For Bakersfield '53-'56: The Complete Pre-Capitol Collection
Ozric Tentacles - Paper Monkeys
Pallers - Sea Of Memories, The
Pell, Axel Rudi - The Ballads Iv
Peter "Banjo" M - 40 Years On Stage
Petersen, Paul - Hits & Rarities 1961-1968 (31 Newly Re-Mastered Tracks)
Phantom Family - The Mindeater
Phonte - Charity Starts At Home
Pink Floyd - Animals
Pink Floyd - Atom Heart Mother
Pink Floyd - Dark Side Of The Moon Exp.Ed.)
Pink Floyd - Dark Side Of The Moon, The
Pink Floyd - Discovery Box Set
Pink Floyd - Division Bell, The
Pink Floyd - Final Cut, The
Pink Floyd - Meddle
Pink Floyd - Momentary Lapse Of Reason, A
Pink Floyd - More
Pink Floyd - Obscured By Clouds
Pink Floyd - Piper At The Gates Of Dawn,The
Pink Floyd - Saucerful Of Secrets, A
Pink Floyd - Ummagumma
Pink Floyd - Wall, The
Pink Floyd - Wish You Were Here
Pink Floyd - Dark Side Of The Moon Imm.Ed.)
Plaid - Scintilli
Poncho Sanchez & Terence Blanchard - Poncho Sanchez And Terence Blanchard = Chano Y Dizzy!
Presley, Elvis - Elvis Presley - Legacy Edition
Presley, Elvis - Young Man With The Big Beat
Press Play - World Anthem
Putumayo Presents - Acoustic Cafe
Ramsey, Tyler - The Valley Wind
Rapture Ruckus - Open Your Eyes
Reed, Jimmy - I'm Jimmy Reed
Reedy, Jessica - From The Heart
Richmonde, Faye - For Men Only
Ricky Skaggs - A Skaggs Family Christmas Vol. 2 / [Cd/Dvd Combo]
Rodeo Ruby Love - This Is Why We Don't Have Nice Things
Rogers, Roy & Dale Evans - Great Songs Of The Old West
Rouse, Josh And The Long Vacations - Josh Rouse And The Long Vacations
Rush Of Fools - We Once Were
Rwake - Rest
Rysanek, Hopf - - Puccini: Tosca
Saxon - Call To Arms
Schlemm, Held - Karl Millocker: Die
Schymberg, De L - Puccini: La Boheme
Scott, Randy - Bream Collection Vol
Serpentcult - Raised By Wolves
Seth Macfarlane - Music Is Better Than Words
Sherinian, Dere - Oceana
Single Bullet Theory - Iv
Sky Architect - A Dying Man's Hymn
Sleep Over - Forever
Sleeper Agent - Celabrasion
Smetana, Bedric - A Portrait
Socalled - Sleepover
Southern Culture On The Skids - Zombified (Extended Reissue)
Speak - I Believe In Everything
Spencer Davis Group, The - Somebody Help Me: The Best Of 1964-1968
Ss Kaliert - Subzero
Stepkids, The - Stepkids, The
Steven Berstein - Mto Plays Sly
Sting - 25 Years / [3 Cd/Dvd Combo]
Story Uk, The - Joy Ride On Memory Lane
Strawbs - Acoustic Gold
Suffokate - Return To Despair
Swing Combinati - Whisper Not
Swishahouse - I'm So Swishahouse
Switchfoot - Vice Verses
Taft, Dudley - Left For Dead
Tangent, The - Comm
Textures - Polars
Textures - Duality
The Bangles - Sweetheart Of The Sun
The Jacka - The Indictment
The Jacka - The Verdict
The Knux - Eraser / [Explicit]
Thin Lizzy - Live In London (Hammersmith)
This Time Next Year - Drop Out Of Life
Thomas Quasthoff - Tell It Like It Is
Thomas, B.J. - Greatest & Latest
To Kool Chris - Mixin' It Up Volume
Tormented - Rotten Death
Tracey, Sarah - Tell No One
Twin Sister - In Heaven
Uriah Heep - Live In Armenia
Van Canto - Break The Silence
Volumes - Via
Warbringer - Worlds Torn Asunder
Warm Ghost - Narrows
Wedren, Craig - Wand
Wellingtons, Th - In Transit
Wendt, Joja - The Art Of Boogie Wo
Wes Montgomery - Movin': The Complete Verve Recordings / [5 Cd]
Wesley, John - Lillipad Suite
Whalen, Whalen - Madly Love
Whitman, Slim - In Love The Whitman Way/Happy Street
Wilco - The Whole Love
Wilson, Steven - Grace For Drowning
Winter, Johnny - Roots
Wirtz, Mark - Lost Pets 2
Yellow Dubmarin - Abbey Dub
Yohe, Vicki - I'm At Peace: A Praise And Worship Experience
Young Man - Ideas Of Distance
Youth Lagoon - The Year Of Hibernat
Zanes, Dan & Friends - Little Nut Tree
Zebrahead - Get Nice
Zechs Marquise - Getting Paid
Zuniga, Miles - These Ghosts Have Bones