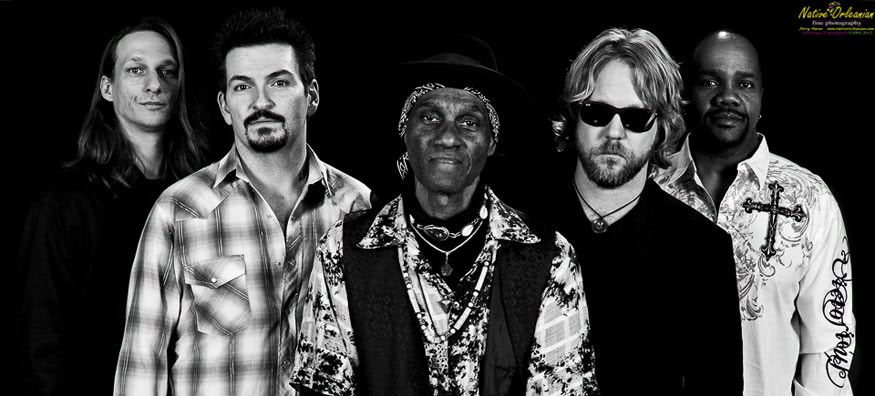 We have a new supergroup in our midst as Royal Southern Brotherhood releases their self-titled debut this week. Bluesman Mike Zito has teamed with Cyril Neville and Devon Allman to form this new band and they're already on the road promoting the album. We've got the lowdown on their summer itinerary as well as a way for you to download a free song from the record if you want a sample before you buy.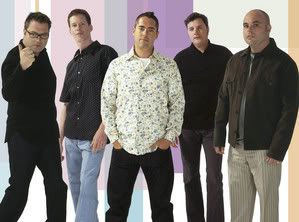 Stop Us If You've Heard This One Before! is a collection of rarities and demos from Barenaked Ladies covering their Reprise years (which is the majority and best-known portion of their career). There was a time the band considered releasing an entire box set of this kind of material but that was before they left their label and Steven Page left the band. I don't know if we'll still get that box set or if there will be more single-disc volumes in the future but for now we'll have to make do with these 12 tracks.
Rita Wilson (aka Mrs. Tom Hanks) is best known for being Mrs. Tom Hanks and has also starred in a number of movies over the years. It turns out she, like many actors and actresses, once dreamed of a life as a singer and AM/FM is a collection of her singing some of her favorite songs. It doesn't take a lot of imagination to guess who some of those songs are by (Carole King, Joni Mitchell) nor to take a pretty good guess what this whole affair will sound like.
I'm an unabashed fan of Keane's debut Hopes And Fears but unfortunately the band has never come close to duplicating that magic on subsequent efforts. They release Strangeland, their first album in four years this week and I'm crossing my fingers but wary that they may never equal that great record.
It's been awhile since we've heard from Glenn Frey and the former Eagle has a new solo disc out this week. It's called After Hours and it finds Frey joining Paul McCartney, Rod Steward, and every other aging Boomer doing love songs and standards. I know cover albums are nothing new in the recording industry but I wish labels would stop green lighting these things! The Eagles have made one new album in 30 years and neither Frey, Don Henley, nor Joe Walsh have been drowning us in solo records. That well seems to have run very, very dry.
Abba - Abba: Golden Greats Abba I Have A Dream
Adam & The King Bee - Pow Wow
Aiyun Huang - Save Percussion Theater
Aki Takahashi; Sabat/Clarke - Feldman, Monk: The Northern Shore
Albarn, Damon - Dr Dee
Alex Clare - The Lateness Of The Hour
Allegaeon - Formshifter
Allman Brothers Band - American University 12/13/70
Alo - Sounds Like This
Amberfern - Distant Horizons - Mediterranean
Anvil - Absolutely No Altern
Anvil - Plenty Of Power
Anvil - Plugged In Permanent
Anvil - Speed Of Sound
Arturo Sandoval - Dear Diz, Everyday I Think Of You
Ash Ra Tempel - Join Inn
At The Skylines - The Secrets To Life
Ataraxia - Simphonia Sine Nomin
Athel - Open Your Eyes To Society
Atlanta Rhythm Section - Sound & Vision Anthology
Atmosphere - Seven's Travels
Autopsy - Born Undead
Barber, Chris - Memories Of My Trip
Barenaked Ladies - Stop Us If You've Heard This One Before!
Bari Koral Band - Anna And The Cupcakes
Bari Koral Band - Rock And Roll Garden
Bartlett, John David - Falling Through The Universe
Bell & Martin - Together Again
Bettie Page - Bettie Page Dark Angel (Widescreen)
Bible Of The Devil - For The Love Of Thugs And Fools
Big K.R.I.T. - Krit Wuz Here
Big K.R.I.T. - Return Of 4eva
Brenda Jackson's Truly Everlasting - Brenda Jackson's Truly Everlasing (Origi
Brown, Chris Tribute - Dance Tirbute To Chris Brown
Bullfrog - Second Wind
Cabinet - Eleven
Cacucciolo, Luca - Evolving Quartet
Canned Heat - The Hits, The Blues
Capgun Coup - Contextual Doom
Cardiac Arrest - Vortex Of Violence
Carey, Mariah - The Essential Mariah Carey
Carey, S - Hoyas
Cash, Johnny - I Walk The Line: The Golden Years
Cathedral - The Garden Of Unearthly Delights
Cattle Decapita - Monolith Of Inhumani
Cattle Decapitation - Monolith Of Humanity
Chicha Libre - Canibalismo
Chihiro Yamanaka - Reminiscence
Clapton, Eric - The Master Plays The Blues
Crack Up - Heads Will Roll (Remastered)
Creamatory - Infinity
Criminal - Akelarre
Danny Elfman - Dark Shadows: Original Score
Days Of - Soundtrack
Daytrader - Twelve Years
Dgtlmonkey - Da Monkey Club
Dianno, Paul - Wrathchild - The Anthology
Dickinson, Lu - Hambone's Meditation
Die Pretty - Beyond Fate
Edery, Gerard - Best Of Gerard Edery
Engelhardt, Toulouse - Toulousology
Eyedea & Abilities - E&A
F5 - A Drug For All Seasons
Falling You - Human
Fisher, Matthew - A Salty Dog Returns
Flats - Better Living
Flo Rida Dance Tribute - Dance Tribute To Flo Rida
Foxx, Redd - I Ain't Lied Yet
Freeman, Aaron - Marvelous Clouds
Frozen Autumn - Is Anybody There?
Fullbright, Joh - From The Ground Up
Genesis - Genesis Turn It On Again
Glenn Frey - After Hours
Glenn Frey - After Hours / [Deluxe Edition]
Goettsching, Manuel - Inventions For Electric
Gong - Electric Shiatsu
Gorod - A Perfect Absolution
Gowan - Great Dirty World - Special Edition
Great Worship Songs Praise Band - Your Great Name
Green, Pat - Songs We Wish We'd Written Ii
Group 1 Crew - Outta Space Love: Bigger Love Edition
Gypsy Pistoleros - Forever Wild, Beautiful & Damned! Greatest Hits Volume 1
Hangmen - East Of Western
Haunted Heads - Blue Sky Happiness
Here We Go Magic - A Different Ship
Hey Rosetta - Seeds
Hipower Entertainment Presents - Team Hipower
Hollmer, Lars - With Floury Hand (Sketches) Cd/Dvd
Hooker - Rock And Roll
Hopper, Brian - With Beggars Farm
Hopper, Brian & Fenner, Robert - Virtuality
Horseback - Half Blood
Hung - Hung
Huntress - Spell Eater
I Self Devine - The Sound Of Low Class Amerika
Iles, Nikki - Hush
Impiety - Ravage & Conquer
Incubus - The Lowdown
Jacob, Irene & Francis Jacob - Je Sais Nager
James Suckling - Cigars: The Heart And Soul Of Cuba
Jarboe - Alchemic
Jenkins, Karl & Ratledge, Mike - Some Shufflin'
Jimmy Gaudreau & Moondi Klein - Home From The Mills
Jimmy Wisner - Time And Space
John 5 - God Told Me To
Jones, Justin - Fading
Jones, Norah Tribute - Smooth Jazz Tribute To Norah Jones
Karmin - Hello
Keane - Strangeland
Keane - Strangeland / [Deluxe Edition]
Kerouac, Jack - The Complete Collection
Kidz Bop Kids - Kidz Bop Ultimate Hits
Kindness - World, You Need A Change Of Mind
King Charles - Loveblood
Kontrust - Second Hand Wonderland
Kuti, Fela & - Live In Detroit 1986
La Lupe - Anthology
Lacrimosa - Lichtjahre 2CD
Last Kingdom - Chronicles Of The North
Laswell, Greg - Landline
Le Vent Du Nord - Tromper Le Temps
Led Er Est - The Driver
Led Zeppelin - Led Zeppelin Music Milestones The First Album
Legion Of The Damned - Descent Into Chaos
Lil C - H-Town Chronic 6
Lionheart - Undisputed
Little Richard - Rock N' Roll Anthology
Lucassen, Arjen - Lost In The New Real
Mary Mary - Go Get It
Mccormack, Eamonn - Heal My Faith
Messy Marv - Cake And Ice Cream V.3
Moon Safari - The Gettysburg Address
Moonspell - Alpha Noir (Limited Edition Digibook + B
Moonspell - Alpha Noir
Moraz, Patrick - The Story Of I
Morrison, Van - The Best
Moses, John - On The Edge
Moss Icon - Complete Discography
Motorhead - The Best The Rest The Rare
Music By David Arnold And Michael Price - Sherlock: Music From Series 2 (Original Television Soundtrack)
Mythos - Quasar
Negator - Old Black
Newly Ordained - Newly Ordained
Nimmo Brothers, The - Brother To Brother
Niobe - The Cclose Calll
Off! - Off!
Okazaki, Miles - Figurations
Ory, Kid - Kid Ory Meets Red Allen
Osssy - Serum
Otherwise - True Love Never Dies
Pacheco, J - Anthology
Parlotones, The - Journey Through The
Phillips, Anthony & Skeet, Andrew - Seventh Heaven
Pink Floyd - Pink Floyd: Musical Milestones Reflections On The Wall
Pixel - Reminder
Positive Catastrophe - Dibrujo, Dibrujo, Dibrujo...
Profanatica - Sickened By The Holy
Project Trio - The Random Roads Collection
Queen - Queen - We Will Rock You -
Red Hot Chilli Peppers - Inside The Music Red Hot Chilli Peppers The Ultimate Review
Red Jasper - Sting In The Tale
Ree, Hen - And When Everybody I
Residents - Third Reich 'N' Roll
Residents - Fingerprince (Tourniquet Of Roses)
Rita Wilson - Am/Fm
Rolling Stones - The Rolling Stones - Music Milestones The Singles
Romain Virgo - The System
Royal Headache - Royal Headache
Royalty, The - Lovers
Rudie Crew - Skragga!
Sage, Rachael - Haunted By You
Samuel Hernández - Inyección De Fe
Savannah Serenaders - Flavour Of The Roaring Twenties
Schulze, Klaus - La Vie Electrinique Vol.11
Secretions - Faster Than The Speed Of Drunk
Secretions - Greasy, Hot, Meat, Cheezy
Secrets Of The Moon - Seven Bells (Special Boxset Ed.)
Serani - Its Serani
Silversun Pickups - Neck Of The Woods
Skiba, Matt & The Sekrets - Babylon
Skip James - The Very Best Of Skip James
Sleep - Dopesmoker
Small Faces - Small Faces
Snider, Dee - Dee Does Broadway
Soil - Re-LIVE-Ing The Scars
Soul Position - 8,000,000 Stories
Soundtrack - Battleship (Steve Jablonsky)
Soundtrack/Movie - Girl In Progress
Soundtrack/Movie Score - Girl In Progress/Lennertz
South Memphis S - Old Times There
Spirit - Two Sides Of A Rainbow
St. Vincent - Stranger Mercy
Storm Corrosion - Storm Corrosion
Storm Corrosion - Storm Corrosion (Special Edition)(Cd/Blu
Sun Araw, M. Geddes Gengras, The Congos - Frkwys Vol.9: Sun Araw & M. Geddes Gengr
Susan P - Sax-Tronic 2.0
Swingin' Utters - Live At The Bottom Of The Hill
Tank - This Is How I Feel (Amended)
Tank - This Is How I Feel
Temple - Lightslaying Rituals
Tenafly Viper - The Queen, The Night
The Beatles - The Beatles Music Milestones Meet The Beatles
The Jacka - The Sentence
The Shangri-Las, Bettye Lavette & More - Boys Can Be Mean
Third Ear Band - Songs From The Hydrogen Jukebox
Thorn, Paul - What The Hell Is Goi
Tower And - How Long
Trash Brats - American Disaster
Trevor Rabin - Jacaranda
Trioscapes - Separate Realities
Turing Machine - What Is The Meaning Of What
Turnpike Trouba - Goodbye Normal Stree
Up All Night - Northern Soul
Various - Dad's 50 Favorite Worship
Various - Over The Moon: The Broadway Lullaby Project
Various - The British Invasion Allstars
Various - Rumba Doowop Vol. 1
Various - Rumba Doowop Vol 2.
Various - Ibiza 2012: Best Of Balearic Lounge Music
Various - 1961 British Hit Parade: The B-Sides Part One: Jan-Apr
Various - 1961 British Hit Parade: B-Sides Part Two: Apr-Sept
Various - 1961 British Hit Parade: B-Sides Part Three: Sept-Dec
Various - Embassy British Hit Parade 1960
Various - Embassy British Hit Parade 1961
Various - El Barrio Latin Funk
Various - Nyc Salsa Vol. 2
Various - The Eastbound L
Various Artists - Punk Goes Metal
Various Artists - 20 To Life: Volume 1
Various Artists - The Roots Of The Beach Boys
Various Artists - The Roots Of U2
Vincent, Gene - The Capitol Years
Wandering, The - Go On Now, You Can't
Watkins, Sara - Sun Midnight Sun
Way Of Purity - Equate
Wood Brothers - Live, Volume 1: Sky
Words Like Daggers - Literature
Words Of Farewell - Immersion