It's that time again where we take a look at the new releases hitting store shelves and digital download retailers and this week's roster is a little bit light on titles overall. Oh, there are some interesting ones worth looking at but this week isn't likely to make your wallet bleed.
The two titles most likely to ignite the passions of music fans are from the indie circuit and I have to confess I really only know these two artists by name rather than their music. We have Gaslight Anthem's latest, Handwritten, out this week as well as the latest from Passion Pit, Gossamer.
The Gaslight Anthem teamed with Brendan O'Brien for this record which sets off warning bells for me because of what he did to Bruce Springsteen's records. Oh, sure, he was behind the console for a couple really good ones (The Rising, Magic) and one of his absolute worst (Working On A Dream) but that's not what causes my concern. O'Brien made horrible sounding records for Springsteen, regardless of the quality of the material. Those records sound atrocious with the loudness, static, and compression all over the place. I hope that's not the case here.
I'll always think of Loony Toons when I hear the word/name Gossamer, thinking of Marvin The Martian's critter compatriot but this week it's an album title for Passion Pit. I know, I know, you're shocked I'm writing for a music site when I'm making Loony Tunes references instead of waxing about the virtues of your Passion Pit. I'll give the record a listen and get back to you.
There is a title out this week that excites me and I'd say it shows my age except for it's older than I am so that's not exactly fair. Booker T & The MGs' classic Green Onions turns 50 years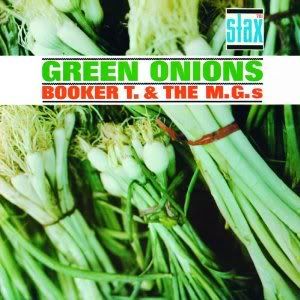 old this year and this Stax classic has been remastered and expanded to include a couple bonus tracks. If you're rolling your eyes and thinking you don't know this band or song, go hit it up on YouTube or check it on Spotify; trust me, you've heard it. It's classic and I can't wait to get my copy of this to relive the glories. We'll be talking about this remaster and the bonus tracks soon so stay tuned.
That, amigos, is about it as far as I can see but maybe I'm too busy watching cartoons to know so take a look at the full list and tell me what you see. Anything catching your ears this week? Let's discuss!
8Ball - Life's Quest
Alan O'Day - Appetizers
Barry, Todd - Super Crazy
Blood Red Shoes - In Time To Voices
Bobby Darin - Mack The Knife
Booker T. & The MGs - Green Onions
Colossal Gospel - Circles
Constants - Pasiflora
Cooly G - Playin' Me
Culture - Natty Dread Taking Over / [2 Cd/Dvd Combo]
Dark Time Sunshine - Anx
Family Band - Grace & Lies
Fang Island - Major
Foals - Tapes
Golden Bomber - The Golden Best For The United
Golden Retriever - Occupied With The Unspoken
Grasscut - Unearth
Guardian Alien - See The World Given To A One Love Entity
Heavenly Beat - Talent
Jacka - Jacka Presents: Artist Records Compilation / [Explicit]
Jae, Jeremiah - Raw Money Raps
James - Live At Montreux 1975-1993
Jerry Lee Lewis - The Killer Live (1964 To 1970)
JJ Doom - Keys To The Kuffs
Lawrence Arabia - The Sparrow
Lopez, Jennifer - Dance Again...The Hits
Los Galakticos - Flow 3D
Love And Theft - Love And Theft
Magic Sam - All Your Love
Micachu & The Shapes - Never
Monkey House - Headquarters
Neil Sedaka - The Show Goes On
Of Mice And Men - The Flood-Deluxe Reissue
Passion Pit - Gossamer
Peter Green Splinter Group - Blues Don't Change
Purity Ring - Shrines
Reverend Horton Heat, The - 25 To Life
Robert Lockwood Jr. - Sweet Home Chicago
Rodriguez - Searching For Sugarman Soundtrack
Saint Saviour - Union
Shawn Lee - Synthesizers In Space
Slipknot - Antennas To Hell (Amended)
Slug Guts - Playin In Time With The Deadb
Sofrito - International Soundclash
Soundtrack - The Chorus (Les Choristes)
Sugar - Copper Blue/Beaster (Delux Edi
Sugar - File Under: Easy Listening (De
Summer Camp - Always Ep
The Gaslight Anthem - Handwritten
The Heptones - Good Vibes / [2 Cd]
The Royal Concept - The Royal Concept / [Ep]
Three Mile Pilot - Maps
Urata, Nick - Ruby Sparks
Various Artists - Keb Darge & Little Edith's Legendary Wild Rockers 2
Various Artists - Bickershaw Festival Box Set: 40Th Anniversary
Various Artists - Smooth Jazz Hits: Ultimate Grooves
Young Moon - Navigated Like The Swan