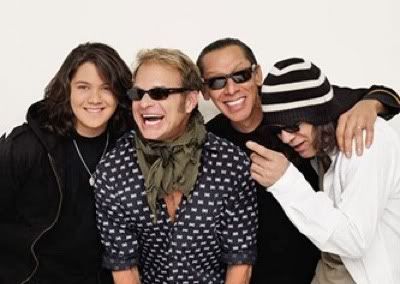 February's first batch of new CDs is a big haul and I am so excited about a couple of these titles. Before we take a closer look and get to the full list, let's just mention a few of the names: Van Halen, Paul McCartney, Mark Lanegan Band, The Fray, Sharon Van Etten... That's a pretty good list of newbies. We've also got some John Coltrane and Queen re-issues out this week as well. If you've got money, I can help you spend it. If you've got money, it would please me if you would send it my way. In God We Trust, everyone else pays cash. Now... let's get down to business and look at what New Music Tuesday has in store for us.
It's a great day for freedom, boys and girls! We have new music from Van Halen for the first time since I was a wee me and for the first time since I was a very wee me, David Lee Roth is back on the mic. Can I get an amen? Can I get a hallelujah? Can I get a "Daaaaaaaaave TV?" Sorry, that was a DLR solo vid, not a Van Halen cut. How about a "I don't feel tardy?" C'mon, kids! Get your rock hands out and let's do this thing.
It's New Music Tuesday and we are so very excited about A Different Kind Of Truth, the first new record from Van Halen since Gary Cherone's ill-fated attempt to front the band on Van Halen III. We've already seen the video and heard the first single "Tattoo" and now we have the full set. I'm listening to mine as I write this and I feel young all over. Sort of.
There's been a lot of talk about the origins of this record. It's been more or less confirmed several of these new songs are actually updated demos from before Rother's split in the mid '80s, leading some to question the authenticity and creativity of the band. I don't know about you but a good idea doesn't necessarily have an expiration date. If the songs are good, I don't care how long they sat around waiting to be finished and released. The point is, they're here now. I'm going to give this a right good listening and we'll get back together and talk about how good it all is. David Lee Roth is back in front and I'm ready to be rocked in all the best ways.
What else do we have this week? Ah, yes. Kisses On The Bottom. I'm sure I could come up with a worse album title than this latest from Beatle great Paul McCartney if I actually spent time thinking about it but right now, this is the hands-down winner. Brutal. Paul just can't help himself. He's going to do it to you every time. For every work of genius, for every great song and performance, he's going to do something embarrassing and silly that makes you cringe. He's so brilliant and frustrating. I know the title of the record shouldn't interfere with the ability to enjoy it, but it's such a stupid title and completely unnecessary. This is a collection of love songs, mostly covers, that Sir Paul has loved throughout the years. Love Songs wouldn't have been an original title but wouldn't you much rather buy Love Songs by Paul McCartney as opposed to Kisses On The Bottom? Damn it, Paul!
The other title of note for me is the first solo-ish Mark Lanegan record since 2004's Bubblegum. Blues Funeral is billed to Mark Lanegan Band as opposed to his SubPop solo records recorded under just his own name, but the Band part is a tad misleading as he has no regular band, instead collaborating with a disparate group of talented musicians. The first single is "Gravedigger's Song" and we move out from there. This is still one of the great vocalists of the '90s and one of my favorite singers ever. I am eager for my copy to arrive on the doorstep later today. You can bet your ass we're going to be discussing this one at length as well.
Those are the titles I'm most excited about. What are you looking at today? Check out the list below...
Ammo- Arnold, Martin, Morrow - Can't Smile Without You-1966-1977
Andrew Lloyd Webber - The Phantom Of The Opera At The Royal Albert Hall / [2 Cd]
Bahamas - Barchords
Baker, Chet - Plays And Sings Ballads For Lovers
Baker, Chet - The Legendary Sessions
Balke/Batagraf - Say And Play
Basie, Count - One More Time
Bc Wilson - So Proud
Berry, Chuck - In The 1950S
Big James & The Chicago Playbo - The Big Payback
Big Sir - Before Gardens After Gardens
Brubeck, Dave (With Carmen Mcr - Tonight Only!
Buried At Birth - Force/Quit
Chick Corea - Corea: The Continents - Concerto For Jazz Quintet & Chamber Orchestra / [2 Cd]
Choo Choo Soul - Choo Choo Soul / [Cd/Dvd Combo]
Coltrane, John - Plays Ballads
Conspiracy Channel - Welcome To The Conspiracy Channel
Contino - Back Porch Dogma
Corea/Economou - On Two Pianos
Crysalys - The Awakening Of Gaia
Davis, Miles - Ballads
Dicrosta, John - Multi Character Disorder
Die Antwoord - Ten$Ion / [Explicit]
Diffuzion - Winter Cities
Diffuzion - Winter Cities (Limited)
Disney Songs & Story - Sleeping Beauty
Dj Food - The Search Engine
Dj Food - The Search Engine (Ltd Ed)
Dolphy, Eric - Out There + Looking Ahead
Dr. Dog - Be The Void
Du Cann, John - The Many Sides Of: 1967 To 1980
Edith Piaf - Edith Piaf / [3 Cd Limited Edition]
Ernie Haase And Signature Sound - Here We Are Again
Escape Club - Celebrity
Farmer Jason And Buddies - Nature Jams / [Cd/Dvd Combo]
Fray, The - Scars & Stories
Garner, Erroll (Trio) - The Most Happy Piano The 1956 Studio Sessions
Giovanna Pessi - If Grief Could Wait
Goodman, Benny (And His Orches - The Sound Of Music
Hackett, Bobby - Bobby Hackett Quartet
Harley's War, Cromags - 2012
Hearts - Hearts Across Texas
Hines, Earl (Quartet) - Earl's Pearls
Holiday, Billie - Ballads For Lovers
Iconic Tonic - Rock And Roll
Iron Fire - Voyage Of The Damned
James & The Shondells, Tommy - Live! At The Bitter End, New York
John Coltrane - Concert In Japan
John Coltrane - Cosmic Music
John Coltrane - Expression
John Coltrane - Infinity
John Coltrane - Live At The Village Vanguard Again!
John Coltrane - Live In Seattle
John Coltrane - Om
John Coltrane - Selflessness Featuring My Favorite Things
John Coltrane - Sun Ship
John Coltrane - Transition
Johnson, J.J. (And Kai Windind - The Great Kai & J.J.
K, Kevin - New Toys: Made In Buffalo
Knepper, Jimmy And Pepper Adam - Quintet
Krupa, Gene - Plays Gerry Mulligan Arrangements
Kweller, Ben - Go Fly A Kite
Latimore - Ladies Choice
Lewis, John - European Windows
Lincoln, Abbey - Affair
Love Potion - Love Songs
Manne, Shelly (& His Men) - Play Peter Gunn + Son Of Gunn!!
Mark Lanegan Band - Blues Funeral
Mc Cann, Les - The Shout
Montgomery, Wes - The Montgomery Brothers
Mulligan, Gerry - Meets Johnny Hodges
Neikka Rpm - Chain Letters
Neikka Rpm - Chain Letters (Limited)
Nelson, Willie - On The Road Again: Live On Air
O'day, Anita - Cool Heat
O'neal, Patrice - Mr. P
Of Montreal - Paralytic Stalks
Paul Mccartney - Kisses On The Bottom
Pearl Jam - The Document
Peter Hook And The Light - 1102/2011 Ep
Peterson, Oscar - Sings The Vocal Styling Of Oscar Peterson
Phase Reverse - Phase Reverse
Phillips, Natalya - Whisper
Place To Bury Strangers, A - Onwards To The Wall
Plimsouls, The - Beach Town Confidential: Live At The Golden Bear 1983
Prima Donna - Bless This Mess
Profusion - Rewotower
Prophet, Chuck - Temple Beautiful
Proverbial - Proverbial
Psy'aviah - Introsepction / Extrospection
Psy'aviah - Introsepction / Extrospection (Limited)
Queen - 40 Limited Edition Collector?S Box Set Volume 2 / [10 Cd Box Set]
Queen - A Kind Of Magic / [2 Cd Deluxe Edition]
Queen - Innuendo / [2 Cd Deluxe Edition]
Queen - Made In Heaven / [2 Cd Deluxe Edition]
Queen - The Miracle / [2 Cd Deluxe Edition]
Queen - The Works / [2 Cd Deluxe Edition]
Rampart - Soundtrack
Residents - Coochie Brake
Reveling, The - Tributaries
Richard Marx - Stories To Tell / [2 Cd/1 Dvd Combo]
Rihanna - X-Posed
Roberta Flack - Let It Be Roberta - Roberta Flack Sings The Beatles
Russell, George - Jazz In The Space Age
Saltillo - Monocyte
Scarecrow - Blood, Sweat And 20 Years
Shaggy - Summer In Kingston
St. Patrick All-Stars - Irish Party Music
Steve Tyrell - I'll Take Romance
Stitt, Sonny - Plays Jimmy Giuffre Arragements
Strokes - The Lowdown
The Duke Spirit - Bruiser
Theatres Des Vampires - Moonlight Waltz
Tim Berne - Snakeoil
Tony Bennett - Isn't It Romantic?
Tord Gustavsen Quartet - The Well
Trailer Trash Tracys - Ester
Twilight Sad, The - No One Can Ever Know
Two Fisted Law - Late Nights And Bar Fights
Ultra Dance - Ultra Dance 13
Unthanks, The - The Songs Of Robert Wyatt And
Van Etten, Sharon - Tramp
Van Halen - A Different Kind Of Truth
Van Halen - A Different Kind Of Truth / [Cd/Dvd Combo] [Deluxe Edition]
Various - American Pinup/Lost In Society Split
Various - Wild @ Heart: The Return Of Metal/Rock Ballads
Various - Dancing, Food & Entertainment: German Neopsych Classics
Various - Deep Roots Of The Ramones
Various - Sharam: Warung Beach Club Brasil
Various Artists - Smooth Jazz Hits: For Lovers
Various Artists - Fania - Recuerdos Románticos Vol. 1
Various Artists - Fania - Recuerdos Románticos Vol. 2
Vazquez, Roberto - Between Two Worlds
Way Of Purity - Crosscore
Wire - The Black Session: Paris, 10 May 2011
Wright, John - Just Left Of Center
Young, Lester - In Paris