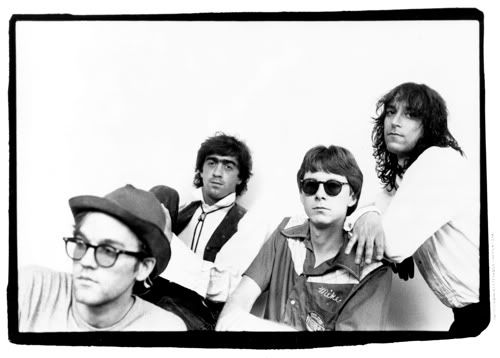 R.E.M. will release its final IRS-era album in time for its 25th anniversary when they release a digitally remastered, expanded edition of their fifth album Document on September 25, 2012.
This is the album that introduced much of America to the Athens, GA quartet when their song "The One I Love" became a staple on MTV and radio stations outside the college rock format picked the single up and played it as well.
The Document re-issue returns to the form used for Murmur and Reckoning by pairing the remastered record with a previously unreleased concert from the supporting tour, in this case the September 14, 1987 show in Utrecht, Holland. The 20-song set is peppered with Document cuts as well as favorites from their previous four albums. I'm so excited about this. I was disappointed with the demos and rarities appended to Fables Of The Reconstruction and Lifes Rich Pageant.
This is the way these sets should all be done. We'll get the chance to hear something of a live, best of the IRS years through this show and for many fans those years were the band's best. Of particular excitement to me is the presence of "Feeling Gravitys Pull" from Fables and the Chronic Town classic "Wolves, Lower." That, boys and girls, is worth the price of admission. This comes out about a week after my birthday, so I hope you're all paying attention because I am so going to need one of these.
In addition to the 2-CD set, the album is being re-released on vinyl.
R.E.M. announced last year they were retiring after more than 30 years together. Their final album was Collapse Into Now and they followed it with a compilation Part Lies, Part Heart, Part Truth, Part Garbage: 1982-2011, the first compilation to span both the IRS and Warner Bros. years of their Hall of Fame career. It's still hard to believe they're not going to make new music and we're left to wonder when or if there will be more archival material released in the coming years.
Here is the full tracklisting for the 25th Anniversary Edition of R.E.M.'s Document:
R.E.M.: Document (25th Anniversary Edition) CD 1 (digitally remastered original album)
Finest Worksong
Welcome To The Occupation
Exhuming McCarthy
Disturbance At The Heron House
Strange
Its The End Of The World As We Know It (And I Feel Fine)
The One I Love
Fireplace
Lightnin' Hopkins
King Of Birds
Oddfellows Local 151
CD 2 (previously unreleased Work tour concert, recorded live in Utrecht, Holland – September 14, 1987)
Finest Worksong (4.20)
These Days (3.36)
Lightnin' Hopkins (3.43)
Welcome To The Occupation (2.52)
Driver 8 (4.15)
Feeling Gravitys Pull (5.00)
I Believe (4.28)
The One I Love (4.38)
Exhuming McCarthy (3.23)
Wolves, Lower (4.23)
Fall On Me (3.05)
Just A Touch (3.12)
Oddfellows Local 151 (5.34)
Little America (2.50)
Its the End Of The World As We Know It (And I Feel Fine) (4.01)
Begin The Begin (4.32)
Disturbance At The Heron House (3.42)
Moral Kiosk (3.02)
Life And How To Live It (4.59)
So. Central Rain (5.35)