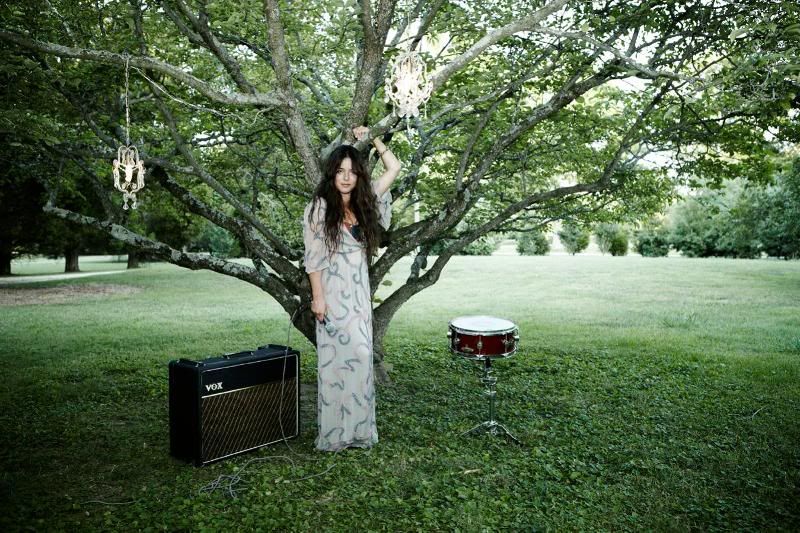 Chesapeake, her first new album in three years, October 11.
Yamagata is releasing Chesapeake on her own, having collected pledges, donations, and support from her fan base through PledgeMusic, an approach being tried by more and more independent artists because the major labels have increasingly become corrupt distributors of mindless rubbish.
She is offering fans a chance to get a taste of the record, offering up "Starlight" for download. We still don't have the official tracklisting for the rest of the record or artwork but we'll pass that along when it's all official.
The album was produced by John Alagia, whose previous credits include Yamagata's own Happenstance record as well as work with Dave Matthews Band and Liz Phair.
The album was cut with drummer Victor Indrizzo, guitarists Mike Viola, Kevin Salem, and Michael Chaves. She also recruited cellist Oli Kraus and upright bass player Tom Freund.
"The songs on Chesapeake were collectively inspired by the people in the room," said Yamagata. "I insisted on a creative scenario that became only about the music makers themselves, giving it a spirit of generosity in the music making which made it easy to tap into a 'flow'. When it was right, we all knew it was right. There was a balance that gave these songs a lift and yet still retained their richness. Magic maybe."
Yamagata has already booked an extensive tour for the record, kicking off at the end of October, running through late December.
OCTOBER

24th - Portland, ME - Port City Music Hall
25th - Burlington, VT - Higher Ground Lodge
27th - Ithaca, NY - Deliah's
28th - Northampton, MA - Iron Horse
30th - Boston, MA - Brighton Music Hall
31st - Philadelphia, PA - World Café Live

NOVEMBER

1st - Washington, DC - Birchmere
2nd - Baltimore, MD - Sound Stage
4th - Brooklyn, NY - Knitting Factory
5th - Pittsburgh, PA - Club Café
6th - Cleveland, OH - Beachland Ballroom (Small Room)
7th - Detroit, MI - St Andrews Hall
8th - Chicago, IL - Logan Square
10th - Milwaukee, WI - Turner Ballroom
11th - Minneapolis, MN - Fine Line
12th - Davenport, IA - Redstone Room
14th - Kansas City, KS - Record Bar
16th - Denver, CO - Larimer Lounge
18th - Salt Lake City, UT - State Room
20th - Spokane, WA - A Club
21st - Vancouver, BC - Media Club
22nd - Seattle, WA - Crocodile
23rd - Portland, OR - Doug Fir
25th - San Francisco, CA - Slim's
27th - San Diego, CA - Casbah
29th - Los Angeles, CA - Troubadour
30th - Tuscon, AZ - Crescent Ballroom

DECEMBER

2nd - Austin, TX - Parish
3rd - Houston, TX - Fitzgerald's Upstairs
4th - Dallas, TX - The Loft
5th - Tulsa, OK - Cain's Ballroom - 2nd Stage
7th - St. Louis, MO - Blueberry Hill
8th - Nashville, TN - 12th and Porter
9th - Birmingham, AL - Work Play
10th - Atlanta, GA - Vinyl
12th - Charleston, SC - New Brookland Tavern
13th - Charlotte, NC - Visulite Theatre
15th - Chapel Hill, NC - Local 506
16th - Charlottesville, VA - The Southern
17th - Louisville, KY - Headliners
18th - Columbus, OH - The Basement
20th - Hoboken, NJ - Maxwell's
21st - New York, NY - City Winery
22nd - New York, NY - City Winery