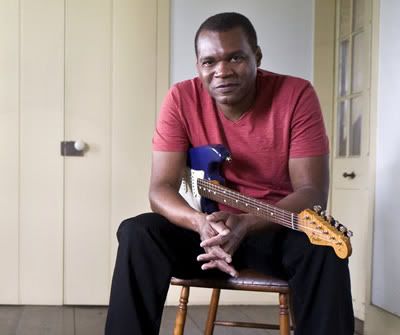 The Blues Hall of Fame Class of 2011 was announced today with Robert Cray, John Hammond, and J.B. Lenoir topping the list of performers being inducted along with other performers, singles, albums, researchers, and other important figures in the development and history of the blues.
The performers being inducted include Cray, Hammond, Lenoir, Denise LaSalle, Big Maybelle, and Alberta Hunter. Individuals being inducted include Vivian Carter and Jimmy Bracken, Sam Charters, Bruce Bromberg, and field researcher John W. Work III
Among the works being enshrined in the Blues Hall of Fame this year are singles by Jimmy Weatherspoon, Eddie Boyd, Robert Johnson, Skip James, and Robert Johnson. It's fitting that a Johnson song is part of this year's class as blues fans celebrate the icon who would have turned 100 this year. It is damn near impossible to count the number of times Witherspoon's "Ain't Nobody's Business," James' "Hard Time Killin' Floor Blues," and Boyd's "Five Long Years" have been covered by musicians of legendary and comparatively small stature. They are staples of the idiom. Sam Cooke's Night Beat, Cray's False Accusations, and Howlin' Wolf's The Real Folk Blues albums are also being immortalized, as is John Broven's book Walking To New Orleans.
The Hall of Famers will be inducted in a ceremony in Memphis on May 4 as part of this year's Blues Music Awards festivities.
PERFORMER
Robert Cray
John Hammond
Denise LaSalle
Big Maybelle
Alberta Hunter
J.B. Lenoir
INDIVIDUAL
Vivian Carter & Jimmy Bracken
Bruce Bromberg
Sam Charters
John W. Work III
LITERATURE
Walking to New Orleans: The Story of New Orleans Rhythm & Blues by John Broven
SINGLE
"Ain't Nobody's Business"- Jimmy Witherspoon (Supreme, 1947)
"Five Long Years"- Eddie Boyd (J.O.B., 1952)
"Hard Time Killin' Floor Blues"- Skip James (Paramount, 1931)
"Love in Vain"- Robert Johnson (Vocalion, 1937 )
ALBUM
Night Beat - Sam Cooke (RCA Victor, 1963)
False Accusations - Robert Cray (HighTone, 1985)
The Real Folk Blues - Howlin' Wolf (Chess, 1965)