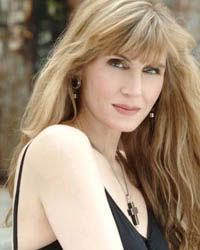 Veteran blues artist Rory Block is releasing Shake 'Em On Down, an album heavily comprised of "Mississsippi" Fred McDowell tunes, on March 29 through Stony Plain Records.
Shake 'Em On Down is Block's tribute to McDowell, who she met and comes as part of her 'Mentor Series.'
I met Fred McDowell at a time in my life when I was most impressionable," she wrote in the liner notes. "That experience – along with meeting other surviving country blues masters such as Son House, Mississippi John Hurt, Skip James, Bukka White, and Reverend Gary Davis – would become a lifelong influence."
Previous albums in the series include The Lady And Mr. Johnson and Blues Walkin' Like A Man, honoring Robert Johnson and Son House respectively. This latest installment is also tied to the upcoming autobiography When A Woman Gets The Blues.
The tracklist for the album includes four Block originals, a cover of Sonny Boy Williamson's "Good Morning Little School Girl," and several McDowell songs.
Block has won numerous awards and accolades throughout her career, including five Blues Music Awards from the Blues Foundation.
Shake 'Em On Down Complete Tracklist:
Steady Freddy
Mississippi Man
Kokomo Blues
Good Morning Little School Girl
What's The Matter Now?
Shake 'Em On Down
Worried Mind
The Man That I'm Lovin'
Ancestral Home
The Breadline
Woke Up This Morning
Write Me A Few Of Your Lines