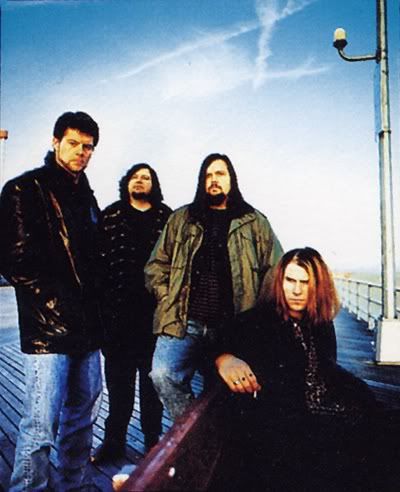 It's been 20 years and not much has changed; just as word becomes official the band are about to reach into their archives, this other band from Washington state you might remember is about to release a 20th anniversary of some album called Nevermind.
The Screaming Trees will are ready to write the final chapter of their incredible musical story when they release Last Words: The Final Recordings digitally on August 2; a CD/vinyl release is planned but still being finalized.
The members of Screaming Trees had their ups-and-downs, culminating in a hiatus in the mid-'90s. Released from their contract with Sony, they explored the possibility of returning to life as an indie band. Music labels were already in trouble even before Napster so with no official backing, they gathered at Stone Gossard's (Pearl Jam) Studio Litho and began work on a batch of songs with drummer Barrett Martin serving as producer for the sessions, which would be their last. Rather than continue, the band played their farewell show on June 25, 2000 in front of 20,000 people at Seattle's Memorial Stadium.
What became of the music Mark Lanegan, Gary Lee Conner, Van Conner, and Martin recorded with help from friends Josh Homme and Peter Buck? Nothing. The tapes sat. Word of these sessions was known within the band's fan base but with supposed tensions among the members and no label, there was little hope of ever hearing the music.
Martin and famed producer Jack Endino discovered the tapes 12 years later and the two set to preserving the music, carefully transferring the 2" tape to a digital format. In the process, Martin was pleasantly surprised by the vitality and energy of those final 10 songs. Oh, and that supposed tension? While creative differences are bound to surface among musicians, it was laughter and jokes Martin heard between takes. They were having fun, making music for the right reasons even if the window for the band as an ongoing project was closing.
The four principles and their two collaborating friends agreed time had come to bring the Screaming Trees story to a close by sharing those last 10 songs with fans and friends. Rather than ruin a good thing with a reunion tour, the band is choosing to remain friends, concentrate on their own ongoing projects, and let these 10 songs be the final word. Martin has founded his own label, formed a jazz band, recorded solo albums, and taken a teaching gig as a college professor. The Conner brothers have both started families and continue to make music independently. Lanegan is wandering spirit who has made amazing solo records as well as collaborating with Homme in Queens of The Stone Age, Isobel Campbell on a trio of records, and Greg Dulli in The Gutter Twins and Twilight Singers.
Artwork and tracklisting haven't been released.
Produced by Barrett Martin
Mixed by Jack Endino
Mastered by Chris Hanzsek
Album Artwork by Erin Currier
The Band:
Gary Lee Conner – Lead Guitar, Piano, Clavinet, Backing Vocals
Van Conner – Bass Guitar, Backing Vocals
Mark Lanegan – Lead Vocals
Barrett Martin – Drums, Hammond Organ, Fender Rhodes, Vibraphone, Percussion
Special Guests:
Peter Buck – Acoustic Guitar, Tremolo Guitar, Electric 12 String Guitar,
Josh Homme – Electric Guitar
Recorded between the winter and summer of 1998-99 by:
Matt Bayles, Studio Litho, Seattle, WA
Martin Feveyear, Jupiter Studios, Seattle, WA
Toby Wright, Ocean Way Recording, Los Angeles, CA