It's no secret we access music in a host of new ways beyond the traditional means of listening to the radio or buying CDs. It's a whole new world with digital downloads and streaming. iTunes is the #1 music retailer in the US and Spotify has become a dominant force in the world of streaming music and now we can keep tabs on what you, the people, are listening to en masse.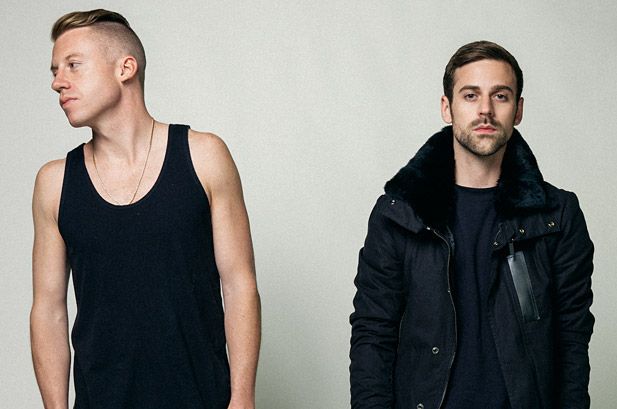 We have the Top 10 most streamed tracks for the week of Monday, January 14 through Sunday January 20 for both the US and the UK according to Spotify and I consider myself... disappointed- actually, that's not true. I'm not even a damn bit surprised by it, be honest with you.
The US and UK differ on the #1  song with American listeners preferring the almost implausibly bad "Thrift Shop" by Macklemore & Ryan Lewis, featuring Wanz. The Brits are giving "Scream & Shout" from Black Eyed Peas' will.i.am a right good listening to the tune of making it their most streamed song of the week.
It's interesting to see how many songs the two countries have in common on their respective Top 10s for this
past week; there are a lot of repeats which means our British amigos can drop the pretense of sophisticated taste. Yeah, you lot gave us The Beatles and we appreciate it but now you're listening to Rihanna and Bruno Mars. The Fall of The British Empire in just 10 songs. Brutal.
In addition to Rihanna and Bruno Mars, The Lumineers are getting a ton of attention on both sides of the Atlantic. I've had a little fun taking the piss (and I'm just getting warmed up) but I was curious when I heard folks talking about new music from Lumineers... right up until I found out the name of the song getting the most listens right now is called "Ho Hey." I'm not judging the book by its cover, I'm judging by its title. That's different. Right? No? Okay. I pledge to give this song a listen sometime this weekend. There's also something called a Swedish House Mafia and their song "Don't You Worry Child" is represented on both charts. I'm not making any such pledge on this one.
I'm going to do my best to deliver the news (and likely a heavy dose of snark and tongue-in-cheek mockery) each week with what's going on at Spotify and iTunes. Here are the Top 10 Most Streamed Tracks For Jan. 14-20 at Spotify for both the US and the UK.
UNITED STATES
1. Macklemore & Ryan Lewis feat. Wanz, "Thrift Shop" (Macklemore)
2. The Lumineers, "Ho Hey" (Dualtone)
3. will.i.am, "Scream & Shout" (Interscope Records)
4. Swedish House Mafia feat. John Martin, "Don't You Worry Child (Radio Edit)" (Virgin Records)
5. Imagine Dragons, "It's Time" (Interscope Records)
6. Bruno Mars, "Locked Out of Heaven" (Atlantic Records)
7. Imagine Dragons, "Radioactive" (Interscope Records)
8. Rihanna, "Diamonds" (The Island Def Jam Music Group)
9. Calvin Harris, "Sweet Nothing" (Columbia)
10. fun., "Some Nights" (Fueled by Ramen)
UNITED KINGDOM
1. will.i.am, "Scream & Shout" (Interscope Records)
2. James Arthur, "Impossible" (Syco Music UK)
3. The Lumineers, "Ho Hey" (Dualtone)
4. Bruno Mars, "Locked Out of Heaven" (Atlantic Records)
5. Rihanna, "Diamonds" (The Island Def Jam Music Group)
6. Swedish House Mafia feat. John Martin, "Don't You Worry Child (Radio Edit)" (Virgin Records)
7. Calvin Harris, "Drinking From the Bottle" (Columbia)
8. One Direction, "Kiss You" (Syco Music)
9. Labrinth, "Beneath Your Beautiful" (Syco Music)
10. Calvin Harris, "Sweet Nothing" (Columbia)