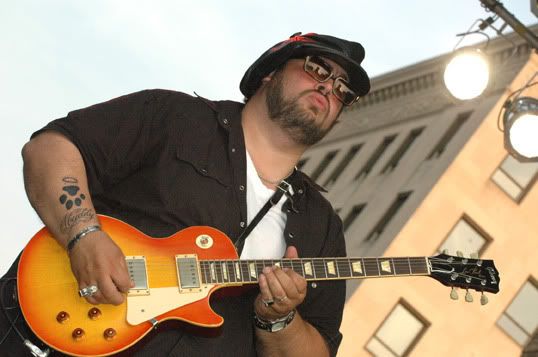 I have the cure for your Monday blues, kids. We have fresh new video from Nick Moss & The Flip Tops from a recent appearance. My day just got better and now so can yours!
It's been a big year for Moss, having toured the US and Europe while finishing and releasing his ninth (and quite possibly finest) album Here I Am last month. Here I Am captured some of Moss' most stunning lead work to date. Song times are extended, jamming is plentiful, and styles and textures of the music are changed and through it all, He lays down some nasty slide workand fires off explosive, expressive solos throughout.
Nick's playing on Here I Am is aggressive and intense, coming at you like a heavyweight's fist. You want to know why Nick has multiple nominations for the Gibson Guitarist Of The Year Award from The Blues Foundation? Check out "Ghetto (Kind Of)."
There are countless players who can fire off big, loud licks and he can run with any of them. There are far fewer who can find a groove and ride it the way he does here. His guitar work is dynamic and imaginative. This is a musical conversation and Moss never runs out of things to say nor does he get lost or repetitive.
Moss has played with many of the blues legends before and after striking out on his own as a solo artist and his Flip Tops lineup has featured some great musicians. Travis Reed is a superlative keyboard player. He logged many miles with the band on the Privileged world tour and made his first recorded appearance on Here I Am. He's become a not-so-secret weapon and his solo here is first rate, oozing with soul.
Plug in your earphones and let it rip, boys and girls. While everyone around you is cursing Monday, you can rejoice...