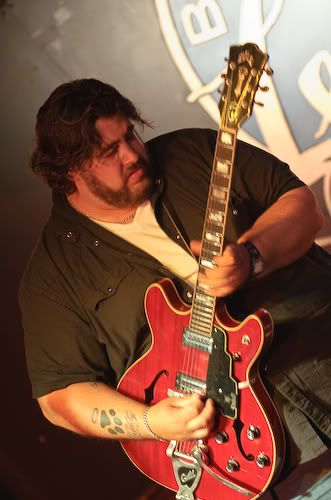 Our pal Nick Moss is gearing up for another full spring and summer of touring, heading back to the West Coast for another run of dates including a long overdue stop in Las Vegas. BlindedBySound actually has a Vegas blues correspondent, making arrangements to be at Boulder Station Hotel & Casino on April 21 for that special show.
Moss and his band have been touring heavily to promote the acclaimed Here I Am release from last fall. He'll kick things off from his home base of Chicago, playing Rosa's Lounge. Rosa's is one of the remaining blues joints that played host to all the great ones and Moss plays there often. He'll then head to Phoenix, Hermosa Beach, Vegas, and a two-night stand at San Francisco's Biscuits & Blues.
I haven't been able to catch a show on the Here I Am tour yet, which means I haven't heard the new lineup featuring Michael Ledbetter and Matthew Wilson. I'm eagerly waiting for another run of Southeastern shows because this is a such a great album and these songs scream to be played live. I've seen some YouTube clips, many of which we've posted here (and here, too), and this lineup is as muscular and versatile as any Moss has taken around the world.
Here are the April tour dates. We'll keep you posted as more dates are announced.
Fri 04/06/12 Chicago, IL Rosa's Lounge
Thu 04/19/12 Phoenix, AZ The Compound Grill
Fri 04/20/12 Hermosa Beach, CA Cafe Boogaloo
Sat 04/21/12 Las Vegas, NV Boulder Station Hotel & Casino
Mon 04/23/12 San Francisco, CA Biscuits & Blues
Tue 04/24/12 San Francisco, CA Biscuits & Blues