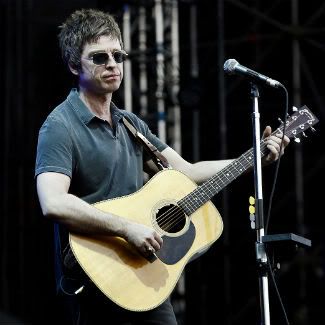 Details have been announced for Noel Gallagher's live DVD/Blu-ray International Magic Live at the O2 and in what should be a surprise to no one: he's doing it right while so many get it wrong.
The set will be released Oct. 23 and will feature his entire performance at O2 Arena in London- something far too few bands do (I'm looking squarely at you U2 and Rolling Stones, for starters) and he's also packed this set with some fantastic bonus features and goodies.
The 20-song set will be appended with Gallagher's eight-song acoustic mini set in Toronto that includes a performance of "Wonderwall," a song he didn't play as part of the O2 show. We also get an additional six-song performance from his appearance at this year's NME Awards.
That's pretty great and we're still not done, kids. There's a bonus CD of demos of every song from his solo debut High Flying Birds, the b-sides from the singles, and the brilliant non-LP track "Freaky Teeth" (which was performed at the O2 gig).
The three videos filmed for singles from the album have been assembled into a short film called "Ride The Tiger."
That, boys and girls, is how you do it. Noel is playing chess and the rest of those suckers are playing checkers. That's what a live DVD package is supposed to look like. This shouldn't be any big deal but no one ever gets it right. The entire performance, bonus footage that people will actually watch, and a nice CD of some demos. What's exciting about those demos? It's probably going to be a virtual unplugged version of the album and longtime Oasis fans know The Chief excels in the acoustic setting.
This is the same set list he played at the extraorinary Atlanta show and it's why I'm going back to see him when he plays God's favorite room, Ryman Auditorium, in November. I've pre-ordered the hell out of this and I'll probably watch it six times between Oct. 23 and that November 5 show in Nashville.
Hail, Chief. This is a mighty work what you've done here and I've forked over my cash.
Here are the respective setlists and tracklistings:
Live at the O2:
(It's Good) To Be Free
Mucky Fingers
Everybody's On The Run
Dream On
If I Had a Gun...
The Good Rebel
The Death of You And Me
Freaky Teeth
Supersonic
(I Wanna Live in a Dream in My) Record Machine
AKA... What a Life!
Talk Tonight
Soldier Boys And Jesus Freaks
AKA... Broken Arrow
Half The World Away
(Stranded On) The Wrong Beach
Whatever
Little By Little
The Importance of Being Idle
Don't Look Back In Anger
Live At The Mod Club Toronto, 5th November 2011
(It's Good) To Be Free
Talk Tonight
If I Had A Gun...
Supersonic
Wonderwall
AKA...What A Life!
Half The World Away
Don't Look Back In Anger
Noel Gallagher's High Flying Birds Live At The NME Awards 2012
Everybody's On The Run
Dream On
If I Had A Gun...
AKA... What A Life!
Half The World Away
Don't Look Back In Anger
CD
Everybody's On The Run (Demo)
Dream On (Demo)
If I Had A Gun... (Demo)
(People Who Would Be) The Death Of You And Me (Demo)
Record Machine (Demo)
Ride The Tiger AKA What A Life! (Demo)
Soldier Boys And Jesus Freaks (Demo)
Fallen Angel AKA Broken Arrow (Demo)
(Stranded On) The Wrong Beach (Demo)
Stop The Clocks (Demo)
The Good Rebel (Demo)
I'd Pick You Every Time (Demo)
Freaky Teeth (Demo)