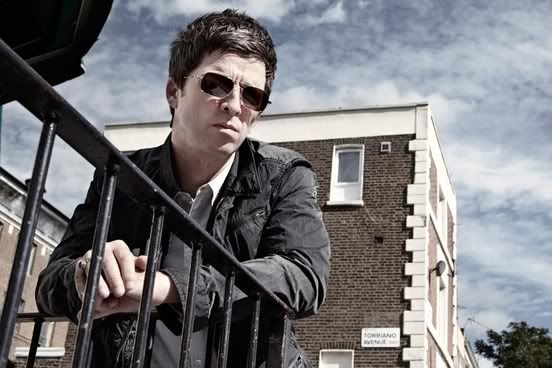 Noel Gallagher kicked off the first show in support of his debut solo record, which is set to hit #1 in the UK ahead of its Nov. 8 release in the US, Noel Gallagher's High Flying Birds.
Gallagher played a large chunk of his new record while also serving up a bevy of Oasis hits and rarities, causing me to curse geography because his painfully brief N. American tour isn't coming anywhere near where I live.
Gallagher kicked off the night playing two Oasis songs, the well-known B-side "It's Good To Be Free" and "Mucky Fingers" from the Don't Believe The Truth album before firing off four straight from High Flying Birds. Details are sketchy but the next song played is billed as a new song. I don't know if it's the non-LP "Alone On The Rope" or something completely new. He then played the classic hit "Wonderwall" and according to comments posted to his Twitter account did an acoustic version of the hard rocker "Supersonic" from Oasis' debutDefinitely Maybe.
I would have lost a lot of money on the set list both by what was included as well as what wasn't. I thought sure "The Masterplan" would get played but no such luck. Instead, "Half The World Away," "Talk Tonight," "Don't Look Back In Anger," "The Importance Of Being Idle," and "Little By Little."
It will be interesting to keep an eye on future shows. Oasis didn't change their sets up a lot while on tour and there are several great Noel quotes as to why, including blaming the internet and a band that didn't want to rehearse. Will being on his own, running the show, cause a change of heart or is this the show he'll take around the world in 2011? It's a winner either way (although I refuse to believe he's not playing "The Masterplan" at some point).
So to sum this up I'm feeling more than a little stabby. I have to wait three weeks longer than my brothers and sisters in the UK for the new record and he's not playing a show in my time zone when he comes to N. America.
What can a poor Yank in Alabama do on a night like this? Crank some old Oasis and listen to the three Gallagher UK singles you paid a mint to import. It's a pleasant-yet-unsatisfying consolation.
Here is the full setlist:
It's Good To Be Free
Mucky Fingers
Everybody's On The Run
Dream On
If I Had A Gun
The Good Rebel
The Death Of You And Me
BRAND NEW SONG
Wonderwall
Supersonic
I Wanna Live In A Dream In My Record Machine
AKA What A Life
Talk Tonight
Soldier Boys And Jesus Freaks
AKA Broken Arrow
Half The World Away
Stranded On The Wrong Beach
Don't Look Back In Anger
The Importance Of Being Idle
Little By Little