Noel Gallagher's High Flying Birds came to The Tabernacle in Atlanta and The Chief was in masterful form.
It feels like I waited my whole life for this night. I've made innumerable Noel Gallagher mixtapes, CD-Rs, and digital playlists on my iPod, dreaming about a night like this, never really expecting it would ever happen. When it finally did, I spent the entire 20-song set in the beautiful haze of the euphoria you only experience at the exact moment the improbable becomes reality before your very eyes.
The set list mixed singles, b-sides, and album cuts from High Flying Birds, hits and b-sides from his years as architect of Oasis, and a new song so good it demands immediate release.
The show opened with a haunting, brilliant rendition of "(It's Good) To Be Free," the arrangement similar to that of the 2009 version he played at Royal Albert Hall for The Prince's Teenage Cancer Trust benefit show.
Gallagher's Oasis work will define him but the five-song run of songs from his HFB record"Everybody's On The Run," "Dream On," "If I Had A Gun," "The Good Rebel" (technically a b-side rather than an album track), and "The Death Of You And Me" followed by the new song "Freaky Teeth" was as strong as any segment of the show. Noel has recently admitted he'll never do anything as big as Oasis and he may be right in purely commercial terms but this performance demonstrates his new material stands on par with the enduring classics of his former band.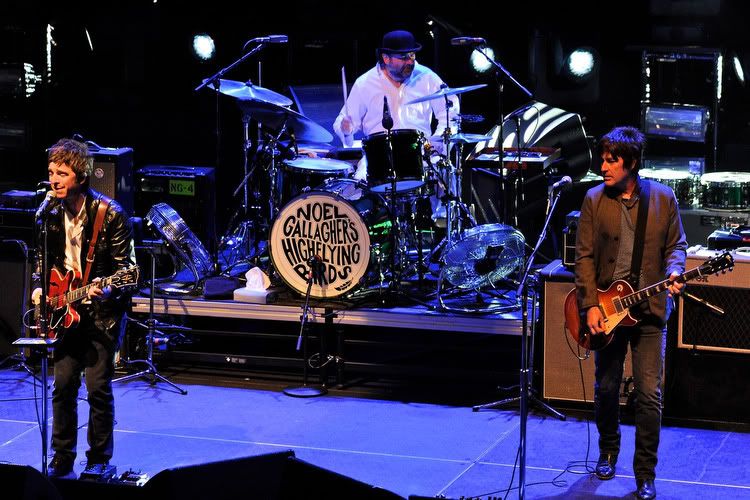 An acoustic "Supersonic" and a performance "Talk Tonight" may stand out as the most memorable of the evening. "Talk Tonight" has been in my Top 5 Oasis songs since I first heard it while in college a long time ago (during the very brief period I tried learning to play guitar, I almost learned to play a few bits of this one in a manner someone could conceivably recognize). I was surprised it wasn't performed as the spare, acoustic song it originated as but not disappointed; "Talk Tonight" remains one of Gallagher's finest moments as a songwriter and the expanded arrangement was just one more way to marvel at what a fabulous song it is.
I felt I'd gotten everything I paid for 12 songs in and was being greedy staying for the remainder of the show but there were still glorious moments that awaited, including the feel good, hippy singalong of "Half The World Away."
When Gallagher played his first solo show for the HFB in Dublin last year, I'd have bet $50 he would play "The Masterplan" and another $50 he wouldn't play "Whatever." That's $100 in the red for me because "The Masterplan" hasn't come out at all on the tour and recent encores have recently opened with "Whatever." Myself, I'm a "Masterplan" guy but "Whatever" is almost as much a favorite as "Talk Tonight." Getting them both on the same night? That's just stupid.
"Whatever" was followed by a surprisingly forceful, rocking version of "Little By Little," the whimsical "The Importance Of Being Idle," and the timeless, gorgeous "Don't Look Back In Anger."
Gallagher once sang "the dreams we have as children fade away." I guess I got lucky; I held onto a dream until Friday night and the memories of it are still fresh in my head. Thanks, Chief. Don't be a stranger.
Noel Gallagher's High Flying Birds
Atlanta, GA - The Tabernacle
April 6, 2012
(It's Good) To Be Free
Mucky Fingers
Everybody's On The Run
Dream On
Freaky Teeth
Supersonic (Acoustic)
(I Wanna Live In A Dream In My) Record Machine
Talk Tonight
Soldier Boys & Jesus Freaks
AKA… Broken Arrow
Half The World Away
(Stranded On) The Wrong Beach
### ### ###
Whatever
Little By Little
The Importance of Being Idle
Don't Look Back In Anger