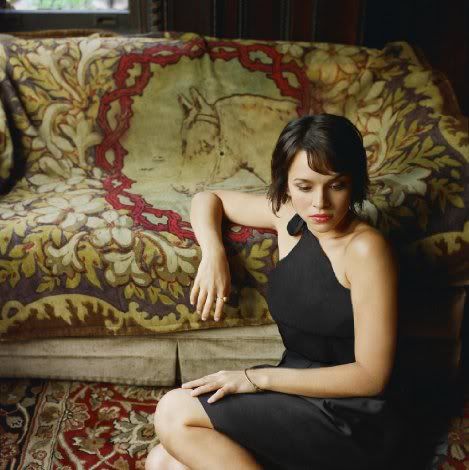 Norah Jones has announced the opening run of dates for her world tour in support Little Broken Hearts, her new album due May 1.
The first several dates are in Europe before she kicks off the North American run in Indianapolis on June 20. I have three chances to catch her in relatively close proximity: I can go four hours east to Atlanta and see her at the Fabulous Fox Theater, 4 hours west and see her at Memphis' Mud Island Amphitheater, or I can do what God wants and go two hours north and hear and see her in His favorite room on earth, Nashville's Ryman Auditorium.
In addition to the Southern run, she hits dates throughout the US and Canada beginning in June and running through the summer. She closes the run in August at Denver's famed Red Rocks Amphitheater. I've had the opportunity to travel to Red Rocks and stand on the stage where so many done stood, but I've never seen a show there. I'm not a big fan of travel in my advancing years but that's a bucket list item for me. I wonder if we could get U2 to go back to Red Rocks and kick it old school.
Back to Norah, I've pre-ordered my copy of Little Broken Hearts and have listened to a track from it for free (which you can do right here at BlindedBySound). This album is a collaboration between Jones and Brian "Danger Mouse" Burton and will be a sonic departure from her jazzier, rootsier early records but I can confirm she still has TheVoice, and that kids, is reason enough for me to buy the record.
Tickets for these shows go onsale pretty soon so get your credit cards ready and check out the particulars at Ticketmaster, LiveNation, etc. and get ready.
25-May-12 - Olympia Theater - Paris, FR
26-May-12 - Alte Opera - Frankfurt, Germany
28-May-12 - Carre Theater - Amsterdam, Netherlands
1-Jun-12 - Royal Festival Hall - London, UK
2-Jun-12 - Royal Festival Hall - London, UK
20-Jun-12 - Murat Theater - Indianapolis, IN
22-Jun-12 - Mud Island Amphitheater - Memphis, TN
23-Jun-12 - Fox Theater - Atlanta, GA
24-Jun-12 - Ryman Auditorium - Nashville, TN
27-Jun-12 - Wolf Trap - Vienna, VA
28-Jun-12 - Mann Center - Philadelphia, PA
29-Jun-12 - Kodak Hall - Rochester, NY
1-Jul-12 - Bank of America Pavilion - Boston, MA
2-Jul-12 - Oakdale Theater - Wallingford, CT
3-Jul-12 - Central Park SummerStage - New York, NY
6-Jul-12 - Massey Hall - Toronto, ON
7-Jul-12 - Montreal Jazz Festival - Montreal, QC
14-Jul-12 - Lucca Festival - Lucca, Italy
16-Jul-12 - Neumunster Abbey - Luxembourg
17-Jul-12 - Stadtpark - Hamburg, Germany
19-Jul-12 - Dalhalla - Rattvik, Sweden
20-Jul-12 - Moldejazz Festival - Molde, Norway
22-Jul-12 - Pori Jazz Fest - Pori, Finland
7-Aug-12 - Santa Barbara Bowl - Santa Barbara, CA
8-Aug-12 - Copley Symphony Hall - San Diego, CA
10-Aug-12 - Hollywood Bowl - Hollywood, CA
12-Aug-12 - Harvey's Outdoor Arena - Lake Tahoe, NV
15-Aug-12 - Les Schwab Amphitheater - Bend, OR
17-Aug-12 - Edgefield Winery - Portland, OR
18-Aug-12 - Marymoor Amphitheater - Seattle, WA
21-Aug-12 - Red Butte Garden - Salt Lake City, UT
23-Aug-12 - Red Rocks - Denver, CO