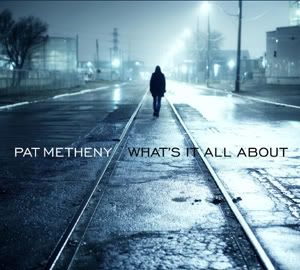 Jazz great Pat Metheny will release a new solo acoustic album What's It All About through Nonsuch Records June 14.
The 10-track set is the first in Metheny's career not to feature any of the guitarist's original compositions. Instead he has interpreted songs that have held special significance to him throughout his life, among them songs from Paul Simon, The Beatles, and Burt Bacharach.
The seeds of the record were planted during his tour for a previous solo acoustic effort, One Quiet Night.
"Almost every day as I worked through one well-known tune or another, various visitors or local crew people would come up to me and ask which record it was on, and I would have to say that I had never made a record like that," Metheny said. "And over the years, I have had it in the back of my mind that I should do an album of some of those tunes at some point."
That time is now.
Seven of the 10 cuts were recorded using an acoustic baritone guitar. Metheny's interpretation of "The Sound Of Silence" is one of those not featuring a baritone guitar, instead being played on a :: wait for it :: 42-string custom made "Pikasso" guitar. No, that is not a typo. It really says 42 strings.
Here is a sample from the upcoming album, Metheny playing Bacharach's "Alfie:"
Here is a complete tracklisting for What's It All About:
The Sound of Silence (Paul Simon)
Cherish (Terry Kirkman)
Alfie (Burt Bacharach & Hal David)
Pipeline (Bob Spickard & Brian Carman)
Garota de Ipanema (Antonio Carlos Jobim & Vinicius de Moraes)
Rainy Days and Mondays (Roger S. Nichols & Paul H. Williams)
That's the Way I've Always Heard It Should Be (Carly Simon & Jacob Brackman)
Slow Hot Wind (Henry Mancini & Normal Gimbel)
Betcha by Golly, Wow (Thomas Bell & Linda Creed)
And I Love Her (John Lennon & Paul McCartney)