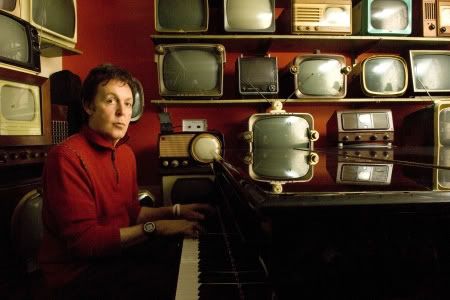 While making a name for himself as a pop rock musician, Paul McCartney has always been the least likely to shy away from a standard. Indeed, many of his own songs were written in this style from "When I'm 64" to "Honey Pie" to "You Gave Me The Answer" and he famously covered "Til There Was You" from the musical The Music Man. It is therefore not surprising that McCartney has finally decided to record his own tribute to the songs he heard his father play when he was growing up on his new album, Kisses On The Bottom.
The album takes its title from a lyric in the album opener, "I'm Gonna Sit Right Down And Write Myself A Letter," a playful, jazzy track with a fine piano solo from Diana Krall. Krall and her band back McCartney throughout, providing a perfect, understated foil for McCartney's vocals. While his voice is not as smooth as it once was, McCartney is still a fine singer and his more mature voice is well-suited for this material.
The bouncy "It's Only A Paper Moon" is one of several songs recorded at the legendary Capitol A Studio inside the Capitol Tower in Los Angeles, home of many classic recordings by Frank Sinatra, Nat King Cole and others. In fact, it was Cole's mic that McCartney used on the tracks, a daunting task for any singer to live up to but one McCartney reaches. The track features some tasty guitar from John and Bucky Pizzarelli and a fine violin solo from Andy Stein.
McCartney goes to the stage version of Guys & Dolls for "More I Cannot Wish You," a pretty song about a grandfather singing to a young girl. One can imagine McCartney singing to his young daughter as he delivers his poignant vocal. Along those lines, McCartney offers a pretty vocal on "The Glory Of Love," an ode to romance.
McCartney gets some help from the London Symphony Orchestra and Eric Clapton on "My Valentine," one of two originals written in the style of the old standards. Clapton's subtle acoustic leads are unmistakable and the song fits in well stylistically. A new standard? Perhaps. Clapton returns for "Get Yourself Another Fool," offering a bluesy edge to the track. McCartney joins him on acoustic guitar, one of only two songs he played an instrument on as he deferred to Krall's band, who are better versed in this kind of music.
Stevie Wonder reunites with McCartney on the other original track, "Only In Our Hearts," this time on harmonica. The song is a pretty ballad with a strong vocal from McCartney and tasteful arrangements from the legendary Johnny Mandel.
McCartney has wanted to do this sort of album for a number of years, but held off for fear of copying Rod Stewart. Fans expecting a rock album from McCartney need not proceed. McCartney has always shown many dimensions to his music, however, and Kisses On The Bottom is a long overdue tribute to the Great American Songbook he so loved as a child.