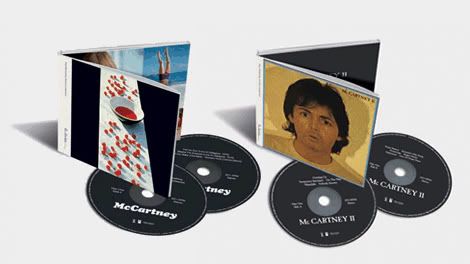 Paul McCartney has unveiled plans to re-issue his first two solo albums McCartney and McCartney II on June 13 in the increasingly standard myriad formats.
Both albums have been remastered by the amazing sound engineers who oversaw The Beatles' remasters at Abbey Road Studio; these same engineers also remastered the re-issued McCartney classic Band On The Run. Both albums will be issued as single discs, including just the remastered original albums.
For McCartney, there will be a 2-CD set and a 2-CD/1-DVD set. The 2-CD set will include the remastered album and a second disc of rarities and previously unreleased material which has also been remastered. The 2-CD/DVD set is going to be pricey as it will come with a 128-hardcover book with liner notes and exclusive photographs taken by McCartney and his late wife, Linda. Digital and vinyl editions are also planned. Here is the McCartney tracklisting:
CD 1 - Remastered Album
The Lovely Linda
That Would Be Something
Valentine Day
Every Night
Hot As Sun / Glasses
Junk
Man We Was Lonely
Oo You
Momma Miss America
Teddy Boy
11 Singalong Junk
Maybe I'm Amazed
Kreen-Akrore
CD 2 - Bonus Audio Tracks
Suicide [Out-take]
Maybe I'm Amazed [From One Hand Clapping]
Every Night [Live At Glasgow, 1979]
Hot As Sun [Live At Glasgow, 1979]
Maybe ''m Amazed [Live At Glasgow, 1979]
Don't Cry Baby [Out-take]
Women Kind (Demo) [Mono]
DVD - Bonus Film
The Album Story
The Beach
Maybe I'm Amazed Music Video
Suicide [from One Hand Clapping]
Every Night [Live at Concert for the People of Kampuchea]
Hot As Sun [Live at Concert for the People of Kampuchea]
Junk [MTV Unplugged]
That Would Be Something [MTV Unplugged]
McCartney II was released in 1980, following a string of albums and tours with Wings. It is being offered in a 2-CD edition and a 3-CD/1-DVD version as well. Just as with McCartney, the DVD-edition of this package will come with a 128-page hardcover book. The third CD included in the McCartney II edition boasts mainly "full-length versions" of songs from the album proper. That's a crappy scam to pull. It's a shame there won't be a 3-CD/DVD edition sold without the book and likely much larger price tag.
Here is the full-tracklisting for McCartney II:
CD 1 – Remastered Album
Coming Up
Temporary Secretary
On The Way
Waterfalls
Nobody Knows
Front Parlour
Summer's Day Song
Frozen Jap
Bogey Music
Darkroom
One Of These Days
CD 2 – Bonus Audio 1
Blue Sway [With Richard Niles Orchestration]
Coming Up [Live At Glasgow, 1979]
Check My Machine [Edit]
Bogey Wobble
Secret Friend
Mr H Atom / You Know I'll Get you Baby
Wonderful Christmastime [Edited Version]
All You Horse Riders/Blue Sway
CD 3- Bonus Audio 2 (DELUXE 3 CD – 1 DVD EDITION ONLY)
Coming Up [Full Length Version]
Front Parlour [Full Length Version]
Frozen Jap [Full Length Version]
Darkroom [Full Length Version]
Check My Machine [Full Length Version]
Wonderful Christmastime [Full Length Version]
Summer's Day Song [Original without vocals]
Waterfalls [DJ Edit]
DVD – Bonus Film
Meet Paul McCartney
Coming Up Music Video
Waterfalls Music Video
Wonderful Christmastime Music Video
Coming Up [Live at Concert for the People of Kampuchea]
'Coming Up' [taken from a rehearsal session at Lower Gate Farm, 1979]
Making the Coming Up Music Video
Blue Sway