The tenth anniversary of 9/11 brought numerous reflections in the form of books and documentaries. One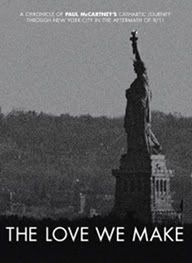 particularly curious entry is The Love We Make, a film billed as "a chronicle of Paul McCartney's cathartic journey through New York City in the aftermath of 9/11." Instead of providing any deep analysis or shedding any light on McCartney's true emotions, the movie follows McCartney as he prepares to headline the Concert for New York City. While he seems to genuinely care about New York, one cannot help but wonder about the exact purpose of the movie.
First, the back story: McCartney's plane sat on the tarmac at JFK while planes crashed into the Twin Towers. After all flights were grounded, McCartney immediately decided to help however he could. Film mogul Harvey Weinstein called the ex-Beatle asking if he would headline the Concert for New York City, a star-studded fundraiser to be held in October. McCartney sprang into action, appearing on several newscasts and radio shows to promote the event as well as his latest album, Driving Rain. Filmmaker Albert Maysles, who first chronicled The Beatles' arrival in America in the film The Beatles' First U.S. Visit, helms this effort, following McCartney as he travels from interview to interview, rehearses with his band, wanders the New York streets, and ultimately performs at the October 20, 2001 concert.
In issue 192 of Beatlefan magazine, the publication of record for Beatles fans and collectors, the deep divide The Love We Make has caused among McCartney enthusiasts is most evident. Is the movie meant to illustrate McCartney's sincere commitment to New Yorkers, or is it a superstar's ego trip? Admittedly, a case can be made for both views. Filmed entirely in black and white (presumably to emphasize the subject matter's gravity), the documentary shows McCartney's attempts to connect with everyday New Yorkers. Yet for every scene of him signing autographs and embracing firefighters ("I feel like I'm running for mayor!" he exclaims at one point), there are others of him riding in a limousine, anxiously peeking out the windows, afraid of overzealous fans. He often instructs the driver to leave areas as quickly as possible, often while glancing behind him, seemingly convinced that he is being followed. Of course, considering that John Lennon and George Harrison were attacked by stalkers, perhaps his fears are not unfounded.
One specter that hovers over The Love We Make is one never mentioned: Heather Mills, McCartney's ex-wife. At the time, McCartney was engaged to the controversial activist, and she heavily influenced his 2001 album Driving Rain. At that time, Mills accompanied her fiance everywhere, yet this documentary edited out any images or mentions of her. Because of this, McCartney's appearance on Howard Stern's radio show is reduced to just a brief fragment here. He also uses these interviews to promote the album, which he describes as a uniquely "American record." Among fans and critics, Driving Rain remains one of his most uneven efforts. Footage of him rehearsing album tracks "From A Lover to A Friend" and "Lonely Road" depict him singing lyrics that clearly refer to Mills, such as the former song's words "Let me love again/ Now that you turned out to be/ Someone I can trust."
One of the best portions of the movie involves his interactions with celebrity peers backstage at the Concert for New York City. He and James Taylor charmingly reminisce about how they first met in the late 60s' swinging London, with the two displaying great affection for each other. When McCartney tells Jim Carrey that he's a fan, Carrey radiates joy, as if he could die happy right on the spot. Former U.S. President Bill Clinton also socializes with McCartney and Taylor, noting how his 60s peers have thrived. McCartney and his then-new band watch the other performances on TV; watching McCartney dance awkwardly to Jay-Z's "Izzo (H.O.V.A.)" while drummer Abe Laboriel Jr. explains the rapper to the music legend makes for an unintentionally hilarious segment.
Slightly uncomfortable scenes depict McCartney "selling" his new protest song, "Freedom," to Eric Clapton and Pete Townshend. Clearly McCartney believed that the track could become the anthem of 9/11, even though he wrote the song in about two hours. He tries to convince all the acts to perform the song onstage with him, failing to recruit Mick Jagger and some other artists. The Love We Make ends with showing brief segments of McCartney's set, where he performs "Yesterday" (he appears to choke up at the end), "I'm Down," "Let It Be," and "Freedom." While many of the evening's acts did join in on the hand-clap heavy tune, the audience gave the song a lukewarm reaction. Tellingly, McCartney does not perform "Freedom"--or any other Driving Rain tracks—on his current tours. Instead, the familiar ruled the day—the audience swayed, cried, and sang along with Taylor's "Fire and Rain," and let out their anger with The Who's particularly passionate version of "Won't Get Fooled Again." Both performances are included in the film, but only briefly—the entire concert is available on a separate DVD.
The real stars of The Love We Make are the firefighters, police officers, and victims' families. Instead of the performers, the most powerful images from the Concert for New York City remain the New Yorkers directly affected by the tragedy. Scenes of people grasping photos of their lost loved ones; firefighters displaying raw anger toward the architects of 9/11; and grateful fire and police personnel embracing McCartney, thanking him for his support are the standouts of the DVD. The film may claim to be about the rocker's own "cathartic journey," but the film is about the people and their journey toward healing.
After viewing The Love We Make, one is left with a feeling of confusion. McCartney and Maysles wished to make a point with the documentary, but which one? While the camera follows McCartney around New York, McCartney rarely discloses any deep emotion. Instead, viewers see him promoting the concert and, to a lesser degree, his new album. His sincerity is not in question—at the concert, he appears genuinely moved, and embraces emergency personnel with respect and gratitude. But why is McCartney's story more significant than a New Yorker—indeed any American—directly affected by the tragedy? Yes, watching McCartney interact with celebrities and everyday people is interesting, and seeing police and fire personnel light up with excitement when laying eyes on the ex-Beatle is moving. But focusing on a musician with a tenuous connection to New York does not paint an altogether accurate picture of a traumatic time in American history.