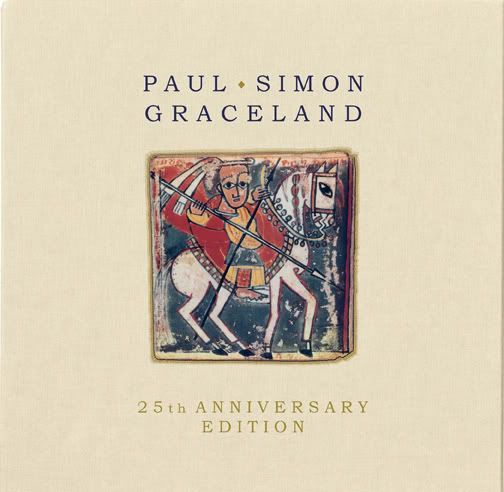 Paul Simon's Grammy-winning classic album Graceland celebrates its 25th Anniversary this year and as is the trend these days, it's being re-issued June 5 in deluxe formats to mark the occasion.
For most people, the most memorable things about Graceland are the video for "Call Me Al" featuring Chevy Chase and the controversial decision Simon made by recording part of the album in South Africa during the country's brutally oppressive apartheid regime.
The CD/DVD edition of the album has been remastered and includes the song with the iconic video as well as the classic "Diamonds On The Soles Of Her Shoes" and five bonus tracks, plus an audio narrative about the making of the record recorded by Simon. The DVD features a documentary about the making of the album, which gets into the controversy surrounding its recording, called Under African Skies and features interviews with Simon and others. The DVD also has three music videos from the Graceland album and a live performance of "Diamonds" from Saturday Night Live.
There's also a massive box set edition of Graceland with 2 CD, 2 DVD, and a host of other treasures. The first CD and DVD are the same as those being offered in the standard edition. Also included in the box is Simon's 1987 "African Concert" filmed in Zimbabwe, a handwritten lyrics pad, and an 80-page book featuring photos and interviews with Simon.
Fear not, vinyl lovers. You, too, are remembered with vinyl offerings of the remastered album. The documentary is also being released separately on Blu-ray for those of you who don't want to upgrade to a remastered edition but want to learn more about the making of a classic.
These anniversary editions give me such mixed feelings. This package sounds great and of course I want it but I don't like thinking of music I remember from my youth celebrating these kinds of birthdays. I heard "Smells Like Teen Spirit" on the way to Starbucks this morning on a classic rock station that usually plays Boston, Foghat, Foreigner, and Styx. I think these labels would help their re-issue campaigns if they didn't tell us how these albums are. I'm going to feel yet one more scoop of dirt on my head June 5.