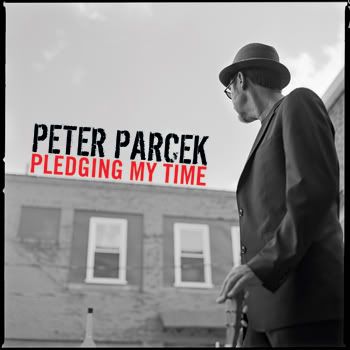 Blues Music Award-nominee Peter Parcek is releasing a digital EP on his web site and like Radiohead and other bands before him, he's allowing his fans and listeners to name their own price for it.
Pledging My Time is a four-song EP of Bob Dylan covers, available on Parcek's web site. While Parcek didn't choose to cover Dylan's "Pledging My Time" for this release, the title has significance for him and the project.
"We - the musicians and I - were pledging our time to try and take these songs where no one had taken them before," Parcek says. "We were pledging our time to make the best record we could make. You are driven by passion to make a record. It needs to be done with passion. No one has time for it if it isn't."
The four songs he chose reach back to Dylan's earliest days and reaches into the present:
She Belongs To Me (Bringing It All Back Home)
Leopard Skin Pill Box Hat (Blonde On Blonde)
Beyond Here Lies Nothing (Together Through Life)
It Takes A Lot To Laugh, It Takes A Train To Cry (Highway 61 Revisited)
Parcek is nominated for Best New Artist Debut for his Mathematics Of Love album.