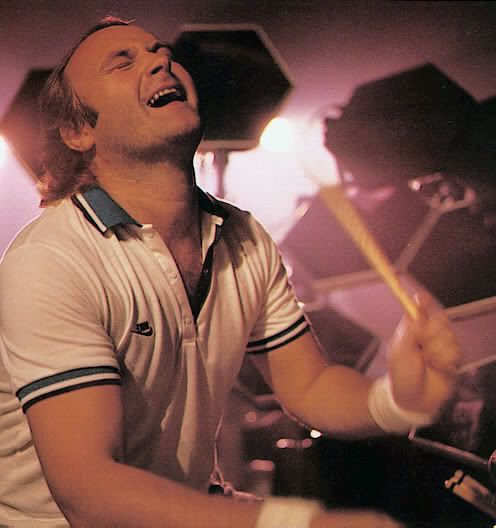 Normally people think of Phil Collins as humorous and cheerful, singing either uptempo, bouncy tracks ("Sussudio") or heartfelt ballads ("Against All Odds [Take A Look at Me Now]"). However, many forget that his first two solo albums, Face Value and Hello, I Must Be Going! revealed other sides of the musician, namely the R&B lover and the paranoid, jaded figure. Audio Fidelity's 24 carat gold, remastered edition of 1982's Hello, I Must Be Going! allows listeners to experience these hidden aspects of Collins' work in crystal-clear sound.
Opening with the pounding "I Don't Care Anymore," Collins continues where he left off on 1981's "In the Air Tonight." Clearly the narrator has experienced heartbreak, but here he is in fierce survival mode: "Get out of my way/ Let me by/ I got better things to do with my time!" he screams, as the drums gradually increase in volume and intensity. He barely contains his rage throughout the track, forcefully repeating "no more" as the song fades out. While the second track, "I Cannot Believe It's True," hints at R&B, the upbeat tone hides another story of lost love. As the Phoenix Horns blare in the background, Collins tries to accept his fate: "But over and over I know it's really happening/ And there's nothing that I can say/ 'Cause nothing can change all the things that you do to me." While the subject may be bleaker, the song continues Collins' fascination with soul, beginning on Face Value with "I Missed Again," even dating back to Genesis on "Paperlate."
Rage continues on "Do You Know, Do You Care," a brooding track serving as perhaps the prequel to the 1984 Genesis song "Mama" and another coda to "In the Air Tonight." "Don't say you weren't, you were 'cause I saw you myself/ It's too late for your reason," Collins snarls. "You're lying, you're lying, you've done it this time/ I'm sick of all the cheating." While the original LP version sounded murky, Audio Fidelity's remastering vastly improves the track, clarifying all of the instruments (most of which Collins played) and his searing vocal.
One of the biggest hits off Hello, I Must Be Going! was Collins' cover of the Surpremes classic "You Can't Hurry Love." How fascinating that Collins would choose to cover this innocent, first-blush-of-love tune, when the rest of the album portrays an enraged man battered by love. This is immediately followed by another soul-kissed number, "It Don't Matter to Me." Again, the Earth, Wind and Fire-reminiscent sound masks an atypical love song. While he is pursuing a love interest, he hardly sounds like a love-struck fool, and all is not candy and roses. "Because I've heard it all so many times before/ Just what you're saying and/ I don't really want to hear it all no more, no more," he croons. Here the remastering treatment really crackles, as Collins' intricate percussion really shines.
Hello, I Must Be Going! also contains one of the creepiest tracks Collins has ever recorded: "Thru These Walls." This slow song hardly represents one of his romantic ballads; instead, the narrator is a stalker. "My favorite moment/ Putting the glass up next to the wall," he sings, elongating the word "wall" to sound even more sinister. "I can see thru my windows/ I can see the girls and the boys," he continues, sending chills up one's spine. Interestingly he tries to invoke some sympathy for this pathetic character, stating that "Ooh I'm feeling like I'm locked in a cage/ No way in, no way out, and it gets so lonely." Instead, "Am I really asking a lot/ Just to reach out and touch somebody?" The drums fluctuate in volume and force, adding dramatic moments to this sordid tale. While "Thru These Walls" may be one of Collins' darkest tunes, it also represents the singer at his dramatic best.
As on Face Value, Collins includes a mostly instrumental tune, this time "The West Side." The 24 carat gold treatment particularly improves this track, adding a depth and power not present on the muffled LP version. Collins' drums throb, horns screech, keyboards swirl, and a lone alto saxophone weaves in and out of the rapid tempo.
Collins fans who have worn out their LP copies or simply desire improved sound should invest in this meticulous upgrade. The 24 carat gold surface eliminates imperfections present on standard aluminum discs, and experienced engineers remaster the tracks from the master recordings. This process results in extreme clarity, although on this release I would have preferred more bass to fully showcase Collins' drumming skills. Despite this flaw, Audio Fidelity's remaster of Hello, I Must Be Going! should draw renewed attention to one of the darkest and complex works in Collins' vast catalog.