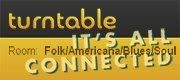 So we (meaning Josh) have covered Turntable.fm a bit in the last few days, and I thought I'd add my two cents but, in a different way. Anyone who reads the stuff I write knows, I'm a bit all over the place, musically. I like it all…it's more on the sound and feeling I get over the genre or artist. Although I'm fiercely loyal to and protective of the bands I love.
I've fiddled around on Turntable a bit; been in '80s, '90s, Indie, folk, new wave, hair metal rooms and even created my own room (to be unveiled at a later date), but like Josh has, I've found a bit of a home in the "Folk/Americana/Blues/Soul- It's All Connected" room.
I'm not a stranger to folk, country, bluegrass, roots-y music but I've always been a little turned off by blues. I thought it wasn't my thing when in fact I think it was too vast, too established, and a little intimidating. I like country-blues and pop-blues but I'm talking real "old man sitting on a stool on his porch for 18-hours straight with a guitar" blues. I didn't think I'd ever be able to sort through it, make heads or tails of it or even feel a connection to it.
Then Gary Clark Jr. happened and it awoke something in me; I wanted more and found myself perusing Spotify, YouTube and Wikipedia for more, more, more. Turns out the room on Turntable was the perfect place for me to sample from other's playlists and research bands/artists they played that I hadn't heard of before or hadn't delved very deeply into because of my self-imposed blues boycott.
This playlist includes songs I knew before I started hanging out in the Connected room and have played for others as well as some I discovered by listening to the other guest DJs.
Gary Clark Jr. - "Don't Owe You A Thang" and "Bright Lights"
These are the two GCJ songs I play most often although I play all four tracks off the The Bright Lights EP because he's brilliant and I was moved immediately by his voice and masterful guitar playing. I've gotten pretty similar, immediate reactions in the room each time I've played anything of his.
Iron & Wine - "Naked As We Came"
I&W is pretty popular in that room, as are the Fleet Foxes, The Avett Brothers, Mumford & Sons, and so on. I choose Iron & Wine and this song in particular for the hypnotic, calming feel and the fact that too many people have still never heard his amazing voice. This is best for late night crowds.
Sun Kil Moon - "Carry Me Ohio"
Another song I play based on my desire to educate the masses. I know the Mark Kozelek catalog is huge between solo, Red House Painters, and SKM work but this is my favorite and generally best received of his songs by the other folks hangin' in the room.
Patty Griffin "Rain"
This is one of my favorite songs on the planet! I love her voice and love how calm and safe I feel when I listen to it. It's sad but hopeful as well. A sweet song and amazing voice.
Marc Broussard - " Home"
This was one of the many pleasant surprises I've uncovered. I heard the Blake Shelton version of this song but Marc's far and away surpasses it. He's got that deep, moaning, white-boy-has-soul voice that I adore. This song is wonderful musically and lyrically.
Anders Osborne - "Pleasin'You"
I knew this song from Anders from years ago and liked it but lost track of him somewhere along the way. I've now discovered a mild obsession with his voice and "Stoned Me" and "Coming Down" are new favorites.
Ray Charles " I Got A Woman"
This is a song everyone knows but I snagged it from another user and every time I play it, people get excited and the chat room buzzes with comments and stories relating to Ray or the song
Robert Cray "Twenty"
This is another one of those names and voices I've heard a million times and never explored and I'm kicking myself for it, making up for lost time as much as I can! I love this song from a young soldier's point of view, singing to his mom. It gives me goose bumps and on the right day will squeeze out a tear or 100.
This barely scratches the surface but, is a good overview; I also have discovered a love for Karen Lovely, Mark Lanegan, Sharon Jones & The Dap Kings, John Prine and rediscovered my love and respect for old, classic country music. It's been an exciting journey and reminds me every day why I'm so in love with music to begin with; we're never done learning and exploring.