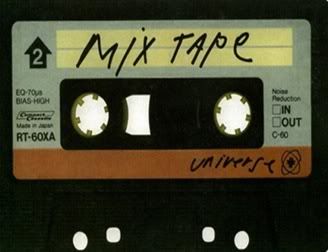 Well hello, everyone! Remember me? I took a bit of a writing hiatus after the Idol season because let's face it, it takes some time to erase the versions of songs they assaulted us with on a weekly basis from the memory banks. Or maybe that's just me. I immersed myself in good music, new and old and also kept my head down and focus sharp to get my son through those last couple weeks of school before our glorious summer started.
Now don't worry, I'm not thrusting anything Idol related on you (yet). I'm just sharing with you some playlists I've concocted (some just mentally) over the years, of music that will show you more who I am as a music lover. Some of you will be disgusted, some delighted, some speechless, and some baffled. You might even feel that way all at the same time. Mostly, this is for fun, and to jog you down memory lane some and I definitely encourage you to share playlists of your own! Not all of my playlists are nostalgic, filled with old music. Some are Idol based (you were warned) and everyday-life related, as well. I started this playlist in June and was inspired by all the kids of my friends graduating and realized I graduated from high school 18 years ago! Even more baffling is the fact I'm sure I'm still 23 years-old… right?
Here's what my friends and I listened to while tooling around in my '92 Geo Metro in the summer of 1993:
"Loser" - Beck: Recorded off the radio and played on my "boom box" which would sit in the lap of anyone sitting in the front seat. Otherwise, it was buckled in next to me, riding shotgun.
"Letting Go" - Susie Bogguss: I had a bit of a country phase in the early '90s.
"Somewhere In My Broken Heart - Billy Dean: A couple of my friends and I heard this song on some soft rock radio channel and it somehow spoke to our poor, beaten up 17 year-old hearts.
"End Of The Road" - Boyz II Men : This was our (and everyone else's) class song.
"Down In It" & "Head Like A Hole"- Nine Inch Nails - Despite my smooth jams and country picks, I had an emerging dark side that only Trent understood.
Disintegration and Wish - The Cure: The whole album, both of them. Either of these, and often both, were blasted in someone's bedroom as we were getting ready to go out.
"After The Rain" - Nelson: There's just no good excuse for this.
"I Wanna Sex You Up" - Color Me Badd : Or this.
"Violent Femmes – Blister In The Sun": To show how intelligent (some of) my friends were, my guy best friend always asked me to play those "purple guys" because apparently he thought they were the VIOLET Femmes.
"If I Ever Fall In Love" - Shai : This song almost didn't make the playlist because it conjurs memories of pitiful "Navy guys" stopping my best friend and I in front of Wet Seal to sing a much too long 30 second snippet of this song.
"Sweet Child O' Mine" & "Don't Cry" - Guns n' Roses: I can still listen to both of these songs endlessly.
"I Remember You" & "Monkey Business" - Skid Row : I listened to both of their "good" albums on repeat for about four years straight.
Master Of Puppets - Metallica: Again, yes, the whole album. I know "The Black Album" was closer to 1993 but this was and still is an album I can sing from beginning to end without missing a word. There may or may not be air guitar involved.
This is a tiny glimpse into my mind as an 18-year old about to embrace the freedom of her first apartment, first 'real job,' school, new city, and schitzophrenic music tastes. Trust me, there is much more where this came from! Look for more playlists to come.