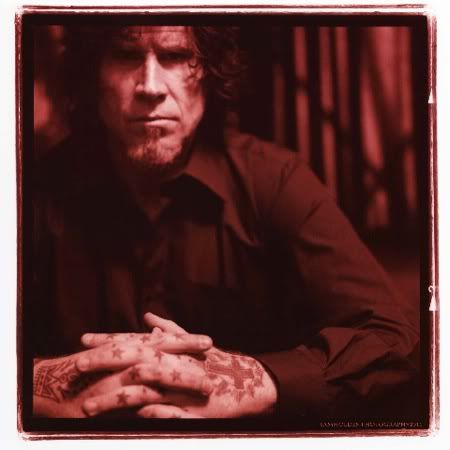 Mark Lanegan's reign as one of my favorite vocalists and member in good standing in the Josh Hathaway Pantheon Of Eternal Musical Greatness continues uninterrupted with Blues Funeral, his first album under his own name since 2004 Bubblegum.
I've spent an awful lot of time listening to this record since its release one, because I'm quite taken with it and two, because I've struggled to find ways to explain what it is I love about this record beyond being a Lanegan enthusiast.
Most of his early solo records were heavy on acoustic-based singer/songwriter compositions that served as a distinct counterpoint to the music he made with his band Screaming Trees. When Trees disbanded and the four men went their separate ways, he was free to explore whatever terrain pleased him. For his first few solo records, he continued to rely on acoustic-heavy dirges but with Bubblegum he began to expand that sound and he picks up where he left off on Blues Funeral.
Johannes produced several tracks from the often excellent but messy Bubblegum, and it's very easy to connect these songs with those he helmed for that record eight years ago. In addition to producing, he plays most of the instruments on this record, with former Red Hot Chili Pepper/Pearl Jam drummer Jack Irons handling those duties. There are bevy of other guests including his touring partner David Rosser, Gutter Twin Greg Dulli, and Queens Of The Stone Age's Josh Homme.
The single-producer model and perhaps even the time between "solo" records has led to an album that feels much more cohesive. The album opens with the black "The Gravedigger's Song," a bruising, noisy affair that houses Lanegan's gravely baritone in a way familiar to fans of Queens Of The Stone Age who will remember his vocal on "Hanging Tree" from Songs For The Deaf.
"Gray Goes Black" is a standout as Lanegan eases the rasp, leaving a clearer, cleaner rumble in his voice. The music is also less abrasive, with cleaner guitars and shinier percussion. There's nothing glossy about the track, but it has a less menacing sound even if the title is about gray days going black. "Riot In My House" is a thrashing, dirty, psychedelic industrial blues accented with digital distortion and metallic noise.
Chris Goss' harmony vocal on "One Hundred Days" from Bubblegum made that one of the standout tracks on that record and his harmonies on "Leviathan" elevate it to similar territory on Funeral. Lanegan sings a little beyond his standard lower register and when Goss joins him for the repeated closing refrain, sung in rounds, of the closing refrain: "every day a pray for what I never knew but this is one I said for you," it is sublime.
The album closes with a seven-minute epic "Tiny Grain Of Truth" with the kind of wordplay and characters that would make Jim Morrison proud, even if there's nothing sonically to remind you of The Doors.
Not everything on Blues Funeral works but the best moments on the record -- and they are many -- remind us why we still care and yearn for more during his dalliances with innumerable side projects and long breaks between albums. He is consistent and has yet to disappoint and that streak continues with Blues Funeral, which is why he continues to sit atop the throne and his reign continues. Long live the king.