(Editor's Note: Part 1 of this preview of Neil Young & Crazy Horse's Psychedlic Pill can be read here)
Way back in the early part of this year, Neil Young posted two teaser tracks on his website, an 18 minute jam later to be called "Horse Back" in reference to the return of Neil's most noted band, Crazy Horse. The other track was a new studio-jam take on "Cortez the Killer," often rated as his best song, which rivaled all the live versions I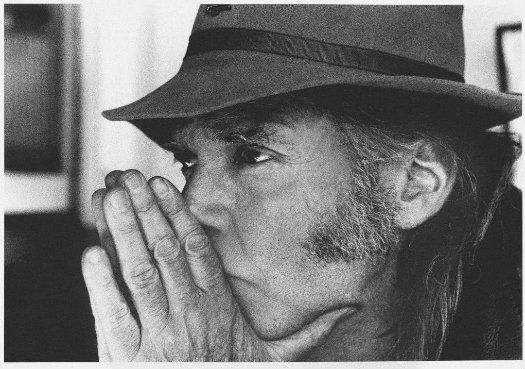 have personally witnessed. In addition, at 18 minutes, I can only surmise that Neil was giving us fair warning that long, meandering songs with the Horse was just ahead. Many speculated that the upcoming release, Americana, would fulfill the promise. Nada…it fell faster than a chrome-plated turd. I would rather spend a month at a Lilith Fair than listen to it again.
What "Cortez" did foretell was the quick follow-up of Psychedelic Pill due out at the end of October. In early August, we were treated to recordings live shows on the Internet from his two-night stand at Colorado's Red Rocks Amphitheater. Both show consisted of primarily new material and some choice covers that blended well with the upcoming tracks. For audience tapes, both shows were well mixed and balanced so the listener could hear the lyrics and enjoy Neil's guitar meanderings. For the first time in a couple of decades, I looked forward to picking up the new Neil. I received an advance download to preview for this blog and have been in Neil-land once again.
In the nine tracks that fill two CDs, Neil revisits sounds, music and lyrics from his best periods. The opener, "Driftin' Back," clocks in at 27:38 but from the strains of acoustic guitar with a cardboard box as percussion, the unexpected happens – Neil goes into a strange but wonderful mid-tempo trademark Crazy Horse track. For a few seconds, the two styles are slightly out of sync. It fits perfectly as to set up the rest of the record. Things are as they once were – or are they? Some people would prefer bamboo shoots under their fingernails than listen to almost a half hour of anyone without a mind-break. There is, however, not a note or lyric wasted.
In the lyrics of "Driftin' Back," Neil refers to his just published autobiography, Waging Heavy Peace, and talks about his relationship with religion, art and record labels. The next track, the title song, "Psychedelic Pill" conjures up a period that many fans would prefer to be left alone – the "Trans" album. I still like listening to that record and get a warm and fuzzy feeling of nostalgia when I recall the vocoder/flanger sound of "Sample & Hold." The bonus track of "Psychedelic Pill (alternate mix)," closes the set in a stripped down rock version that will appeal to the Live Rust and Arc-era fans.
The next track, "Ramada Inn," finds Neil "driftin' back" again with music straight from the "Everybody Knows This Is Nowhere" LP and lyrics that wax nostalgic about hotels and love of a special woman. Once again, the track clocks in at over 16 minutes but not a boring moment is to be found – Neil's trademark guitar licks from his Gretch "Old Black" are so good that I almost want the song to go on. What follows, "Born In Ontario," is another Neil classic that mixes the feel of "Hawks & Doves" while updating the biographical story of "Don't Be Denied" from Time Fades Away. Who would have thought that a real, not sampled, harmonium would fit so beautifully with Neil and Poncho's guitars?
Just when you thought the record could not get any better, another biographical song, "Twisted Road" references the Grateful Dead and Roy Buchannan but it is his remembering the first time he heard "Like A Rolling Stone" that frames the song so perfectly. Even on the records from Harvest Moon to LaNoise and Americana, when Neil seemed like he was phoning it in at least once a year, he gives us another update – this time from "Cinnamon Girl" with "She's Always Dancing."
"For the Love of Man" is a beautiful tribute to his now adult son, Ben, born with cerebral palsy and has never walked or spoken. The moving verse:
"Why the angels cry and the heavens sigh

When a child is born to live but not like you or I"
is a fitting tribute to someone who has filled his life with joy. Neil found his love of Lionel Trains and the vocoder vocals on Trans as a way to communicate with Ben. On his recent Letterman show appearance, Neil discusses this at length with Dave and sounds almost giddy about his inventions and how they relate to Ben. Not a word about music was discussed – I am sure Neil was happy with that.
Those of us who never expected another song to fit the "Cortez the Killer," "Southern Man" or "Like A Hurricane" canon of Neil anthems, up comes "Walk Like A Giant."
"Me and some of my friends, we were gonna save the world

We were trying to make it better; we were ready to save the world

But then the weather changed and the white got stained

And it fell apart – and it breaks my heart - to think about how close we came

I want to walk like a giant on the land."
Just a few weeks ago, if someone had told me I would be hitting repeat – more than once or twice – on a 16-minute new Neil Young song, I would have had a good chuckle. "Walk Like A Giant" has all the elements that made me love Neil in 1966, 1976 and 1986. As with the surprise harmonium in "Ramada Inn" or the flanged vocals on "Psychedelic Pill," there is a lot of noise and even whistling at different times in the track but the euphoria is in Neil's soloing against a progression that would fit perfectly on Freedom.
For almost half a century, Neil has treated us to music that becomes a part of our collective DNA. When he veers off the mark to chase down some ideas or experiments, there is always something honest about his approach. With Psychedelic Pill, Neil Young & Crazy Horse makes us all happy – even himself.