Well, it has been a couple of months now since R.E.M., as they put it in their official statement 'called it a day.' I think I now understand what people of my parents' generation meant when they say 'I just haven't been the same since Elvis died.'
Rather than continue to navel-gaze or try to kid myself into thinking R.E.M.'s retirement from making music together is a. for the best, or b. even moderately acceptable, let's take a look at the legendary Athens-Ga.-based rockers' final release to contain new material, Part Lies, Part Heart, Part Truth, Part Garbage: 1982-2011. That title is a mouthful, but it fits this tight little release that squeezes 40 career-spanning songs on to two discs, and the result is 99.8 flawless.
The career-spanning part of the description for Part Lies is particularly important, as this package is the first to combine the best of R.E.M.'s IRS years (1982-89) with their Warner Brothers period (1989-2011). As with any best of package from such a prolific, important and beloved band, there are bound to be quibbles here and there about track selection, and while there are certainly a few head-scratchers here (we'll get to that in a minute) by-and-large, R.E.M. chosen to leave us with a near-perfect retrospective.
So what's good about this set? In short, Disc 1. From radio favorites like "Radio Free Europe," "The One I Love" and "It's The End Of The World As We Know It" to album cuts like "Life And How To Live It" and "Sitting Still," the first disc is a terrific sampling of what R.E.M. were about in their jangly, alt-rocking days as '80s college darlings.
Disc 2 contains material from 1992's gorgeous Automatic For The People forward, mixing in lush ballads like "Nightswimming" with rockers like "What's the Frequency, Kenneth?"
While the quality of the band's output took a noticeable turn after the departure of Bill Berry in 1997, you could still count on R.E.M. to give you one or two great songs (at least) per album, and the band did a nice job cataloging their post-Berry era here.
What would I change? Well, I can't really fault the tracklisting too much, but would you have believed me if I told you the album that placed the most songs on an R.E.M. 'best of' package was ... 1989's Green? I mean, how long would it have taken you to come up with that answer? I can't argue with the inclusion of "Pop Song '89," "Get Up," "Stand," or "Orange Crush," but maybe one of those first two should have been cut in favor of "Cuyohoga" or "These Days."
As for disc 2, I am little put-out at the omission of any songs from Monster other than 'Kenneth.' Revisionist history holds that Monster was a critical and commercial failure, but those of us who were in high school/college in the mid-90s know that you couldn't turn on MTV or rock and pop radio without hearing "Crush With Eyeliner," "Strange Currencies" and perhaps the most underappreciated song in the band's history, "Bang and Blame." Monster may not have aged well for some fans – and what used CD store in America doesn't have at least one copy – but that album sold, and the ensuing tour saw R.E.M. playing the biggest arenas of their career. I would have liked to have seen this period better-represented, which leads me to by biggest problem: "New-Test Leper."
While I am thrilled that two songs were included from cult-favorite New Adventures In Hi-Fi, which was recorded during the tour for Monster, the inclusion of 'Leper' is one of the biggest disappointments of the set. "How the West Was Won and Where It Got Us," "Low Desert" or "So Fast, So Numb" each would have been better choices to represent 'Hi-Fi,' alongside "Electrolite," which seems to have emerged as the favorite of both fans and the band. It is a minor complaint, but the inclusion of my least-favorite song from my favorite R.E.M. album got my goat a little. I'll live.
Lastly, we have the final three new songs from R.E.M., "We All Go Back To Where We Belong," "A Month Of Saturdays" and "Hallelujah." 'Where We Belong' is an inoffensive, mid-tempo ballad reminiscent of much of the band's post-Berry work, with Peter Buck signing off with his most Byrds-esque guitar riff yet, a fact that must thrill him to no end.
While 'Where We Belong' is a fitting send-off with its melancholy lyrics about change and moving on, the other two songs are pretty weak when packaged next to 30 years worth of classics. "Hallelujah" is the kind of song you forget five minutes after you hear it, and – I am sorry – R.E.M. should be ashamed of themselves for including "A Month Of Saturdays," a poor knock-off of the rare early song "Permanent Vacation." 'Saturdays' clocks in at less than two minutes and sounds like a half-baked demo that never got out of the developmental stages, much less been included as one of R.E.M.'s last new songs. Bleck.
So, why would/should anyone buy 'Part Lies'? I'm going to turn 35 in a few weeks, and I don't know about you, but I don't have any idea where some of my shit is! I have moved a few times and I have gotten married, so I have boxes here and boxes there, and I just don't know where a few of my albums are. Now, I have all my R.E.M. CDs on my shelf where they belong, but maybe you don't. Maybe you have Murmur and Document, but you lost your copy of Out of Time in a break-up and you haven't heard "Country Feedback" in years. Maybe you took Monster to the used store in 1996 for beer money, and you wish you had those songs back.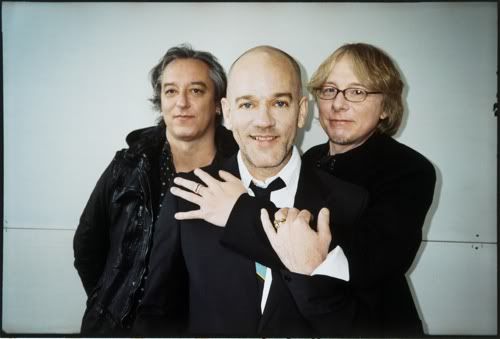 Or, maybe as you got older you didn't have the time or disposable income to keep up with every release. Perhaps you have never even heard "The Great Beyond" or "Supernatural Superserious" from the band's later years. Here's you chance to remember, relive, rekindle or experience for the first time the brilliance that is – that was – R.E.M. for under $12. Online and box retailers are practically giving this set away, and I can't think of a better Christmas gift to give someone who has even a passing interest in R.E.M. or alternative rock. Give one to your nephew who thinks Fall Out Boy are fucking up the maintstream. Give one to your older brother who saw R.E.M. at Vanderbilt University in 1985 and had a beer with Mike Mills afterward. Give one to a Nickelback fan: It is the season to remember the less-fortunate.
As for me, I know I could have downloaded the three new songs from iTunes for $3. I have all of the other 37 songs many times over, but there was I was last month, buying three copies of 'Part Lies' on the day it was released. I bought two that will be Christmas gifts for friends who need to patch holes in their music collections, but I got one for myself because it was the last time R.E.M. will release new material, and I wanted to keep a 16-year-old streak of having every new R.E.M. release on the day it was released.
Put those CDs in your car and just let 'em play. You won't find yourself hitting the skip button; instead, you'll be remembering why you got into R.E.M. in the first place, and just maybe you will ache all over again knowing that you have seen them for the last time.