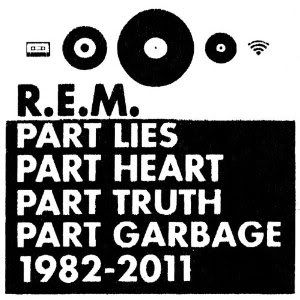 R.E.M. has prepared the final chapter of their incredible Hall of Fame 31-year career with a retrospective package that puts together the defining songs they created in the '80s for IRS as well as music from their commercial apex with Warner Brothers in the '90s and beyond for the very first time, having announced their retirement late last month.
Part Lies, Part Heart, Part Truth, Part Garbage 1982-2011 will be released Nov. 15 and is a two-disc set featuring songs from every R.E.M. album beginning with the Chronic Town EP all the way through this year's Collapse Into Now and will also include three new songs, the last final recordings from the band.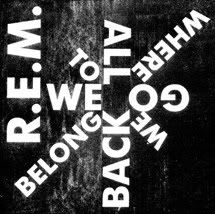 The three new songs are "A Month of Saturdays," "We All Go Back To Where We Belong," and "Hallelujah." "We All Go Back" will be released as a single and while I haven't heard a note, the title alone makes it a perfect choice. I suppose a song called "Hallelujah" might work for some bands but it would have been an odd one for R.E.M. I only hope it's not the 2 billionth cover of the Leonard Cohen song.
The classics chosen to represent the career of one of my favorite bands is nearly perfect. It would be impossible to get them all on there as we noted in 10 R.E.M. Songs MTV Didn't Overplay (But Should Have), but this is a good job of summarizing. I'd make a few changes ("New Test Leper"? Really?) but the band has created what will be the perfect introduction for future generations.
The shock of the band's announcement has worn off but I'm still wearing black. I'm never ready to say goodbye to a favorite band but this is different. This is R.E.M. and they still had ideas and things to say. Accelerate was a really good album and there were moments ofCollapse that really worked.
They were reaching the end of their relationship with WB, meaning they could have done what bands like Radiohead and Nine Inch Nails have done when it comes to exploring new ways to bring their music to the people. They'd better managed to work on their own terms while under contract with a major label than most. They toured when they wanted to, even if that meant not touring for their two most commercially successful records (Out of Timeand Automatic For The People). They played by their own rules and didn't complain when commercial fortunes faded as a result.
From the outside looking in, it appeared they had music left in them and even more freedom to determine how it was presented. What they didn't have was the burning desire to do anything with either and so they called it a day. How very R.E.M. of them. They remained true to themselves until the end. I'm still going to miss them.
R.E.M. - PART LIES, PART HEART, PART TRUTH, PART GARBAGE, 1982 - 2011
Disc 1:
Gardening At Night
Radio Free Europe
Talk About The Passion
Sitting Still
So. Central Rain
(Don't Go Back To) Rockville
Driver 8
Life And How To Live It
Begin The Begin
Fall On Me
Finest Worksong
It's The End Of The World As We Know It (And I Feel Fine)
The One I Love
Stand
Pop Song 89
Get Up
Orange Crush
Losing My Religion
Country Feedback
Shiny Happy People
Disc 2:
The Sidewinder Sleeps Tonite
Everybody Hurts
Man On The Moon
Nightswimming
What's The Frequency, Kenneth?
New Test Leper
Electrolite
At My Most Beautiful
The Great Beyond
Imitation Of Life
Bad Day
Leaving New York
Living Well Is The Best Revenge
Supernatural Superserious
ÜBerlin
Oh My Heart
Alligator_Aviator_Autopilot_Antimatter
A Month of Saturdays
We All Go Back To Where We Belong
Hallelujah