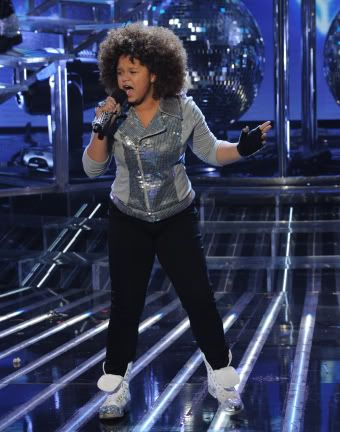 Last night's X Factor sent home an early favorite and for the second straight week it was one of Simon Cowell's girl contestants, Rachel Crow. Rachel had a very strong night with her live performances, her save me song after being in the Bottom Two was wrought with emotion and as a result, very powerful and moving. It was not enough to save her from the deadlock that put her fate in the hands of America who somehow gave Marcus more votes. I have a theory on that, which I'll get to in a bit.
I got to sit in on another conference call with the latest cast off and Rachel was very subdued compared to how we're accustomed to seeing her on The X Factor. After her crying jag and apparent devastation after being eliminated, I'm sure it was a long night of little to no sleep.
The first question asker inquired about how Rachel feels about Nicole Scherzinger since she had the power to send Marcus Canty home but instead sent the vote to a deadlock, ultimately sending sweet Rachel home. Her reply was that she feels great now and no one should be mad at Nicole who apparently cried for 90 minutes after Rachel was eliminated. That is utterly ridiculous.
She went on to say Paula assured her she'd be "huge" and that Simon told her he would continue to work with and look out for her. She says her reaction wasn't because she was surprised to be sent home over Marcus but because she was scared about her uncertain future; which brings me to my theory on what happened with her being in the Bottom Two and ultimately the lowest vote getter in the first place.
Let's go back to Wednesday night when LA Reid critiqued Rachel's nearly flawless performance and prefaced it by saying something to the effect of: (with a grin he couldn't conceal, by the way) "Rachel, I'm not supposed to say this but, I hear Hollywood's been calling for you, that's truly great, you're going to be a big star." She fell for it and beamed and confirmed and I immediately heard America say, collectively "Oh, Hollywood? She's going to be just fine." And take their votes elsewhere. He's a pro and been in this a long time, that was calculated and very strategic.
So, of course when it was my turn to ask a question, that's exactly what I asked about and Rachel seemed a little taken aback (I'm sure no one's asked her yet if she felt "thrown under the bus" by LA Reid). She said he's a sweet man and she feels he was just showing everyone how special she is. I love that she feels that way, but, she is dead wrong.
We're losing energy and originality in spades on this show and being left with the predictable, generic options we're usually force fed by American Idol. I will greatly miss seeing Rachel and her bright light every week but you can bet your ass we'll be covering any Rachel Crow information as soon as we get it.