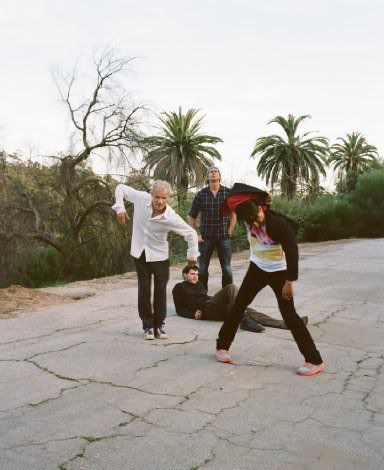 The Red Hot Chili Peppers are clearing out the vaults from the sessions for their most recent effort I'm With You with the release of 18 songs that didn't make the cut, releasing them digitally and on vinyl over the course of the year.
The songs will be released two at a time on 7" vinyl as well as digital downloads, "Strange Man" and "Long Progression" being the first set for release on August 14.
The second and third releases are slated for release September 11 and October 2, respectively. The titles of those releases have been announced with "Magpies" and "Victorian Machinery" being issued first and "Never Is A Long Time" and "Love Of Your Life" following next. Release dates for the final pairings have been set for November 6, December 4, and December 18. The last set will come in early 2013. Song titles for those releases have not yet been announced.
Artist Kelsey Brookes will do the artwork for each of the nine vinyl releases with a concept being created where fans can create a single, larger piece of artwork by placing each of them side-by-side, something of a musical Rubik's Cube (some of you may have to look that reference up because I'm getting impossibly old).
The Chili Peppers recently released an EP of covers of Rock & Roll Hall Of Fame artists, having been enshrined themselves just this year. We Salute You was a four-song set released in May.
The band is still on the road in support of I'm With You, the first album with Josh Klinghoffer on guitar, replacing John Frusciante.