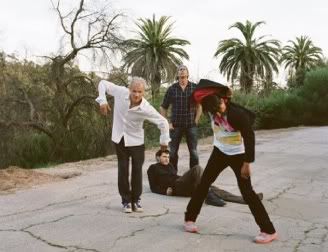 Newly inducted Rock And Roll Hall of Famers Red Hot Chili Peppers are releasing a six-track covers EP digitally on May 1, and all six songs covered are from fellow Hall of Famers.
The band was inducted into the Hall of Fame last month and are currently on tour supporting their most recent solo album I'm With You. Some of the covers being issued on this digital-only EP have surfaced on various formats and various compilations while others haven't previously surfaced.
The tracklisting includes songs from Dion And The Belmonts, The Ramones, Iggy And The Stooges, Neil Young, The Beach Boys, and David Bowie. Three of the songs are live performances, the Neil Young cover coming from this current I'm With You tour.
I guess this is what happens when the wreckless immaturity and abandon of youth doesn't kill you. Don't misunderstand me, kids. I have several of the Chili Pepper albums in my collection and love a couple of them (I'm still going to fight them for that bloated, boring double album Stadium Arcadium). I'm glad they're still alive and making music even if it doesn't have the same spark and spirit of their best years but there is something a little sad about seeing the chaos become respectable.
Am I going to check out the digital EP when it comes out next week? Probably only if I feel compelled to review it. Somewhere along the way (Stadium Arcadium) they lost me and I'm not sure I'm coming back. Of course I felt that way after One Hot Minute mostly laid an egg and they surprised me with Californication and By The Way. Neither album was perfect but there were wonderfully inspired moments on each. I gave I'm With You a chance and didn't hate it but as much as I love remaining loyal to the bands that have been a part of my life over the years, sometimes the relationship comes to an end. Maybe this is where we part ways. For those of you still true to your Peppers, here is the tracklisting for the EP:
"A Teenager in Love" (Dion and the Belmonts)
"Havana Affair" (Ramones)
"Search & Destroy" (Iggy and the Stooges)
"Everybody Knows This is Nowhere" (Neil Young) [live]
"I Get Around" (The Beach Boys) [live]
"Suffragette City" (David Bowie) [live]