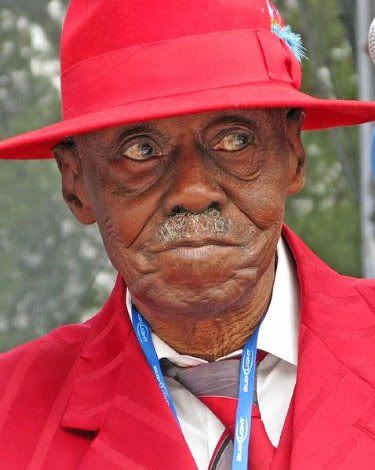 We learned yesterday of the passing of a musical legend and national treasure, the great blues pianist Pinetop Perkins. I knew a proper tribute would take time so I quickly dashed off a few words to share the sad news and details of his death. Today and in the days to come I want to pause and consider his life and music.
Perkins was one of the special spark plugs that revived and revitalized Muddy Waters in the '70s, yielding great albums like Hard Again and I'm Ready. Waters had fallen on hard times after the fall of Chess Records. He couldn't get a good record deal, his good friend, bandleader, and pianist Otis Spann had passed away, other band members had come and gone, and finding decent gigs had gotten more difficult. It would have been a sad, undignified ending for one of the 2oth century's most revered and important artists. Fortunately, that's not how the story ended. Waters assembled a new band and with the help of that band and Johnny Winters, the mighty Muddy roared once more.
The men who joined Muddy for that last hurrah -- Perkins, Willie "Big Eyes" Smith, Calvin "Fuzz" Johnson, Bob Margolin, and a host of great harp players like James Cotton, Big Walter Horton, and Jerry Portnoy -- continued making music after Waters' passing as The Legendary Blues Band. The baton was passed just as it has always been in the blues tradition. These men had successful solo careers and made names for themselves, carving a place in the hearts and ears of blues fans the world over.
But that music they made together? Those albums and the corresponding tours returned Waters to prominence as a powerful, mighty blues force and for many of us, those final Waters records were our introduction to Pinetop Perkins. An ending was also a beginning because Pinetop was just getting warmed up.