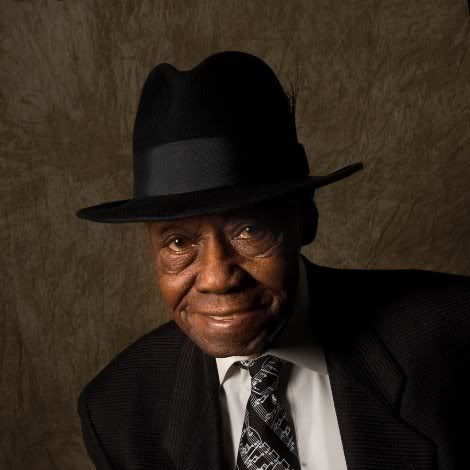 It's hard not to feel I was born in the wrong era when so much of the music I love was made before I was born and so many of those artists left before I had a chance to see or hear them. I wonder if future generations will look at the music being made today and look back with the same envy.
I had a series of brief moments with Pinetop Perkins last year and I knew at the time they were to be treasured and they feel even more valuable today as the blues community continues to mourn the passing of one of its legends.
Yesterday I talked a lot about Pinetop's role in the late-career resurgence of Muddy Waters. Being able to say you played with Muddy was a badge of honor for a lot of bluesmen. That same thing became true of Pineop Perkins in the decades he spent recording and touring after Muddy's passing.
As a fan, being able to say you saw Muddy is also something of a badge of honor (along with the other great names like Howlin' Wolf, Koko Taylor, and so many others who have left us). I had my Pinetop Perkins moment last year.
I went to Memphis last year for the Blues Music Awards and saw Pinetop present the award named in his honor to Eden Brent. I saw him later that evening sitting at a table with Brent and others. I watched as he smiled for pictures and shook hands with many who approached him. I tried hard to get the nerve to but decided instead to hang back and etch the moment I stood mere feet from a legend deeply in my memory. It's still there and always will be.
I actually first saw and heard Perkins the night before the awards at Nick Moss' All-Star Jam. He took the stage with Moss, Flip Top drummer Bob Carter, Kenny Neal, and Todd Sharpville and played one of 'top's signature tunes, "Chicken Shack." I won't ever forget that moment and will always be grateful to whoever paid to have someone filming the moment.
There have been many great piano players in the blues but very few became revered institutions the way Pinetop Perkins did. He became something bigger, an icon. Too many have left before I had the chance to see them. Pinetop Perkins is the one I didn't miss. Relive the moment with me and celebrate one of the blues' enduring heroes...