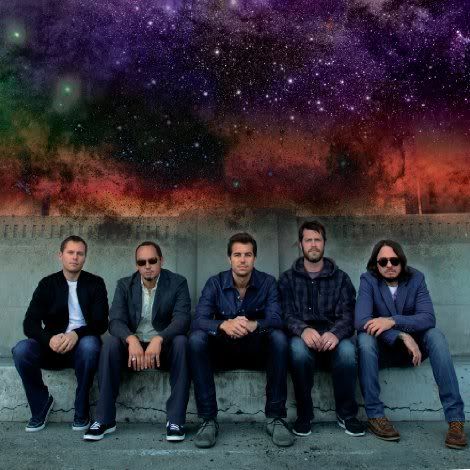 311 seem to be a band you either love or loathe, with not a lot of middle ground. I have always been in the "love" category... that is until I got my hands on their latest effort Universal Pulse. I was excited for this album (whose cover art looks like something Journey rejected in the '70s) and was actually taken aback by how underwhelmed I was by it in its entirety. A bonus is that it's only eight tracks long and the songs are usually brief, in the three minute range, so it zips along and ends quite quickly.
Now, I know 311 isn't a Hall of Fame band and they didn't do anything out of the ordinary or even special but they were always my go-to fun band for road trips, working out, and anything that required me to have a little pep to my step. The frenetic energy is there; the interaction between lead vocalists Nick Hexum and SA Martinez (who also raps) is intact and playful, complimenting each other as usual. What's not there, then? What's missing and leaving me feeling flat? Originality. Okay scoffers, slow your roll for a second, I know I just labeled them as being ordinary and not special but they're stealing from themselves.
The opening of the album's first track "Time Bomb" (I was actually hoping this was a Rancid cover), sounds nearly identical to the chorus of "Come Original" from 1999's Soundsystem. Two or three more songs in and it's more of them same, and I mean THE SAME. The same as the previous song, the same as previous records-just the same thing with different, sub-par lyrics. The messages are well-intended: thank you note to fans, tales of overcoming drug and alcohol abuse, messages encouraging us to never give up. All stuff I love about 311 is here, I just wanted more, I wanted growth I suppose, and maybe as I age I wanted them to have some substance. Why would they? That's not who they are. The one shining spot on the entire album is "Sunset In July" which starts with the lazy, island feel that I love. It's a perfect summer song reminiscent of "Amber" and "Beautiful Disaster."
If you like drum-driven beats, catchy lyrics with high energy I recommend you skip Universal Pulse and go for Pepper, Sublime with Rome, or better yet go listen to any of 311's back catalog and save yourself a few dollars.