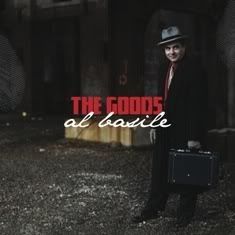 Horns have long had major role in the blues sound but it's been more common to have horn players as band leaders in the jazz world than the blues. It's also not common for the horn player/bandleader/lead vocalist to be a cornetist, so what we have here is an uncommon blues album.
Al Basile's 13-track, eighth solo album is akin to a Roomful of Blues alumni meeting, with former Roomful'er Doug James on saxophone and Roomful founder Duke Robillard contributing guitars and serving as the album's producer. Robillard's drummer Mark "I Don't Play 1B For The Evil Empire" Teixiera is also in tow.
The Basile sound is a jazz-tinged contemporary blues with a noirish,'40s throwback flair. That noirish style comes through in both music and lyrics. Take "1.843 Million," an action movie in five minutes. The music sounds like what you'd hear in a great chase scene after a bank heist in a classic Hollywood film and Basile gives a great sketch of the scene in the lyrics. Duke Robillard's lead guitar brings the excitement and the danger, even echoing a police siren at times. It's a stylish, Raymond Chandler short story with a kiss.
It's not all fun, games, and fiction on The Goods. Basile is at times somber and meditative as he is on "Lie Down In Darkness (Raise Up In Light)" and "Pealing Bells." The former is a stately, elegant hymn that soars with grace when the Blind Boys of Alabama provide beautiful backing vocals. "Pealing Bells" is spiritual in a different sense, with a funeral-dirge spirit permeating the song. Basile's cornet accents are mournful and perfect for the song.
Basile is also a social critic on tracks like "Mr. Graham Bell" and "Reality Show." The former, about the love/hate relationship he has with the telephone and modern technology, goes on for over nine minutes. It probably should have been trimmed to half that, but it's worth listening to if for no other reason than Bruce Bears' lovely piano run. On "Reality Show," he not only decries what is often an exploitive, celebration of dumbness but also the overt titilation and oversexification of the programming and how that is likely to be how some kids are first exposed to aspects of love and intimacy.
Robillard gets a couple moments to shine on the record, as well. He peppers "1.843 Million" but really tears it up on rhythm and lead on "Along Come The Kid." His lead on "Don't Sleep On Santa" is also predictably excellent.
Basile is being modest; the best moments on The Goods are much more than that and the lesser moments aren't shabby, either.