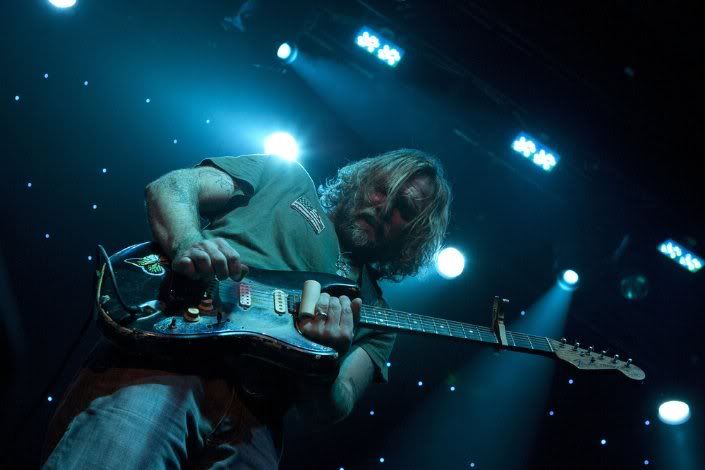 First impressions are powerful but are so often, at best, incomplete and at worst completely wrong. My introduction to Anders Osborne came by seeing his name and album American Patchwork take up residence on the Blues Radio charts. Let's do some math together: if you saw an artist whose record was on the blues chart, you might conclude the artist was a blues artist and said record was a blues record.
Being wrong is nothing new to me but it was a good thing where Anders Osborne and American Patchwork were concerned because it reinforced a truth I often need to relearn: labels are meaningless when it comes to music.
I was sure that lesson and the addition of several Osborne records to my home collection would prepare me for Black Eye Galaxy and I was once again wrong. It's not that he radically departs from his prior discography but instead expands his musical galaxy by inventive uses of the sonic tapestry from those past works. However it is he did it, he managed to confound and amaze once again and it has taken some time for me to get my head around it all. My ears and imagination have been trying to play catch up because I want to talk about this record, but that hasn't happened yet so instead I'm sending you a status report...
I love outstanding musicianship and improvisational playing and I expected the album's title track would be that kind of song with a run time of more than 11 minutes, but that's not what it is at all. The first several minutes of the song have a conventional structure and then it just…stops, contracting into a sparse, formless bridge. A compact Osborne guitar solo and brief return to the song's original structure isn't a lot of payoff for several minutes of freefall; the disintegration is interesting but will test the patience of most listeners.
"Mind Of A Junkie" is a more conventional rock-oriented jam with extended instrumental passages at the beginning and middle of the song. Osborne brings this junkie to life lyrically by giving us a view inside a cluttered mind struggling to find his footing. The music takes a key from its subject, wandering with purpose. Addiction is a recurring subject on Osborne's records and in addition to "Junkie," we have the snarling "Black Tar."
"When Will I See You Again" is among the most straightforward, accessible song he's written and I simply love it. The layers of acoustic and electric guitar make the melody shine and the guitar solo evokes Joe Satriani in tone (but not style).
"Tracking My Roots" is reminiscent of Tom Petty's wonderful "Southern Accents," a song bursting with pride in a home where his heart is. Neither "Roots" nor "Southern Accents" get all over me the way Osborne's "Summertime in New Orleans" does (from his Coming Down album) but a good song about one's roots fits nicely on an album with galactic ambition and "Tracking My Roots" and "Louisiana Gold" both provide that.
One of Osborne's gifts as a songwriter is the ability to connect to life's ugly places and also find places of beauty, hope, and normalcy and we feel all of that throughout these 10 tracks. Some reviews are finished products, my final word on a record, while some albums teach and enthrall for a lifetime and the best you can hope to do is send a postcard from wherever you are with it at the time. The front of this initial postcard is a picture of the album art and the message on back reads simply "Wish You Were Here." This is a trip well worth taking.