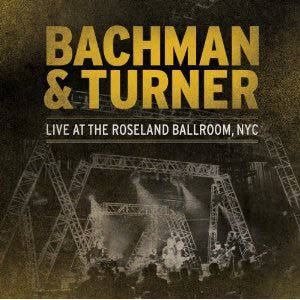 After the seeming career suicide of leaving The Guess Who at the height of their popularity, many likely figured Randy Bachman's days on rock radio were numbered. Bachman's second act was not to be taken lightly, however, as a few short years later, he returned with C.F. Turner to form Bachman-Turner Overdrive. BTO's music dominated the airwaves in the 1970s and many of their songs are still staples of classic rock radio.
Much like The Guess Who, they've reunited in various forms over the years and, much like The Guess Who, they have legal issues with ex band mates over the use of their band's name. Bachman and Turner reunited for a new album and tour in 2010, the results of which are captured on Bachman & Turner: Live At The Roseland Ballroom, NYC.
The show mixes old favorites with tracks from their self-titled reunion album and the band comes out swinging with Turner's classic, "Let It Ride." The solo break is extended and Turner's voice has lost none of its trademark growl to age. They follow that up with two songs from their Not Fragile album — Bachman's ode to rock and roll, "Rock Is My Life," with its "Cold Gin-sounding riff and Turner's heavy take on the title track with vocals that recall early ZZ Top.
It's not all old songs in the show, however. The band serves up fine renditions of the jazzy "Waiting Game" and the driving "Slave To The Rhythm." Bachman looks back to his Guess Who past with a spirited "American Woman" that finds Turner doing his best impression of Burton Cummings.
BTO had a number of hits and the band delivers them all here, offering enthusiastic versions of Bachman's "Hey You," "You Ain't Seen Nothing Yet" and "Takin' Care Of Business" — the latter of which features fellow Canadian Paul Shaffer on piano — and Turner's driving "Roll On Down The Highway." Joining the pair for the performance are Marc LaFrance on drums and Brent Howard Knudson and Mick Dalla-Vee on guitars and vocals.
What started as a Bachman solo project turned into a reunion with his old partner. The pair sounds excited to be back together and it shows in the live performance. Live At The Roseland Ballroom, NYC, shows that old rockers can sometimes have new life.