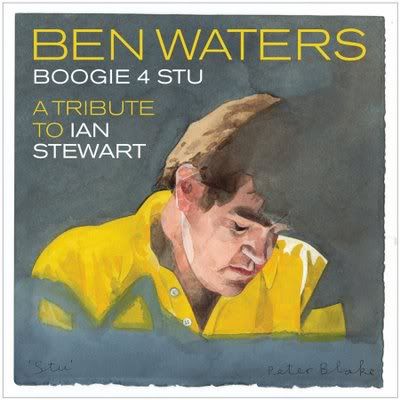 Ian Stewart was one of the unsung heroes of rock 'n' roll. A founding member of The Rolling Stones, he was dismissed from the touring lineup by manager Andrew Loog Oldham for not looking the part. Undeterred, Stewart continued to play on the band's albums and serve as their road manager. Later, with Oldham no longer the band's manager, Stewart returned to the concert stage for various tours between 1969 and 1982 as one of the group's pianists. Stewart died in 1985 and the band paid tribute to him by insisting on his inclusion when they were inducted into the Rock and Roll Hall of Fame.
Now Ben Waters, a member of the A, B, C & D of Boogie Woogie, which also includes Rolling Stone Charlie Watts, is issuing a tribute of his own. Boogie 4 Stu – A Tribute To Ian Stewart boasts 11 tracks of the boogie woogie, blues and rock 'n' roll Stewart so loved and features some very special guests.
The album opens with the appropriately titled "Boogie Woogie Stomp," featuring Waters unaccompanied on piano. It's a fast-paced, rollicking track that recalls Jerry Lee Lewis' glory years. Keith Richards joins his ex-band mate Bill Wyman on guitar and bass respectively for "Rooming House Boogie." Waters takes lead vocals on the up-tempo, bluesy number, his piano playing shining yet again.
Richards shares vocals with fellow Stone Ronnie Wood who also adds some terrific slide guitar on "Worried Life Blues," a slow, pleading heavy blues track. Watts plays drums in one of the six tracks he plays on the album. This is real, close the bar, cry-in-your-beer stuff and a true highlight of the disc.
The title track boasts some fine dueling boogie woogie piano between Waters and Jools Holland while Holland takes lead vocals on "Make Me A Pallet On Your Floor," sounding convincing as a bluesman.
Waters' cousin, P.J. Harvey, adds saxophone and breathy lead and background vocals to "Lonely Avenue," but the biggest highlight of the disc for most will be "Watching The River Flow," a Bob Dylan song that features, albeit via technology as none of the band members were in the same room at the same time, a Rolling Stones reunion featuring Wyman on bass for the first time since 1992. The chemistry these guys still have together is remarkable, especially given the nature of the recording. Mick Jagger delivers a spirited vocal and his usual fine harmonica playing.
The album's final track is, fittingly, an up-tempo "Bring It On Home" done by Ian Stewart with "Rocket 88" live from the Montreux Jazz Festival in 1984. Stewart and his band are in fine form, further illustrating the great loss the world of rock 'n' roll suffered just one year later.
For someone who may not be a household name to casual music fans, Stewart had a remarkable career. From his time with The Rolling Stones to playing with the likes of Led Zeppelin and The Yardbirds, Stewart accomplished a lot in his 47 years. It is only fitting that a tribute worthy of his stature be assembled and Boogie 4 Stu is just that.