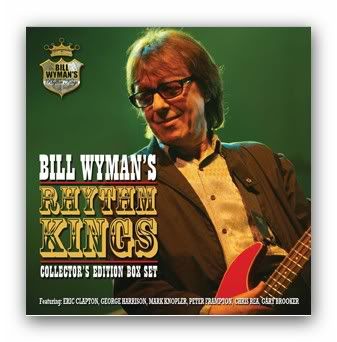 The World's Greatest Rock 'n' Roll band had just completed their incredibly successful comeback tour for Steel Wheels. It was the first Rolling Stones tour since the 1981-82 tour for Tattoo You and, in 1991, the band was primed to sign a megabucks deal with Virgin Records. Well, most of the band that is. Weary of touring and the rigors that come with being in a major band, original bassist Bill Wyman decided he had had enough and did the unthinkable – he quit the Rolling Stones. The band kept the door open until it was time to hit the road again in 1994, but Wyman was serious, he was done with the band. He wasn't done with music, however.
Wyman put in calls to some of his musician friends, including Andy Fairweather-Low, Graham Broad and pianist Dave Hartley. The group hit the studio and Bill Wyman's Rhythm Kings was born. The Rhythm Kings have gone on to produce five studio albums and one live album. The first four of those studio albums are collected on Bill Wyman's Rhythm Kings – Collector's Edition Box Set.
The collection leads off with Struttin' Our Stuff, which much like the other albums included, is a mixture of classic covers and new songs that fit in stylistically. The album opens with the CCR classic, "Green River." Musically speaking, it doesn't stray far from the original, but Wyman delivers a more bluesy, laid-back vocal on the track.
All four albums contain a staggering amount of A-list guests and Struttin' Our Stuff is no different. Albert Lee guests on guitar on the smooth blues of "Walking On My Own," which also features a surprisingly effective vocal from Wyman. Eric Clapton lends his considerable guitar talents to "Melody," the lone Rolling Stones song Wyman covers. Georgie Fame and Beverley Skeete duet on the track, while Clapton is in his element, offering up some tasty blues licks.
Paul Carrack lends a soulful vocal to "Tobacco Road," which features Peter Frampton on excellent lead guitar. It's a rocking way to round out the Rhythm King's debut album.
JJ Cale's "Anyway The Wind Blows" serves as the title track of the band's second album and is the leadoff track. Frampton returns on lead guitar and Fame once again is on vocals on this mid-tempo, bluesy romp with a swampy groove.
Skeete delivers a sultry vocal of the group's cover of "Spooky." One can envision hearing this version in a smoky jazz club. Skeete further shows her versatility on the up-tempo "Mojo Blues," which also includes Lee on guitar, Procul Harum's Gary Brooker on organ and former Wizzard member Nick Pentelow among the horn section. The track is a highlight of the disc.
"A True Romance" is an original song that harkens back to the old standards era stylistically. Wyman's ex-Stones band mate Mick Taylor offers up his unmistakable slide guitar on this fine track that also features vocals from Skeete. Clapton returns with some inspired playing on the slow blues of "Gee Baby Ain't I Good To You," a song that features Fame on vocals and organ.
Groovin' leads off with "Tell You A Secret," an up-tempo, bluesy song with a gritty lead vocal by Adrian Byron Burns, lead guitar by Fairweather-Low and percussion by Ray Cooper. The song could have come out of the American Deep South but is actually an original track written by Bill Wyman and Terry Taylor.
Skeete returns for the title track, a cover of the Young Rascals classic, "Groovin." The song doesn't veer much from the original, but "if it ain't broke, why change it?" Lee delivers a soulful lead vocal and some fine guitar work on "Mood Swing," an up-tempo throwback to the pre-Rock 'n Roll era.
Brooker gives a spirited vocal on the Wyman/Terry original, "Hole in the Wall," a song with a boogie-woogie, swing feel while Taylor returns on slide guitar for "Can't Get My Rest At Night," a song that channels the Bayou feel of CCR with its menacing guitars.
The collection finishes with the appropriately titled two-disc album, Double Bill. "Long Walk To DC" opens the album with a fine gospel vocal from Skeete. Fame, Brooker, Skeete and Janice Hoyte serve as the gospel choir, offering their fine background vocals on this uplifting song.
The band goes into swing mode with the cover of the classic Nat King Cole trio track, "Hit That Jive Jack." Fame returns on vocals and organ and Martin Taylor offers some fine, jazzy leads on guitar. Skeete returns on "Love Letters," a track recorded by Elvis Presley that harkens back to 1950s slow dancing and features the instantly recognizable slide guitar of George Harrison in one of his last recorded performances.
Double Bill disc two opens with The Fats Waller classic, "The Joint Is Jumping," a fast-paced jazz track with some fine piano by Dave Hartley and tasteful lead guitar by Martin Taylor. Wyman returns on vocals on "Brownskin Girl," a breezy track that includes once again Lee on lead guitar. While not known for his vocals, Wyman makes his voice work with the songs he sings on these albums.
Tommy Emmanuel has the unenviable task of replicating Les Paul's leads on "Bye Bye Blues," a track made famous by Paul and Mary Ford. Beverley and Sara Skeete along with Anita Kelsey do a fine job of replicating the multi-tracked vocals of the original.
The amount of styles covered by the Rhythm Kings throughout these albums is staggering, representing music from the 1930s to the Rock 'n' Roll era. Fans shouldn't expect the Rolling Stones – that isn't the point. Fans who like good music played by good musicians would do well to check out the Bill Wyman's Rhythm Kings – Collector's Edition Box Set however as it covers the majority of this fine band's recorded output.