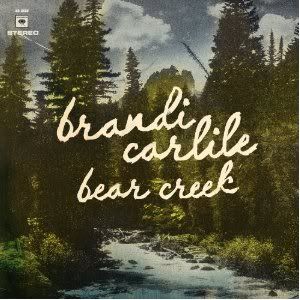 Following a weekend where music lovers everywhere could use a little good news, we are excited to say we've found some. Bear Creek, the fourth studio record from Seattle's Brandi Carlile, is a stunning collection of tunes from one of the most dynamic voices making music today.
Set for release on June 5th, Bear Creek shows us one thing clearly: When it comes to genre, you can't put Brandi in a corner. From country-inspired tunes like "Keep Your Heart Young" and "Hard Way Home," to the piano laden "That Wasn't Me," to the raucous and rowdy "Raise Hell," to the sweetly acoustic "Heart's Content:" there's a little something here for everyone. And that versatility, which could come across as convoluted if presented by a lesser talent, results in a polished and well-woven 13-track masterpiece.
Long-time Carlile fans might notice that Bear Creek captures some of the revival-esque magic of a live Brandi show. From hand-clapping to boot-stomping, you're sucked into the energy of the record almost immediately. Couple that liveliness with Brandi's impeccable voice - which ranges from gruff and wailing to warming and soothing, and the end result is a record that's incredibly gratifying to listen to.
Named for the studio where most of the record was recorded, Bear Creek was produced by Trina Shoemaker. Nearly as famous as Carlile herself are her veteran bandmates Phil and Tim Hanselroth, affectionately known as "the twins" - who co-wrote most of the songs on the record. The three part harmonies of Brandi and the twins are breathtaking, and the maturity of their writing on this record shows signs of a threesome that's growing up as songwriters. Carlile herself recently turned 30, and we hear this sophistication alluded to in the nostalgic "Keep Your Heart Young:"
You gotta keep your heart young

Don't go growing old

Before your time has come

You can't take back

What you have done

You've gotta keep

Your heart young
The most rambunctious and spirited track on the record is the powerful country-blues anthem "Raise Hell." I like my Brandi best when she's wailing - and "Raise Hell" is definitely a howler:
I dug a hole inside my heart

To put you in your grave.

At this point it was you or me

And momma didn't raise no slave.

You took my face in both your hands

And looked me in the eye.

And I went down with such a force

That in your grave I lie.

I'm gonna raise, raise hell

There's a story no one tells

You gotta raise, raise hell

Come on now ring that bell.
Carlile kicks off a series of dates with the Dave Matthews Band starting on June 26th, and will headline a show at the remarkable Red Rocks Amphitheater July 14th. Look for more dates to be announced in support of Bear Creek - and if she's coming to your town… be sure to snag a seat. The phenomenon that is a live Brandi Carlile show is quickly becoming a not-so-well-kept secret.
While we are all hoping 2012 brings us a long list of strong new records and general good music news, it's safe to say that Bear Creek is one my favorite records of the year.